"
Be a part of a massive community dedicated to skipping sponsored segments in Youtube.
"
(Opera) SponsorBlock for Youtube Specifications
NOT AVAILABLE
The download of (Opera) SponsorBlock for Youtube is no longer available. Fortunately we have a great alternative that may be close to what you are looking for:

Rocky Bytes Score

Great!
(Opera) SponsorBlock for Youtube Review

by Baron Yeung
Last Updated: 2020-10-17 15:26:56
Youtube sponsorships are understandable - after all, if you're being paid a ton of money to say a few kind words about a product in your Youtube video, why wouldn't you take the deal? However, it's incredibly annoying for viewers to have to constantly wade through these sponsored segments to get to the content they actually came for. Thankfully, a ton of people out there agree with you, and Sponsorblock for Youtube is here to connect you with those people.
To install Sponsorblock for Youtube, make sure you have Opera installed, then go to this link to get an extension that lets you install Chrome extensions on Opera. After that, head on over to this link to install the program into Opera proper.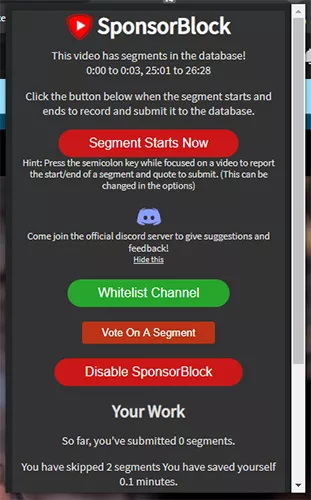 This tool's main feature is its ability to automatically skip sponsored segments in Youtube videos. It does it automatically and is mostly seamless save for the brief pause that happens as it loads the segment after the sponsor. There is also a popup informing you that it's skipped a segment, but if you care about your viewing immersion, you can turn that off.

The other main feature is its community features. If you come across a sponsored segment that hasn't been flagged by somebody in the community, you can do it yourself. As soon as you do that, it will be skipped for the entire userbase. Don't worry, though. If this feature is abused to make the userbase skip parts that aren't a sponsor, you can also vote on a segment and if it has enough downvotes, it will be nullified.
All in all, Sponsorblock for Youtube is guaranteed to be useful due to its community-driven approach.