How to Play Christmas Shopper Simulator 2: Black Friday
A beginners guide how to play Christmas Shopper 2 Black Friday.

Date: 2015-12-29 08:36:11
By: Adam Singleton
Rocky Bytes Score

Very Good!
In order to follow this guide you will need to download Christmas Shopper Simulator 2: Black Friday. Please click the green button below.
Christmas Shopper Simulator 2 Black Friday is a little free game to promote the UK video games chain Game however it is also a really fun and addictive game and much more fun than real Christmas shopping at least it's over for another year!
In this Christmas Shopper Simulator 2 Black Friday guide we will give you some help to get you started to make the most out of this fun free game.
Christmas Shopper Simulator 2 Black Friday Controls
The controls are fairly straight forward W to move forward, S for backwards, S and D for left and right respectively. By clicking your left mouse button you will be able to grab items and use the right mouse button to kick people this can also help you to gain money as you kick people or spray them with one of the items you can obtain such as a broom or fire extinguisher you will obtain money from your victims, make sure to do this regularly as you will need to keep gaining money for all the items you need to buy for your objectives.

How to play Christmas Shopper Simulator 2 Black Friday?
First off you will have to choose your character, there are some pretty crazy characters to choose from and they all have their own set of statistics which are very amusing including things such as insecurity!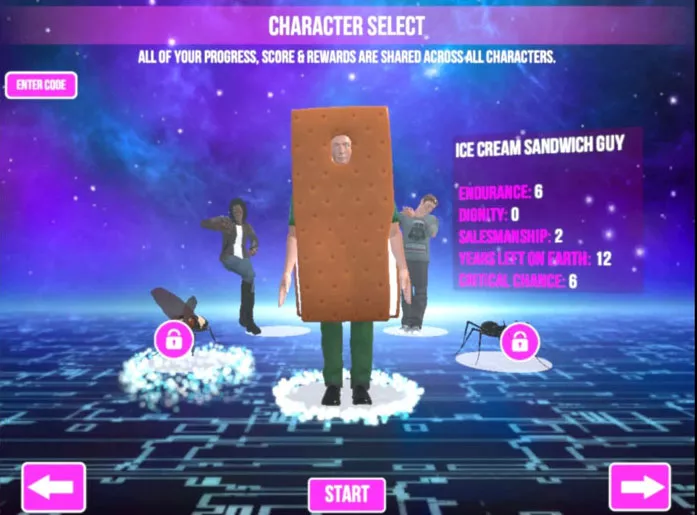 The game is set on Black Friday so of course there are plenty of other shoppers around to take money from you start off waiting for the shopping mall to open and then its rush time as you and everyone else piles in to the mall.
Your first objective is to buy the green sweater from the window of Chaffinch and Ruffington make sure when you reach the stand with the green Christmas jumper you use the direction off the mouse to view the jumper in front of you, you then use the left click button to grab it and take it to the counter where you will complete another objective by paying for the item.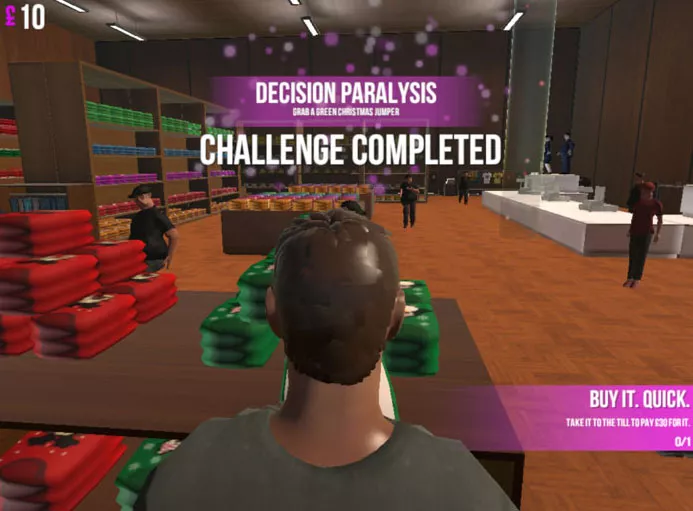 After this you will be able to bring up a list of the items you need to buy in the mall by using the tab button. This will then show you a list of all the presents you need to obtain for family, friends and yourself. Of course you don't have to follow the challenges you may have more fun just wreaking havoc in the shopping mall. At the top of the screen in pink you will see your current objectives and when an objective has been completed.
You will earn points and money as you go along but remember to keep kicking those people to keep your pockets bulging, you will also get money from them when you use the objects such as the fire extinguisher on them the more you do this the more money you will have to buy your items.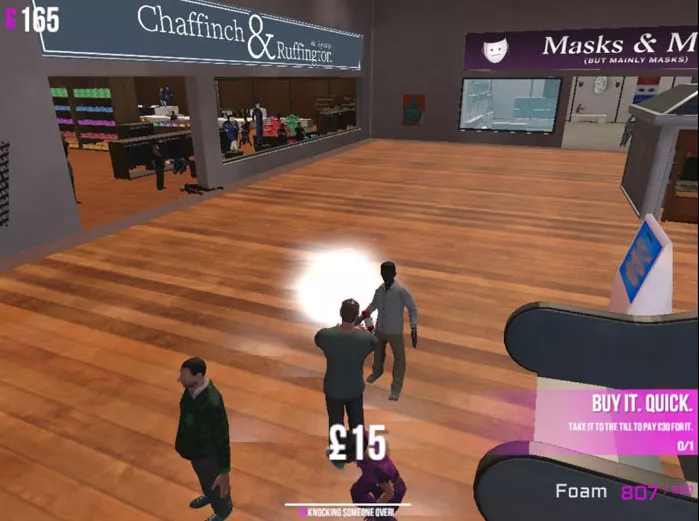 Whether you choose to complete the challenges and get your Christmas shopping or just to cause mayhem in the mall we hope you have found this Christmas Shopper Simulator 2 Black Friday How to play tutorial useful and enjoy playing it.