Friday Night Funkin' Guide
A guide on how to create mods for Friday Night Funkin'.

Date: 2021-01-11 23:58:37
By: Baron Yeung
Rocky Bytes Score

It Rocks!
In order to follow this guide you will need to download Friday Night Funkin'. Please click the green button below.
Modding Friday Night Funkin' is surprisingly easy, and it almost feels like the developer's making it easy for you by making the source files available. However, it being simple does not mean that it's an easy process. Modding is a ton of hard work and while not quite on the level of making a full game, still involves you making a ton of assets.
1. Things you need before you get started.
Here are some programs you'll need before you get started with even trying to mod this game. First, you'll need the game itself. That's the most obvious part. Then, you'll also need an image editing software. Any will do so long as they let you export images as transparent PNGs. If you're fixing to make songs as well, you'll also need an audio editing program - I personally recommend Audacity.
2. Editing the Sprites
Editing the sprites is one of the easier ways to mod this game. To get started, open up your image editing software and open up any of the character sprite sheets available with the game. You'll find them in the game folder under /images. For instance, here's one of the sprite sheets this game has opened in photoshop.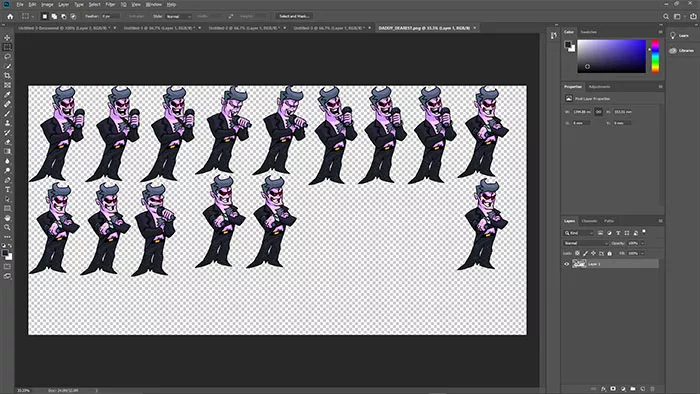 For anybody who doesn't know what a sprite sheet is, this is effectively what the game cycles through to animate its characters in-game. In the sprite sheet above, you can see every frame of animation that the game uses. For instance, the first three is his right arrow animation, the next two is his down arrow animation, the next three are his up arrow animation, and the rest is his idle animation with one left arrow frame peppered in there.
You can edit these frames however you like and they will also show up the way you edited them in game - just be sure that the dimensions of each frame are the same. If you don't, it will likely jitter like crazy, which is a constant problem with modded sprite sheets.
If you want to create your own sprites, that's fine. Just replace each frame with the respective one that you want shown, and you're good to go. Again, make sure the dimensions of each frame are the same.

2. Modding the audio
Frankly, this is one of the hardest parts of modding, and is generally not recommended for anybody not already familiar with editing music. That is a topic all on its own and won't fit here, but you can check out a quick tutorials here.
3. Making a song track
Here's one of the more interesting part of the modding process. To get started here, simply start up any song in game and hit 7 on your keyboard. This will bring up the custom song editor in game. This can be a little hard to get used to. Here are the controls. Left and Right arrows on your keyboard will scroll between the song sections, and clicking will let you place down notes. W and S will let you pan up and down along the song section, and there are also three tabs on the side - Note, Section, and Song. Note will let you increase the length of notes and nothing else. The Section tab will let you copy the last section of the song, and controls the camera between the player and the opponent, as well as determine which notes are for whom. Lastly, the Song tab will let you change the name of the song, determine if it has a voice track or not, change the BPM, change the audio, change the JSON, and more.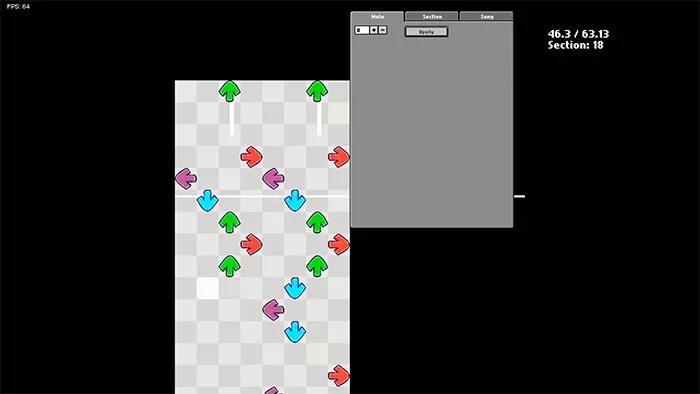 Hopefully, this guide helped get rid of some of the mystique behind modding the game. We hope this helps you get started!

Friday Night Funkin' took the game world by storm when it came out just over a year ago. Its nostalgic art style, flashy presentation, simple and addictive gameplay, and most of all, its incredible modularity. The mod community that's popped up around this amazing little game has been one of the ...