Best remote access software: Teamviewer, LogMeIn or TightVNC?

Date: 2014-05-15 03:41:26
By: Kevin Kutlesa

Remote Access tools are applications used to, as the name suggests, obtain remote access to a computer, to view or modify its contents or even execute applications. While they have personal uses, such as quick access to home PCs from any location, using another desktop or mobile, their main uses are probably in the professional sector, where such applications are used to execute remote processes or perform remote maintenance on applications or acquire files from test servers.
But whatever the reason behind their use, all users, personal or professional want the same thing: the best bang for their buck, the best application for the least amount of money possible. This article focuses on three of the most popular Remote Access tools: Teamviewer vs TightVNC vs LogMeIn.
LogMeIn
LogMeIn, and more specifically its free version (you can find the last one, LogMeIn 4.1.0.4132, was one of the most powerful remote access tools available, implementing highly secure connections and lightweight and fast remote access while still very easy to use. Over the past year, however, its free version ceased to exist officially, unified into the LogMeIn Pro platform, which works on a yearly subscription model.
Offering remote access, file sharing, video and audio streaming, remote printing and other features, LogMeIn allows simultaneous control (and use of these features) of up to 10 computers, or access from up to 10 mobile devices, the number depending on the license, with 2 computers/mobiles being the minimum for $99/year, 5 computers/mobiles for $249/year and finally 10 for $449/year. In terms of security, it implements OpenSSL, the standard for online commerce.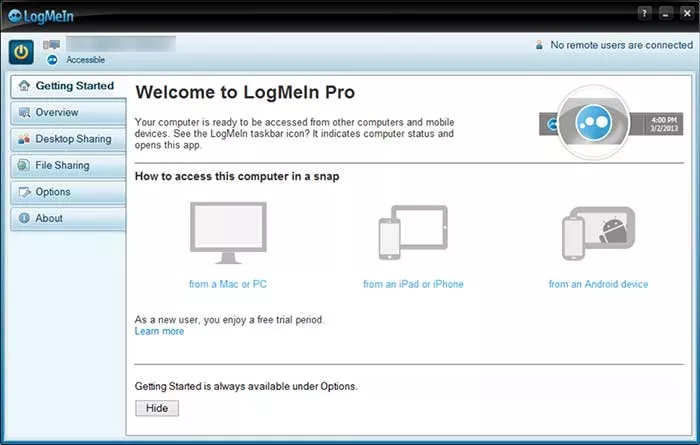 --> Download LogMeIn
Teamviewer
TeamViewer is a powerful combining robust Remote Access features with video conferencing and collaborative work, allowing not only remote access, but also for multiple users to work on the same documents, or create presentations on one workstation and use them on another. Its remote support feature allows users to service client machines without needing the client to install and configure anything. Security wise, Teamviewer implements 256-AES, Bank-level encryption, ensuring secure remote connections.
Teamviewer, has three levels of paid licenses: Business, Premium and Corporate, with the latter costing over $3000. There are no feature differences between the Free and Business versions, but the former implements internal controls to verify you are using the software for personal use, displaying warnings in case you are not.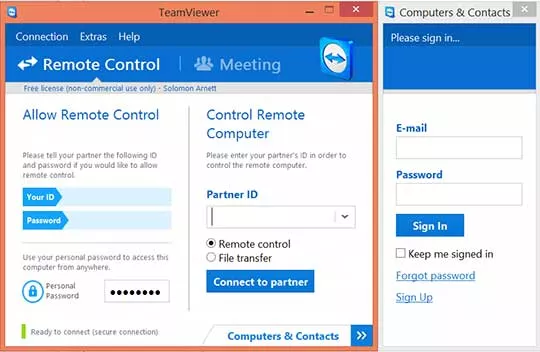 TightVNC
TightVNC (VNC – Virtual Network Connection) is the only one of the remote access tools to remain free of use for Personal and Business use. It's easy to use, requiring only simple installations on both machines to connect, one acting as client and the other as server, but the downside is its lack of security, as the VNC protocol isn't secure unless tunneled through SSH or a VPN, making it a risky tool. In addition to this, TightVNC is only available on Windows and UNIX.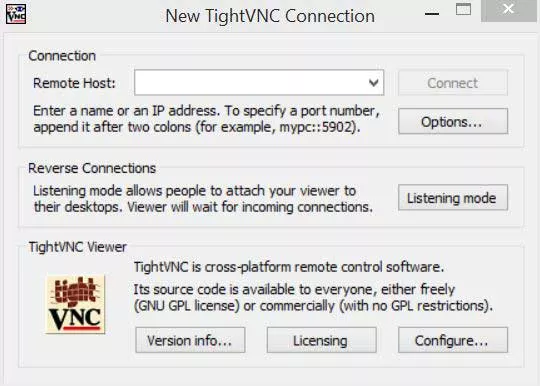 Taking everything into consideration, Teamviewer is the clear winner for both Personal and Business use. Its wide arrange of features are available to Personal users for free, and while licensing is expensive, it's a single purchase for a tool that will serve Businesses in many areas.
While LogMeIn is powerful, its yearly subscription coupled with its narrow focus on remote access, make it the least desirable of the paid options. TightVNC, while being free, is inferior to even the free Personal version of Teamviewer, with the added security issue, though it might work as a LogMeIn alternative if the LogMeIn 4.1.0.4132 ever ceases to be available for download.