Youidraw has officially launched!

Date: 2014-08-12 06:55:23
By: Kevin Kutlesa

On July 22nd 2014, Youidraw, developed by the people behind Aurora3D, officially opened its doors to the public. Now users can access the site and use its drawing tools and save their creations on their google drive. There is no need for accounts or extra security because of this, as Google's security will take care of all your data protection and privacy needs.
Youidraw offers three modules: Draw, Logo Creator and Painter. Draw offers vector drawing in a similar fashion to Adobe Illustrator or Corel Draw. You can start from scratch with an empty canvas to play around, or you can use some of the presets and templates, ranging from banners to even T-Shirt designs. The only downside is that as of now, the amount of templates is quite selective, so the templates might not be the best starting point for your project, though they may still be good for learning purposes.
Logo Creator is just that, an online set of tools to design and create your organization's logo, and unlike 'Draw', the number of templates is quite good, highlighting the kind of creations possible using Youidraw, from the more traditional corporate and letter based logo, to more creative ones in the Entertainment and Cartoon styles.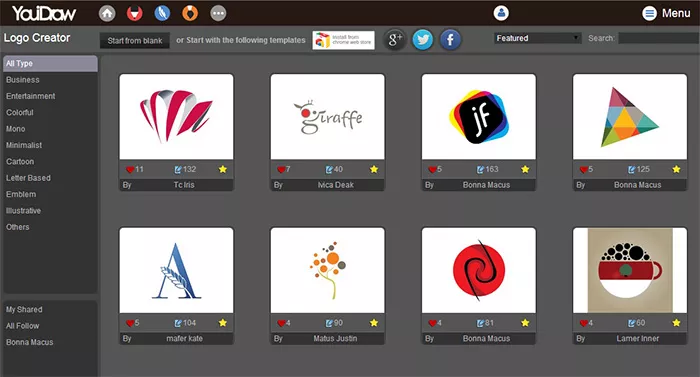 Finally, the Painter is similar to MS Paint. It's easy to use, though the number of options available is quite limited compared to MS Paint. On the left hand side there are maybe 5 or 6 tools available, and even considering some of them have settings, which expand their functionality, the amount of stuff you can do with the Painter application at this point is restricted. But to be perfectly honest, this might be the application that sees the least amount of use, as the other two have a broader range of uses and tools available.
Having played around with each of the applications YouiDraw has to offer, we found the interface and tools to be quite easy to learn to use. Better yet, if you have doubts, each section of your workspace has links for more information, taking you to the Youidraw documentation pages.
Youidraw comes in three price ranges for its use, though all work with Google Drive and none restrict what applications you can use. The only restrictions placed on free users is the ability to save their creation. Free users must share their designs with the rest of the YouiDraw community before they can export it. The paid plans come in two flavours, though both offer the same: a Montly plan of $9.99 or an annual $49.99. If you plan to pay for the service, we suggest you go for the Yearly plan, as it is considerably cheaper than paying the monthly fee.
With only so few restrictions and three very useful applications, you should stop reading this and go visit YouiDraw today. Tell us about your experiences with these applications in the comments below! And don't forget to come back for more news, here on Rocky Bytes.

Image and and photo editing software are some of the most powerful tools out there, allowing you to not only create new images and designs but to take existing ones and modify them to your heart's content. But choosing the best one for you might be a difficult task, so we've compiled a list of ...