How to Play Realm Grinder
Get the absolute best start you can in Realm Grinder with this guide!

Date: 2020-02-05 19:51:25
By: Baron Yeung
Rocky Bytes Score

Great!
In order to follow this guide you will need to download Realm Grinder. Please click the green button below.
Realm Grinder is a surprisingly complex game, and it's very easy to get a bad start and quit out of frustration at your slow progress. Luckily, there is a generally agreed upon an optimized route that will help you along the early game. Do note that doesn't mean you have to follow them - you can play however you want!
1. The Basics
Progression is typically limited by three resources in this game - Gold, Faction Coins, and Mana. These three resources come in varying amounts to each faction at different phases of the game. There is another way to progress, and it's incredibly important - trophies. You can earn trophies naturally as you play, but some of them are very peculiar and have special requirements. Some other trophies also only be obtained later in the game. Here is a list of ones that you can get before your first reincarnation:
Speed Run

Reach 1 million coins in 5 minutes, without using Gem Power. Pretty overpowered until you get a big pile of gems, so you may as well get this right out of the gate.

Rule 'dis

Abdicate 10 times within 3 minutes.

Need a Headstart?

Don't do anything for 5 minutes after abdicating or reincarnating.

Suggestion Master

Keep the changelog open for 3 minutes before closing it.

glho kohhl snod

Import a save of "glho kohhl snod" (has no effect on game; clues come from Faceless upgrades)

Leet

Have exactly 1337 Coins at any given time. Buy 1 farm, and click slowly after 1250 coins.

Because I Like to Grind

Spend at least 3 hours playing the game.

Building Hater

Reach 100000 Coins without building anything. (12 clicks with Speed Run, ~3000 without)

Assistant Squasher

Click an assistant icon (near the middle of the game background) 100 times.

Advisor Insight

Click the Hint button 100 times.

Spellfury (easy with Angels and all upgrades)

Cast Tax Collection while having 3 spells active.

God's Rest

Cast God's Hand (Angel spell) on any Sunday.

Sun Blessing

Cast Moon Blessing (Elf spell) between 6 am and 12 pm (noon).

True Night

Cast Night Time (Undead spell) between 11 pm and 6 am.

Grand Diplomat

Ally with each vanilla faction at least once.
Faction Grinder (1M with Elves)

Purchase the 6 Vanilla Faction Heritage upgrades in a single game.

Rewind (100M)

Abdicate after producing at least 1Oc Coins.

Archaeology Expedition (1B)
Master Archeologist (100B)

Given once you've unlocked Titans, Druids, and Faceless.
Mathematician (1Sp with Dwairies)

This means 1024 Farms, 512 Inns, 256 Blacksmith, etc, 1 Hall of Legends.

Hell Rush (1Oc?)

Cast Hellfire Blast (Demon spell) in the first 60 seconds of playtime.

Realm Digger (1Oc)
Exchange Master (1Oc)

Purchase 500 Royal Exchanges in a single game.
Here is a list of trophies you could get, but are difficult to do. However, it's recommended you do them before your first reincarnation so as to get them out of the way while you have the resources.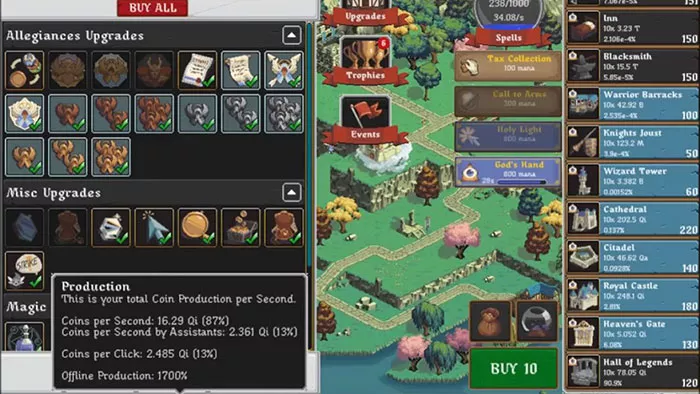 Equality

Spend at least 24 hours with each of the 3 alignments, and have the difference between each one be less than 60 seconds. If you've already logged multiple days for one or two alignments and don't feel like spending the time in R0-2, it's better to wait until R16, as R3-15 are usually less than 3 day runs each.

Unitary (1B?)

Have exactly 1 of each building at any given time.

Fairy Choir (20Qi, helps for unlocking Dwarves)

Cast Fairy Chanting (Fairy spell) while having 45 or more assistants.

Premeditation (20Qi?)

Buy 850 Dark Temples before purchasing the Drow Trade Treaty.

Greed Drive (takes 10+ hours before R3, or 30 minutes with a Merc build)

Cast 100 Goblin's Greed (Goblin spell) while not casting any other spell in a single game.

Lightning Storm (takes 10+ hours before R3, or 30 minutes with Merc build)

Cast Lightning Strike (Titan spell) 100 times in a single game.

Halls of Balance (10T)

Have Grand Balance (Druid spell) affect Hall of Legends. Buy all buildings except HoL.

Faceless Overmind

Affiliate with the Faceless 5 times in a row.

Minedwarf

Find 30,000 Faction Coins from Diamond Pickaxe (Dwarf spell) in a single game.

Perfect Combo

Cast a chain of 100 Combo Strikes (Drow spell) in a single game. The chain is interrupted by casting different spells.
2. Faction Progression
We're going to be using gems as a progress marker. That means that you should play that faction until you get the gems in that threshold.
0 - 100k/1M: Elves
1M: Play every faction and unlock all their upgrades.
1M - 10B: Demons
1B: Excavate until you have the fourht artifact. Don't go further. Play Angels and unlock autocasting until you hit 10B.
10B - 100Qi: Titans. Autocast Lightning Strike.
After 100Qi: Reach 200 excavations and unlock Dwarf and Drow.
100Qi - 1Oc: Dwarf/Fairies or Dwarf/Angels, whichever one you prefer.
And that should be the end of your first reincarnation! I hope this guide helped you.

Just unlocked researching and confused about how to progress? Take a look at this guide.
Realm Grinder is one of the most content-packed idle games out there, and Research is indicative of that. Research unlocks after mercenaries and is accessible from R16 for the Vanilla factions, R23 for Neutral ...