How to Use Virtual DJ
An introduction to the basics of how to use Virtual DJ

Date: 2016-01-07 05:58:48
By: Adam Singleton
Rocky Bytes Score

Great!
In order to follow this guide you will need to download Virtual DJ. Please click the green button below.
In this how to use guide we will show you some basic instructions to how to use the excellent program Virtual DJ
How to use Virtual DJ: the setup.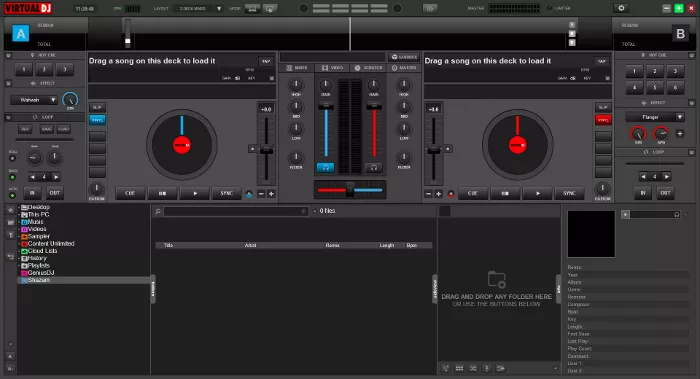 As you can see in the photo above the setup is very intuitive and functions more or less just like a DJ setup in real life, in the basic setup you have two turntables and a mixing panel in between underneath each turntable you also have buttons to cue, stop, play and sync.
How to use Virtual DJ: Getting started.
Now to get started you will need to drag one of your music files on to one of the turntables, this process is very straight forward simply open your files or music program and drag and drop the song of your choice on to the turntable.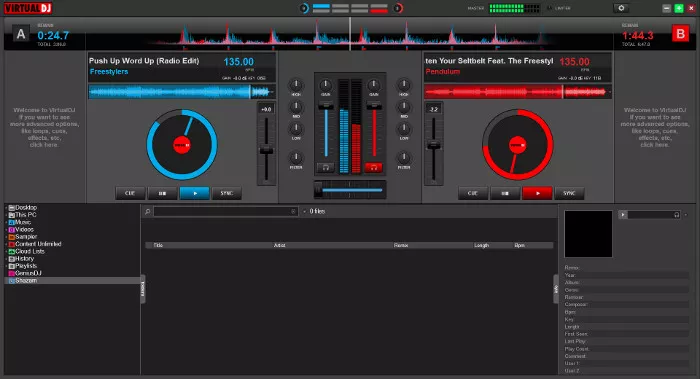 Then you can press play and get it going, when you are ready you can choose your second piece of music and drag it on to the other turntable.
How to use: Virtual DJ: Mixing
Now you can use cue to line up when you want to play the next record and it's also helpful to use sync if you are not experienced with beat matching which is what makes this program so great using sync is really helpful as it will automatically beat match the two records for you, if you have a bit more experience it is also possible to beat match manually by using the sliders on the right of the left deck and on the left of the right deck.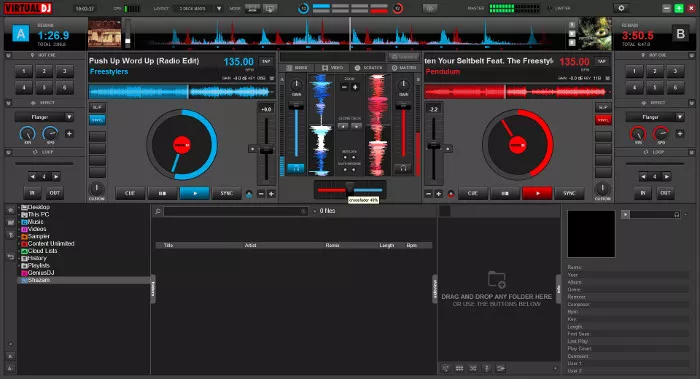 In the central panel you will see two more sliders these are the gain sliders and work more or less like volume controls for the turntable they are closest to respectively.
At the bottom of the central panel you will see a horizontal slider, use this to switch across from one record to the other.
How to use Virtual DJ: Scratching
If you want to scratch the records you can simply place the cursor over the desired record and it will switch to a little hand drag it back on forth over the record to scratch it.
At the top of the central panel you will also see three tabs titled Mixer, Video and scratch if you want to open a more complex scratch system then you can click on the scratch button and you will be given even more options for scratching.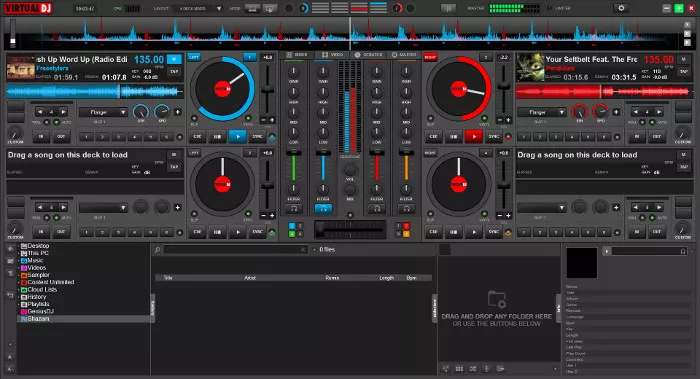 Now if you want to get even more complex at the very top of the screen you will see next to the CPU there is an option to change from a two deck mixer to a four or six deck mixer which you can use to mix up to six tracks together all at the same time.
How to use Virtual DJ: Summary
There are many more options and effects available to you but in Virtual DJ but the best way to explore all of the options is to use it and discover it for yourself. We hope this guide has helped you get used to the basic controls of Virtual DJ and have fun mixing!