How to Use Vuze
In this tutorial you will learn how to use Vuze for downloading and sharing BitTorrent network files

Date: 2014-08-01 11:20:46
By: Anthony Smith
Rocky Bytes Score

Great!
In order to follow this guide you will need to download Vuze. Please click the green button below.
Vuze is a P2P BitTorrent client, formerly known as Azureus. You don't need to know much to be able to use this program. If you tried other BitTorrent clients like uTorrent or the official client of this network, BitTorrent, you won't have any problem when using Vuze as well. Let's see some of the main features of Vuze and what they are for. When we have installed and set up this software correctly, when starting the program for the first time we will see this window: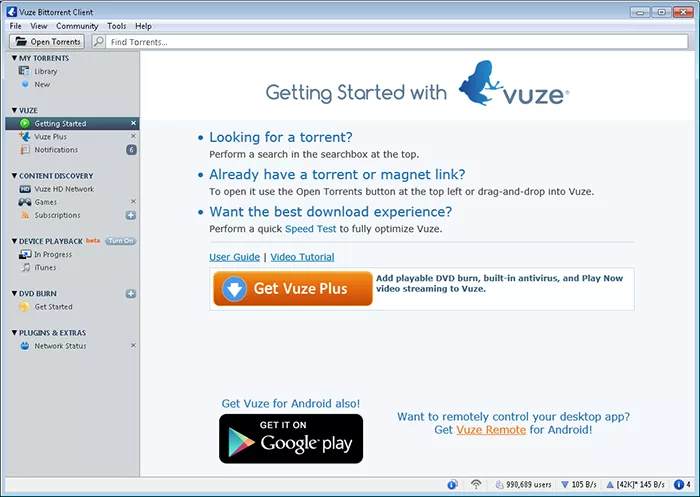 We can see that program interface is divided in various sections. The one called "Vuze" is for downloads and shares, and other functions are going to be covered later on in this tutorial. To start a download we will need a .torrent file. As we have mentioned in uTorrent tutorial of use, BitTorrent network is based on these files that contain all file information. These .torrent files can be downloaded from various web pages or specialized search directories. When we have a .torrent file, we will just need to open it with Azureus (Vuze) by double clicking on the file right from Windows explorer or through "File" and then "Open" menu options of the program itself. In "Files" and "Downloading" we can check the download progress status and its download speed, upload speed, time left, and size and so on.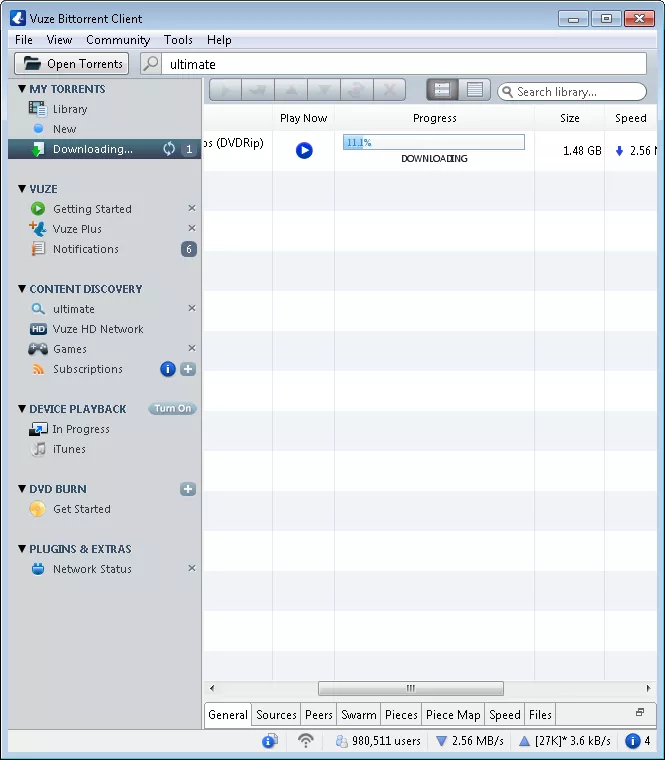 If we press the right mouse button over any download, we will access to a separate menu with related features.
Here we can adjust max speed limits of download and upload for every download, independently form the general setting. We can also stop or delete a download. Apart from that there are other options available, which can also be found on the upper toolbar with specific icons for each of them. From "Library" menu we can get to a library with all completed downloads and access all these files.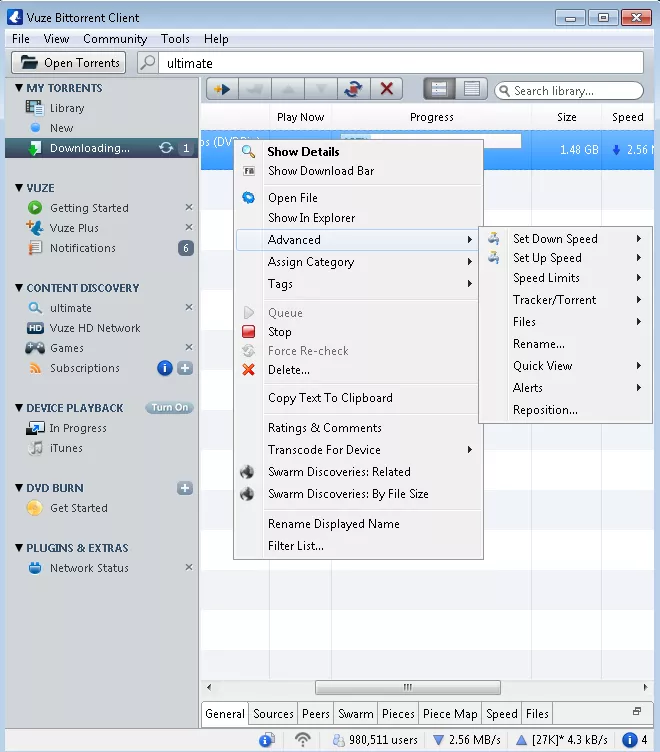 Basically that's all you need to know to start to download files from P2P BitTorrent network. Anyway, there are some other interesting options that are worth seeing in this tutorial. First of all, there is custom search feature which can be used straight from the program. This Internet search is going to be shown automatically and it's based on Bing search results.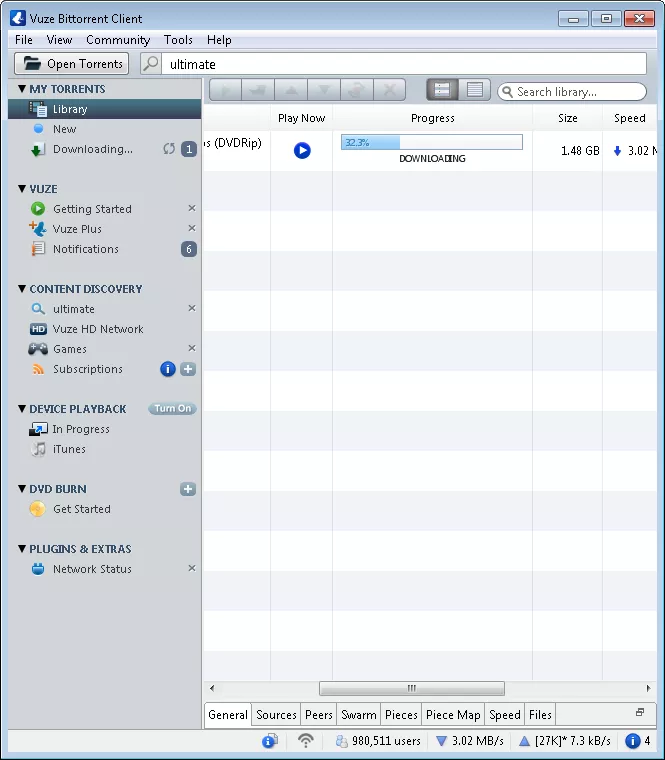 Another additional feature is burning software integration for recording multimedia files on DVDs and opening them on any other player. It is similar to Nero, Nero Burning ROM or CDBurnerXP. To record any movie or video on a DVD we will need to go to DVD Burn section and drag the files right there. After that we will be guided how to burn DVD correctly.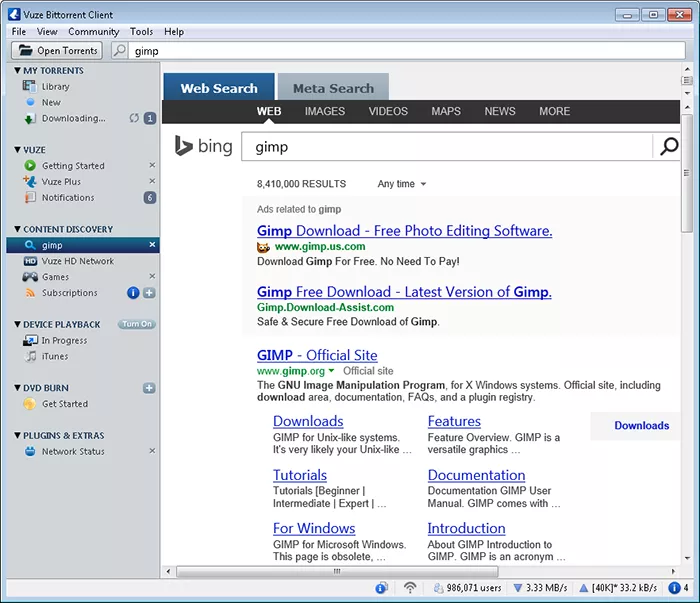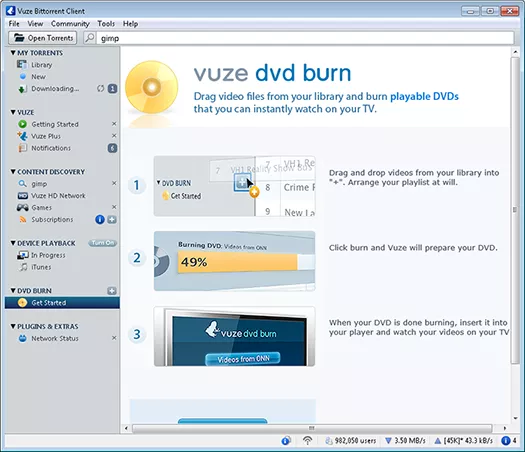 As we have seen in this how to use tutorial, Vuze can be used for downloading and managing our bitTorrent downloads easily and with similar functionality to other alternative software. Everyone has their own preferences on which software to use for this kind of downloads, so it's just a question of trying other similar programs which you can download for free in Internet P2P section on Rocky Bytes.

Find out how to install and configure this P2P downloads manager formerly known as Azureus.
To install Vuze we will need to first do double click on its executable file. In case we still don't have Java JRE installed on our computer or if its version is older than 1.5, a warning message will pop ...