How to Use Cheat Engine
Step by step tutorial - Specific case of Cheat Engine use: How to cheat in 3D Pinball Space Cadet

Date: 2014-07-01 05:09:32
By: Anthony Smith
Rocky Bytes Score

Very Good!
In order to follow this guide you will need to download Cheat Engine. Please click the green button below.
Cheat Engine is a program that lets us slightly modify games on basic level by changing its executables and hexadecimals, that's the reason why it may be a bit difficult to use with no previous practice. For its potential this program may be used in many different ways. In this how to use tutorial of Cheat Engine use we will see a simple and practical example of how to start to modify our games and how to cheat with Cheat Engine. For that we chose 3D Pinball Space Cadet game, a mythical Pinball game which was coming together with Windows XP. Now, it can be downloaded separately and installed on Windows 7 or Windows 8. What we are going to do in this tutorial is modify 3D Pinball in a way that we can put any number of points we want to surprise our friends, which is one of the things that can be done with this program. First of all let's start the game and Cheat Engine for being able to use both of them at the same time.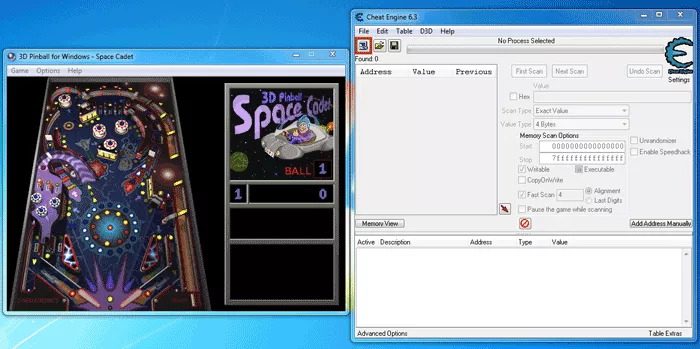 Now, the only we have to do is play the game in a way that we have just the last ball before losing the game. But we also recommend to score some few points for making the process easier.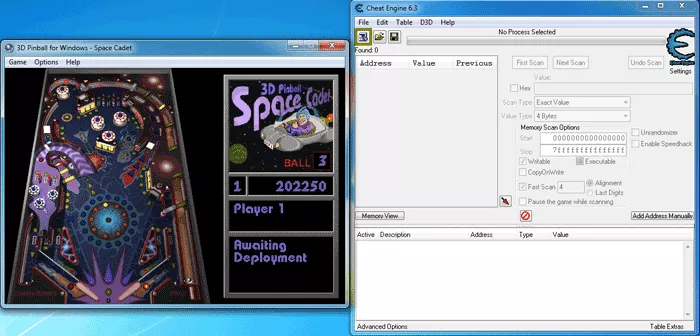 As we are playing with the last (third) ball, we have to press the Scan button, right below "File" that has an icon of a computer with a magnifying glass. We will get a list of all the processes running on our computer (just to remind you that Cheat Engine can also be used for managing programs too, not only games). In this list we need to choose the process of the game, which is pinball.exe. Let's open it.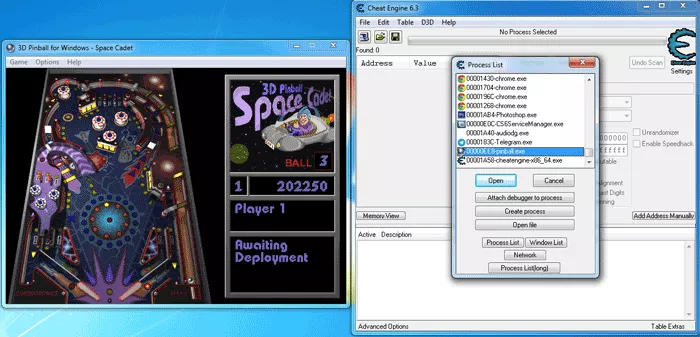 Now, we are going to mark current points of the game in "Value" field, in our case it's "66000". And press "First Scan".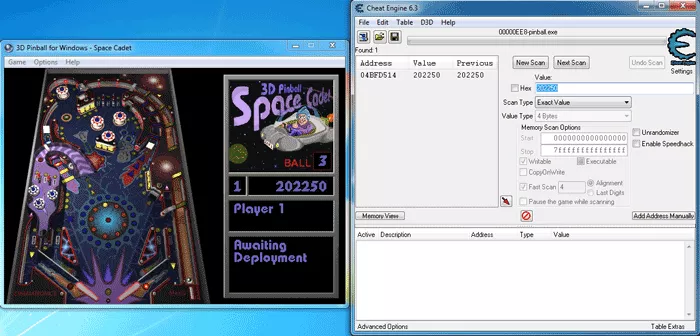 There is a number in the left column now, which is a hexadecimal of 66000. In this case, as there is only one variable, it only appears in one field. If there were more similar values, for differentiating which is the one we need, we would need to get some more points in the game and put the new value in "Value" field and click "Next Scan". This way we would see that the variable changed its value, which would be the exact score we want to change. Once we have it clear, we double click over it and it will appear on the lower part of Cheat Engine screen.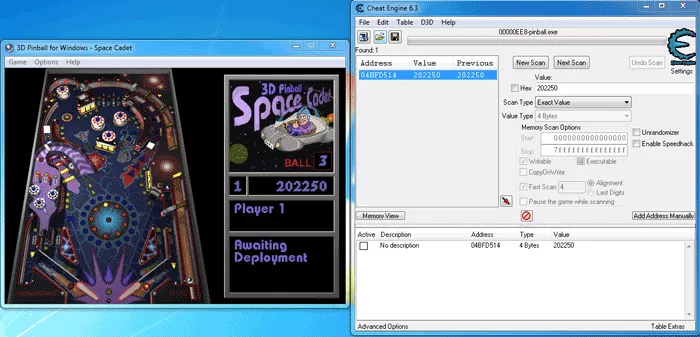 As we click on "Value" field don this lower part of the program we will be able to change the value of this field, which in this case is about the game score. Here we will put whichever number we want to have as score.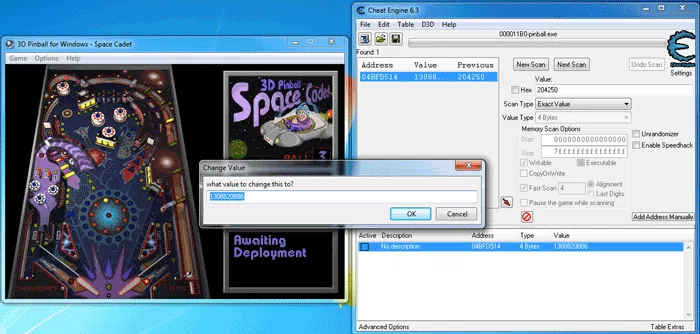 If we keep on playing now and get more points, the value previously introduced will reset and won't be saved. For avoiding this we should deactivate the modified variable by marking "Active" feature on the lower part of Cheat Engine.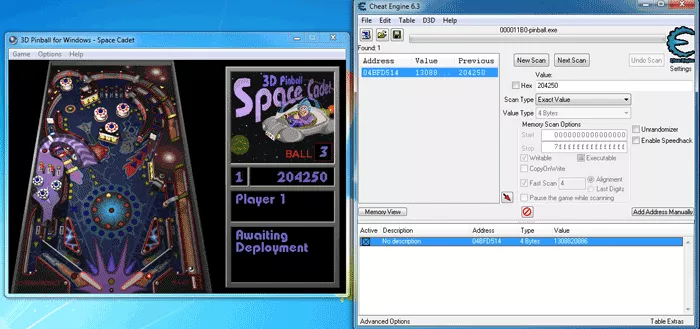 Now, the only thing we need to do is lose the game and the number we introduced as desirable score will appear as our final score. We can now save is as our "new record".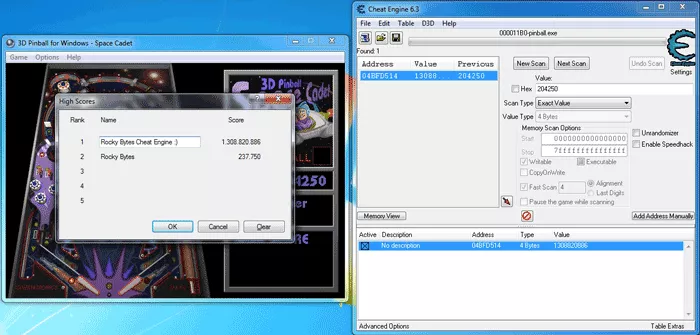 So, in this tutorial about how to use Cheat Engine we have learnt to hack 3D Pinball Space Cadet score. Exactly the same way we can modify any game and get unlimited lives, weapons, ammunition and so on and so on. Of course, there are some games that don't let any modifications of this kind. Anyway, there is a great number of different aspects that can be modified by changing executable hexadecimal values.

Learn how to install Cheat Engine correctly and modify your games
The installation process of Cheat Engine is very easy, we simply need to follow the steps shown in the installation wizard. By running the downloaded file for the first time we start to prepare the program for ...

Although the name implies cheating, Cheat Engine is such a powerful tool that has many different uses and can be used for a variety of things. The first one of course, is enabling cheats such as invincibility, super powers or even skipping entire levels of a game with the touch of a button or imputing a ...

Cheat Engine is a tool that allows users, among other things, to scan and modify a game's code/memory in order to do a things such as lower the difficulty, see through walls, enable invulnerability or enable any other cheat, and despite the variety of alternatives, it still remains the tool of ...