How to Play Five Nights in Anime 2
Having trouble playing Five Nights in Anime 2? Take a look at this quick guide!

Date: 2019-11-01 01:46:40
By: Baron Yeung
Rocky Bytes Score

Good!
In order to follow this guide you will need to download Five Nights in Anime 2. Please click the green button below.
Five Nights in Anime 2 is very similar to its parent game, Five Nights at Freddy's 2. It plays almost exactly the same, with the same map, gameplay loop, and general strategies applying very well from one game to the other. The main differences are the items and appearances you'll be using. The mask you usually cover your face with in the original game is replaced by...er...panties, and the wind-up box is replaced by a laptop with some incriminating things on display. The animatronics are also replaced by anime-tronics, if you somehow couldn't see that from the pictures.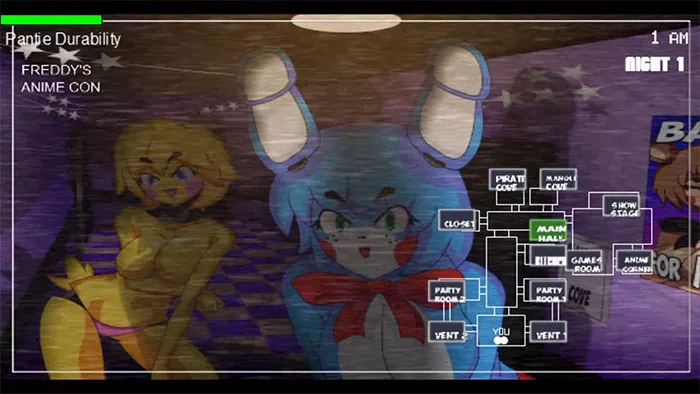 1. Basic Gameplay Loop
If you haven't played the base game before, here's a basic look at the gameplay loop. You must look at the cameras to see where each anime-tronic is at. You'll have to select which room to look at. While you aren't looking at them, each anime-tronic will begin to move towards you to seduce you to death.
Every game day starts at 12 AM, and your main goal is to survive until 6 AM, where they will apparently deactivate for the night. There are a number of mechanics you must keep in mind to stay alive and pure.
Your main form of defense is putting panties on your head. This will fool the anime-tronics into thinking you're just another girl and they will ignore you for a while. When an anime-tronic has entered the room, this is the only thing you can possibly do - you can't look through the cameras, or else you will likely die from a surprise seduction.
You can also flash the lights on the two vents on the side, and one light in front. This is the only way to know if an anime-tronic is about to enter the room. As soon as you see them, it's recommended to put hte panties on. Do note the panty durability in the top left. Make sure not to let it run out, because the panty will...break? And you won't be able to use it anymore.
The last mechanic worth mentioning is the laptop. Your job with it is to not let it go into standby mode. If you do, a hidden fourth anime-tronic will pop out and instantly seduce you, killing you.
2. Anime-tronic Behavior
Each of them moves similarly to their version from their parent game. For simplicity's sake, I will refer to each of them as their name from the original version. For those unfamiliar, Toy Bonnie is the blue bear, Toy Chica is the yellow duck, and Toy Freddy is the brown bear.
Toy Freddy will go from the Show Stage to the Game Room. Unlike the other two, she likes to just stand in front of your office to try and seduce you. You will need to put the panties on to evade her.
Toy Bonnie will go from the Show Stage > Party Room 3 > Party Room 4 > Party Room 2 > Right Air Vent. Once you see her in the vent lights, put the panties on immediately, otherwise you may die.
Toy Chica will go from the Show Stage > Main Hall > Party Room 1 > Left Air Vent. Defends yourself by putting the panties on just like the other two.
There is also one more anime-tronic to worry about, but as stated, she can be fended off by keeping the laptop on. There may be certain times where she will appear in your room and stare at you. Try not to let her distract you too much - she can't hurt you as long as the laptop is on.
And that's it! FNAF2 veterans will likely enjoy this game for what it is, and even newcomers can find some things to like.

If you're having trouble installing Five Nights in Anime 2 at all, take a look at this video!
Five Nights in Anime 2 is a fangame that asks two questions: What happens if we take a horror game and take it straight into the opposite direction, and should we do it? The question to the latter is yes, of course. ...