How to Use Google Earth
Learn how to use basic elements in Google Earth to help you get started.

Date: 2014-11-03 04:25:37
By: James Fleckenstein
Rocky Bytes Score

Great!
In order to follow this guide you will need to download Google Earth. Please click the green button below.
In this tutorial you will learn how to use basic elements in Google Earth to help you get started using the software. If you haven't already, you will need to have Google Earth installed before proceeding with this tutorial. If you need help installing Google Earth, please refer to this tutorial.
Once you have Google Earth installed, start up the application by clicking on the new Google Earth icon on your desktop. Once you do, you will be greeted with the Google Earth splash screen. This indicates that the software is starting up: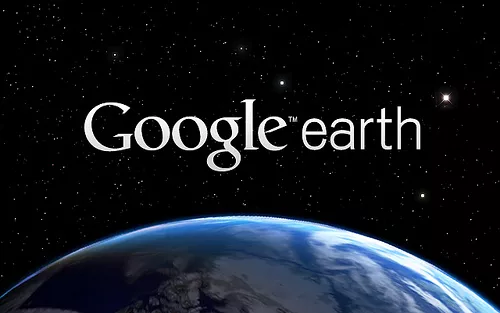 The splash screen will remain until Google Earth is finished starting up. Once it is finished, the splash screen will disappear and Google Earth will open up. Google Earth will present you with the "Tips" window when you start it up for the first time. This window will give you many basic tips on how to use the software all from that window: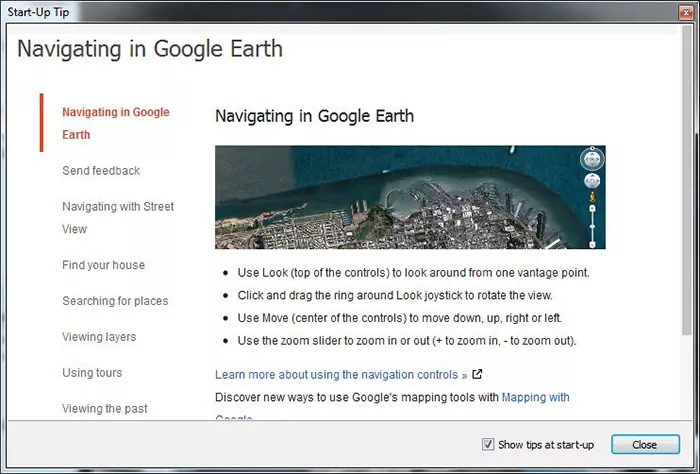 You can use the tips window to learn about simple uses for the Google Earth application. If you do not want to see this window when Google Earth starts up from now on, you simply uncheck "Show tips at start-up" before you close the tips window. Once you are done, close the tips window by clicking on the "Close" button. When you have done this, you will be at the main Google Earth window: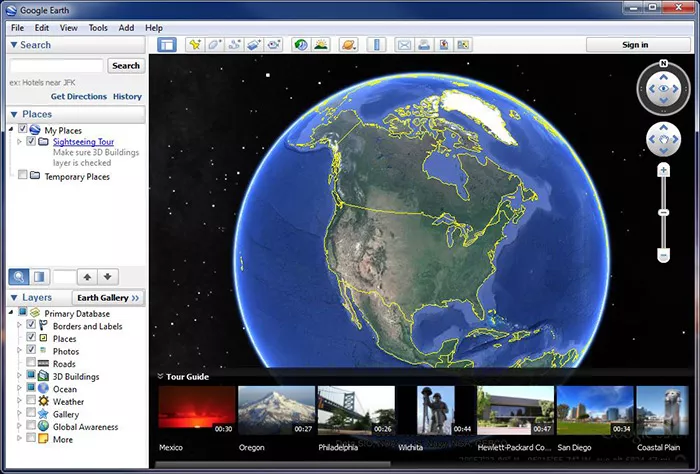 At this window, you will have access to the search function at the top left, the saved places box in the center left, and the layers panel at the bottom left. Using the search panel, you can type in any location you want to search for, including addresses, cities, landmarks, and even coordinates: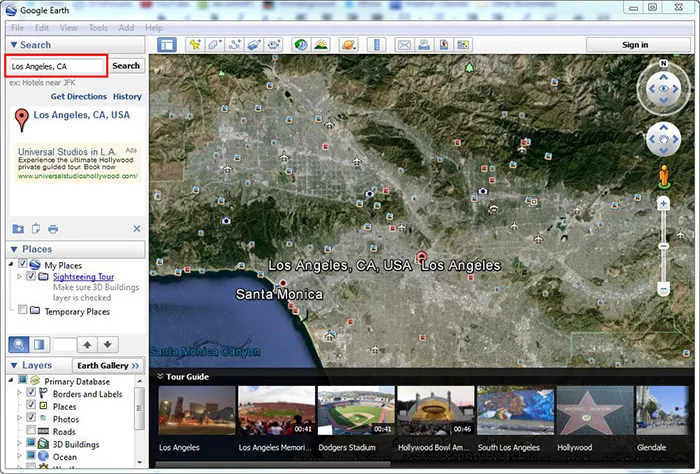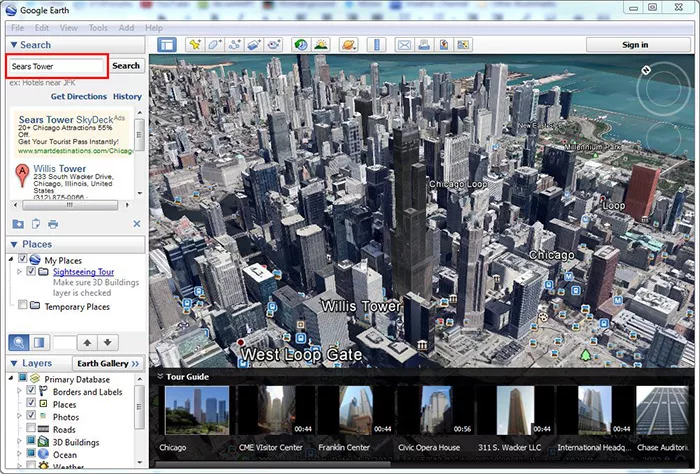 Once you have done that, you should be able to see a ton of information on the place or landmark you searched for. From images to videos, you'll get everything you know about what you search for right at your finger tips in seconds with Google Earth. There's more though, in the bottom left panel, you can use various layers to get more information on the place you are searching for. Checking the weather is a good example: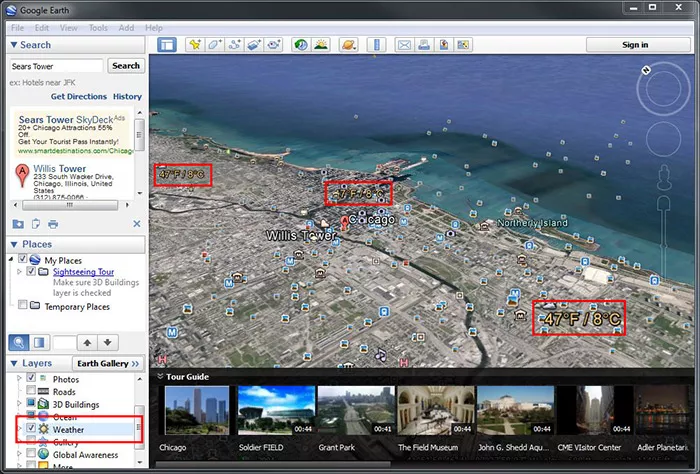 You can even get live doppler radar information: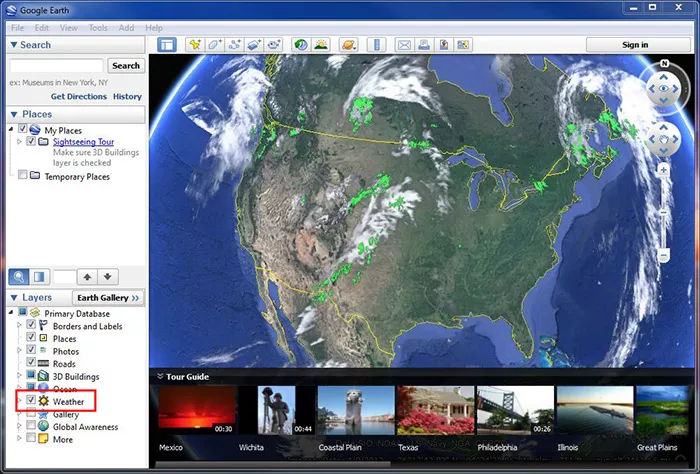 Though, weather is just one of the many options in the layers panel. You can even get an overlay of the roads in the area as you would with any map. This overlay will be right on top of the satellite imagery provided to you by Google Earth and will help you navigate where you are at: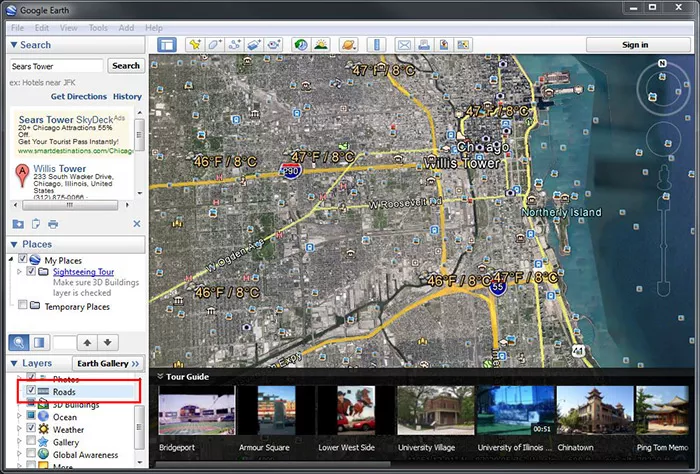 Google Earth also has a "Tour Guide" feature, which shows you guided information on a place or area that you choose at the bottom list of pictures and timed tours: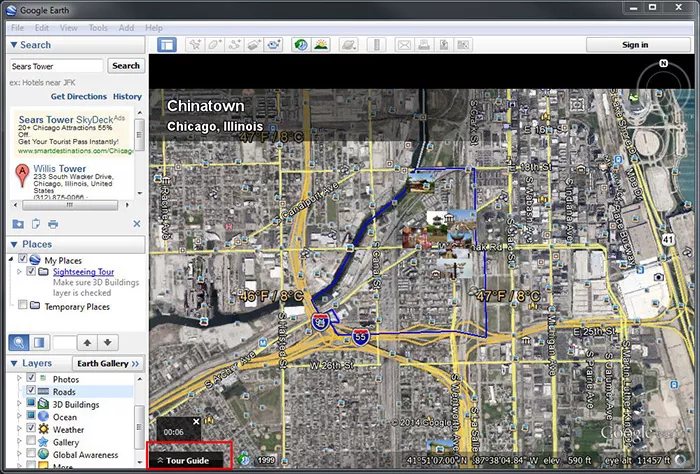 Tour Guide will help you learn more about a place before you visit so you know what to expect. Though, we can't forget that Google Earth also has guided map features that you would expect from Google Maps. You can get directions on how to get from "point A" to "point B" by simply clicking on "Get Directions" at the top left and typing in where you are by "point A", and where you want to go by "point B":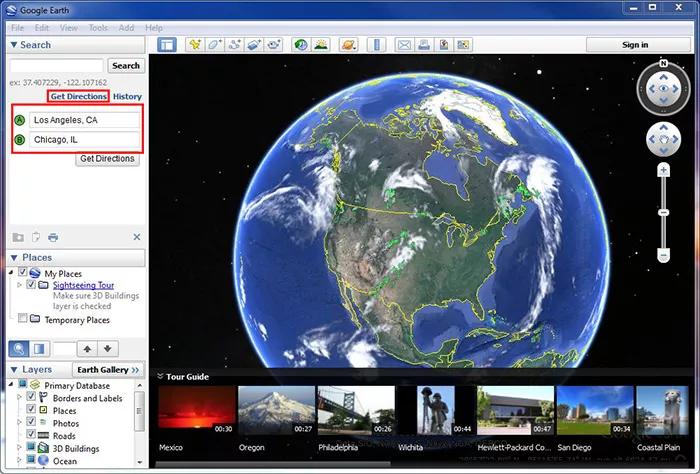 This will show you the entire route from "point A" to "point B", as well as turn by turn directions that you can print out directly from Google Earth: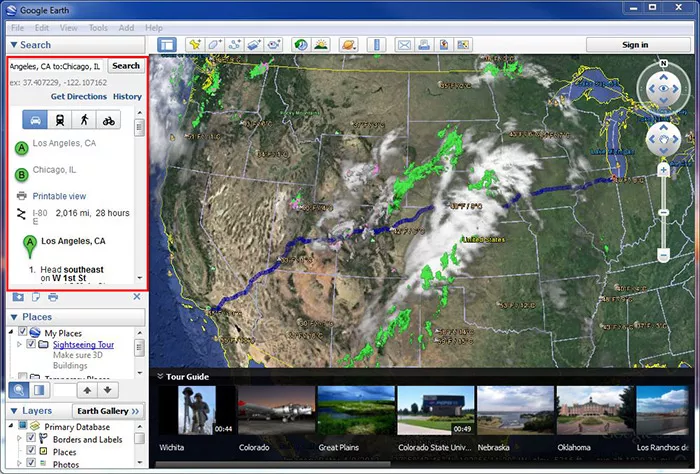 That's pretty much all of the basics! Google Earth is a fantastic application that provides you geographical information and mapping all from your desktop in a few simple clicks. It is very easy to use and you can learn a few things about every place to type in with the Tour Guide feature. I hope this tutorial helped in showing you the basics on how to use Google Earth!

Learn how to install Google Earth and run it for the first time.
This guide will help teach you how to install and run Google Earth for the first time. In order to continue with this tutorial, please download Google Earth from the download link above. Once you have Google ...