Legends of Runeterra Guide
Learn what some of the strongest decks currently are!

Date: 2020-02-11 01:58:17
By: Baron Yeung
Rocky Bytes Score

It Rocks!
In order to follow this guide you will need to download Legends of Runeterra. Please click the green button below.
The best part about any card game is creating a deck that can let you roll your opponents over. There's nothing quite like a well-crafted deck all coming together and taking your opponents out. However, as is true in any game, there are some that are just blatantly and obviously better than others. Take a look at this guide to know what to focus on!
There's something important to get out of the way. As this is still a beta, the meta is incredibly fluid and can change from week to week. To truly keep up with the meta, visit sites such as this to keep up. However, every deck here has some core cards that are incredibly useful to pick up early, as it's very likely that future meta decks will be some variation on these couple of cards.
You can also import these decks directly into the game with the provided deck codes.
1. Fearsome Midrange
Deck Code: CEBACAICHEEQCBIOCAOSOKBKGE2TQAQBAEBDCAYBAULCEIYBAIAQKAJB
This deck aims to utilize fearsome units to have an incredibly strong early game and also stall the game out until you can get your finishers. The finishers, in this case, being Hecarim, Rhasa and Ledros.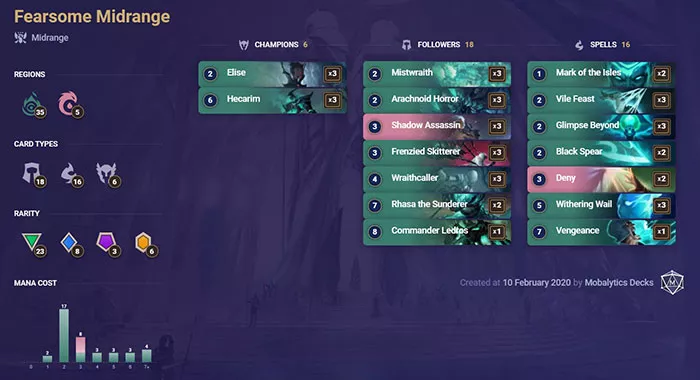 Early game, you want to utilize Elise, Vile Feast, Black Spear, and Mark of the Isles to hold off any early game threats. You can either push forward on turn 3 or 4 with Frenzied Skitterer and Wraithcaller, or simply hold the enemy off while you try to draw Hecarim and Rhasa. Should the game seem to be dragging, keep stalling and try to draw cards with Glimpse Beyond until you hit your end game threats.
2. Dawnspiders
Deck Code: CEAQOAIFBYICOKBRGU4AEAYBAULCGKQFAEAB2HZJGI3AEAIBAAFQEAIFCQ2A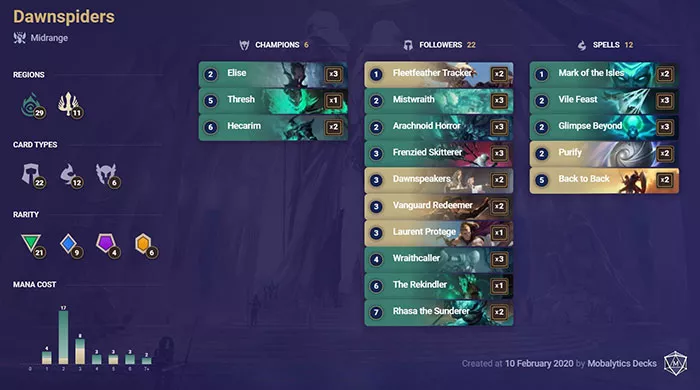 Dawnspiders has been near the top of the meta ever since the open beta started a few weeks back. This deck relies on the synergies between the squishiness of the spiders, and the effect of Dawnspeakers buffing units if an ally died that round. This deck is built around sacrificing your own units to create an unstoppable engine of death.
For your opening turns, you have Vile Feast and some challenger cards to take the board over. If you have the chance, you should play Elise so you can constantly spawn new spiders. You want to buff up your top-end cards like Hecarim, Thresh, or Rhasa and use Back to Back to end your opponent before they can fight back.
3. Elusive Burn
Deck Code: CEBAEAIABMUQKAICAYNCQLBZAIBQCAQJBQYQKAIAAMIR2JJSAEBQCAASCUWQ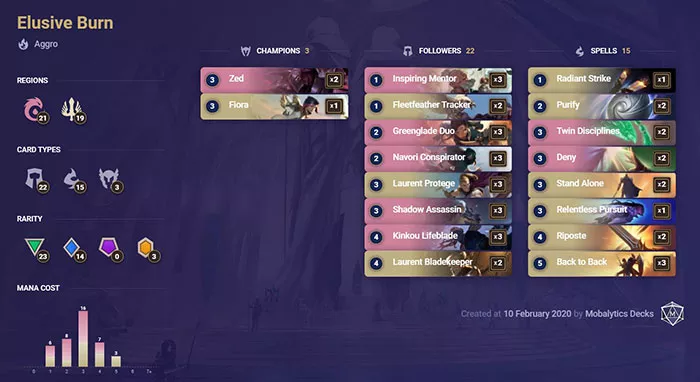 Elusives have been found to be some of the deadliest cards in the game. While there are a lot of different decks that have popped up recently to counter them, Elusive decks are much easier to play than their counter decks.
Your game plan is incredibly simple. Play your elusive cards, buff them, and keep them alive to win. Use your deny cards wisely to keep them alive and calculate the damage you output carefully. If the opponent doesn't have a deck prepared and doesn't play correctly, you'll steamroll them.
4. Chariots
Deck Code: CEBAEAIFCUVAQAICAYERCGRKFQZDSAIEAEBA2FBRGQAQEAICAINQ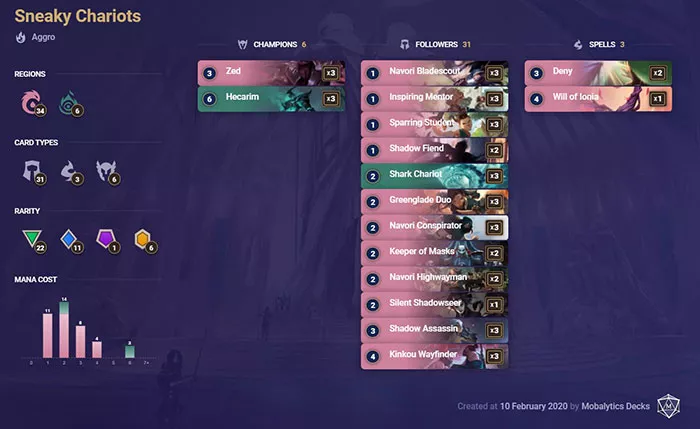 Chariots are another deck archetype that has been getting played a ton lately. This deck focuses on using elusive and ephemeral units to rush your opponent down, along with - you guessed it - the Shark Chariot. The Shark Chariot is one of the more deadly units on offense, as it can give you up to three free units per attack. Couple that with some champions that are incredibly deadly without needing to level up - Zed and Hecarim - and you can easily get massive burst damage from a seemingly empty board. Should you catch your opponent with their pants down, you can easily end them from full health.
And that's it! You should keep an eye on these cards as the meta progresses.

Learn how to earn more cards and the various modes in Legends of Runeterra!
Legends of Runeterra is one of the latest in card games based off of original IPs. This game has a few different modes and card acquisition from most other card games. Take a look at this guide to figure out how to ...