Legends of Runeterra Tutorial
Learn how to earn more cards and the various modes in Legends of Runeterra!

Date: 2020-02-10 22:46:18
By: Baron Yeung
Rocky Bytes Score

It Rocks!
In order to follow this guide you will need to download Legends of Runeterra. Please click the green button below.
Legends of Runeterra is one of the latest in card games based off of original IPs. This game has a few different modes and card acquisition from most other card games. Take a look at this guide to figure out how to get a new deck.
1. How to get cards
There are a few different ways to earn cards. The most straightforward way is to purchase them directly with real money. Obviously, this isn't a very sustainable way unless you're incredibly rich. On top of that, this game features a system that limits the number of cards you can directly purchase in a week, to tone down the typical pay-to-win aspect of card games.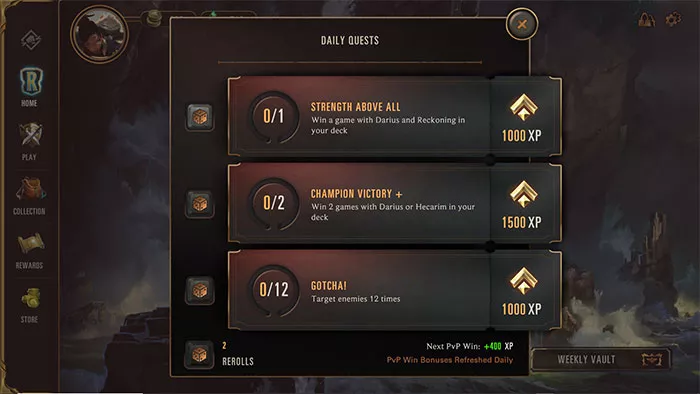 The second way to acquire cards is to level up. Whenever you earn EXP, it goes towards two different things.The first thing is your vault - every week, you get a vault that will open on a certain day. The higher level you get it, the more the rewards are. The second thing XP goes towards is the faction path you choose, or the prologue path if you still haven't completed it. You can check your progress on these paths any time you want.
There is a limited amount of XP you can get per day...well, technically not, but unless you can squeeze in a thousand games a day, you won't make any actual progress. The first thing you should do is complete your daily quests - reroll it until you can get the maximum amount of EXP per day - 1500. The second thing you should do is get your daily wins - the first three wins of the day will give you an extra 700 XP. You can do this against AIs if you want.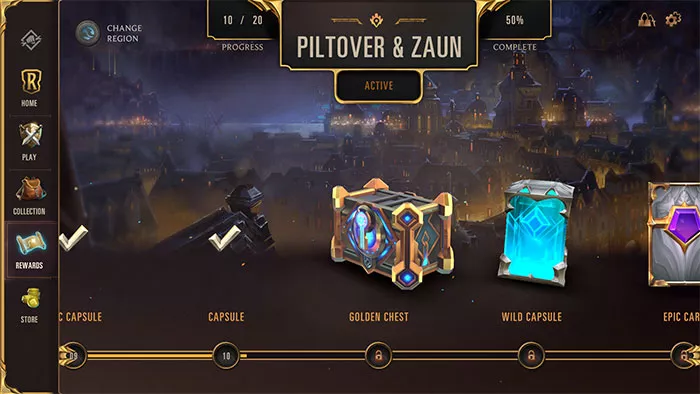 XP from wins and losses scale down if you play too long. Here are the exact numbers.
PvP Win Values:
1 to 10 wins: 200 XP per win
11 to 15 wins: 150 XP per win.
16 to 20 wins: 100 XP per win.
21 to 30 wins: 50 XP per win.
31 and more wins: No XP earned.
PvP Loss Values:
1 to 5 losses: 100 XP per loss
5 to 10 losses: 75 XP per loss.
11 to 20 losses: 50 XP per loss.
21 or more losses: Zero XP earned.
XP in AI games are the same, but halved.
There is one last way to earn cards. Expeditions. If you have the currency or a ticket to do so, you can embark on expeditions. These guarantee you a champion card at absolute worst, and can pay for itself at the absolute best. Read onwards to find out how Expedition works.
2. Game Modes
There are a couple of games modes. The tutorial, where you can learn how to play the game, vs AI, where you fight against a computer, PvP, where you fight against other players, and Expedition.
All of these are self-explanatory except for Expedition. Expedition is a mode where you can draft a deck from a random pool of cards to go against other people. These include cards that you don't own, so if you wanted to test out some cards, this is a great place to do it!
Every time you embark, you get two trials. Each trial can have a maximum of 7 games. The only way you can wash out is if you lose two times, which makes it easy to get further. At the end of the expedition, you will get rewards based on how many wins you got in the two trials. If you manage to get 7 wins, the expedition will pay for itself and you can immediately embark again up to three times per week.
And that's it! With that, you should have the knowledge you need to get a bunch of cards and new decks.

Learn what some of the strongest decks currently are!
The best part about any card game is creating a deck that can let you roll your opponents over. There's nothing quite like a well-crafted deck all coming together and taking your opponents out. However, as is true in ...