How to Install Madness Accelerant
Having trouble installing Madness Accelerant and getting it running? Look no further!

Date: 2021-09-05 23:54:21
By: Baron Yeung
Rocky Bytes Score

Great!
In order to follow this guide you will need to download Madness Accelerant. Please click the green button below.
Flash games have been officially discontinued, and that includes Madness Accelerant. Fear not, though. This game is still very accessible - just a little less than before. There are a number of ways you can still play Flash games - this is a list of all the different methods you can use.
1. Using Flashpoint
Flashpoint is the easiest way to play Flash games nowadays. What is Flashpoint, you may ask. Flashpoint is a massive repository dedicated to simply preserving as many Flash games as it can. It has a built-in flash player that it will automatically boot up whenever you choose to play a game. That, coupled with an extensive built-in search bar, makes it easily the best way to play Flash games.
To get started, you need to download Flashpoint. You can do it from this link. Just click on it and click download, then follow the instructions to install it.
Once you're in and have the program booted up, you just need to find the game you want to play. In this case, it's Madness Accelerant. Simply click on the search bar in the top and type in Madness Accelerant. You should be able to find it immediately. Click on it and then click the play button.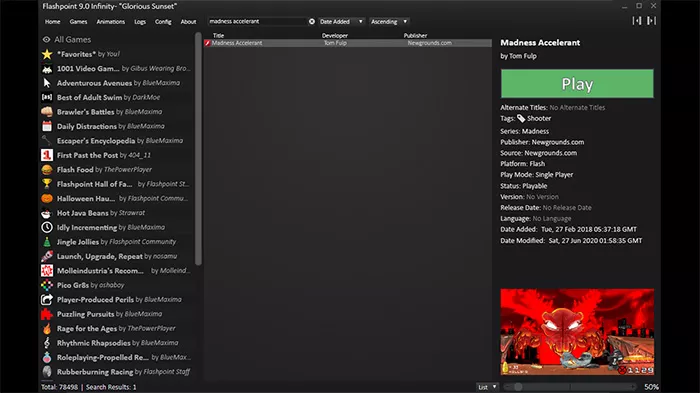 A separate window will show up. This window may be blank in the beginning. This is because Flashpoint is downloading the game from its servers. There is a separate option to just download every flash game along with Flashpoint, but that will take up an incredible amount of space. After the game is downloaded, you can now play Madness Accelerant exactly like it used to.
2. Using an SWF player
Of course, if you downloaded the game from its direct link, you'll now have an SWF file that you can't run natively. If you didn't click on the link from the main review, then here's the link again. You'll need to download that SWF player to play flash games.
Once you have it downloaded, boot it up, then click on File and then Open.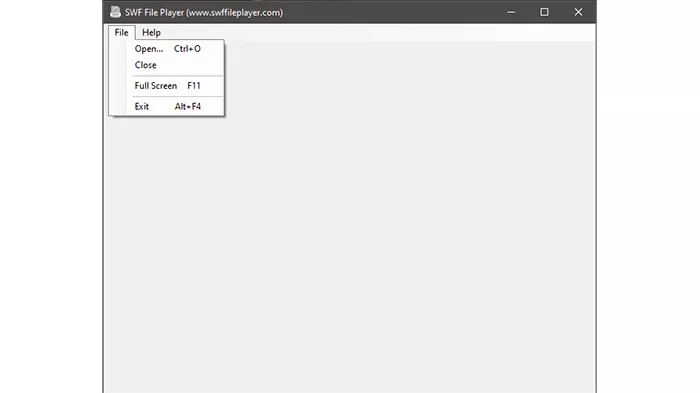 The program will show you a ton of different information about the game you're about to boot up. Don't be intimidated by this and just click Play. This will boot the game up and, once again, you can play the game just like it originally was.
So that's it! Those are the easiest ways to install and play Madness Accelerant.

Having trouble with the game? Take a close look at this guide to get you through it.
Flash games have always been surprisingly difficult to finish, with game design harkening back to some of the older style of NES games. Madness Accelerant is no different. This game really displays how powerful Hank ...