How to Use Mobogenie
There are many ways to use this program. Don't lose any detail and follow this tutorial

Date: 2014-09-17 06:16:42
By: Anthony Smith
Rocky Bytes Score

It Rocks!
In order to follow this guide you will need to download Mobogenie. Please click the green button below.
So now we have installed Mobogenie, a program that lets us control our smartphone from computer. Let's see its main features and how to use it. In the following image we can see the main menu of it, full of applications that can be downloaded for free.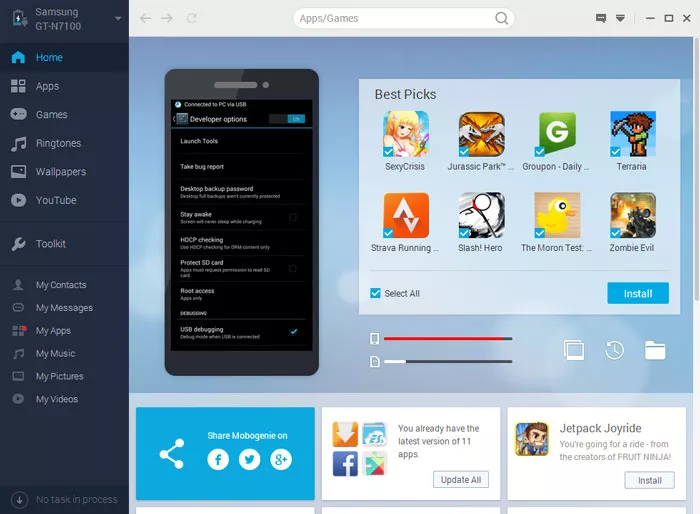 Here's one of the special uses of this program, which is YouTube videos download. It saves videos right on our phone, so we only need to search for a video, choose it and then press the Download button – and that's it!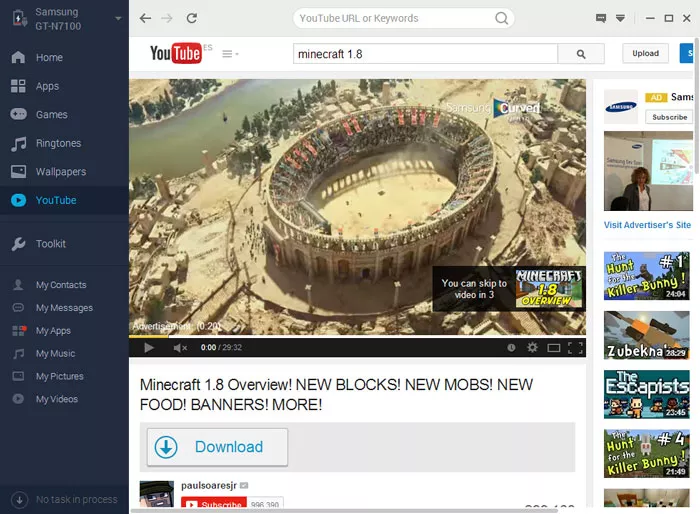 We can also specify the quality of the video to be downloaded and some other features.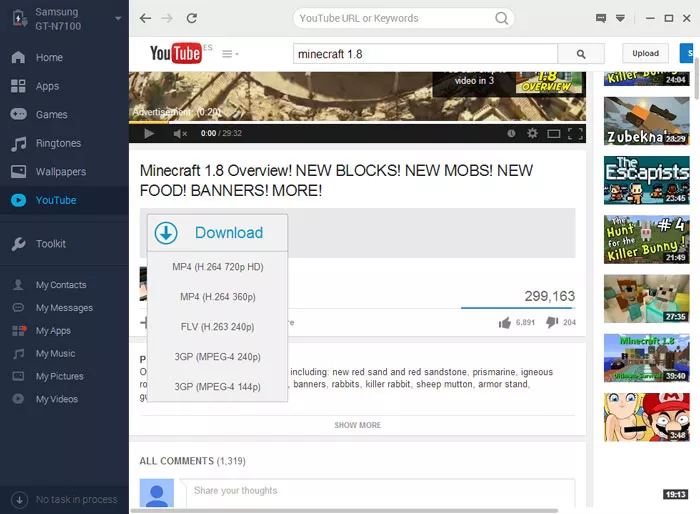 In Home section there are all kinds of apps that can be set up and organized. There is even an option for Fast battery charge.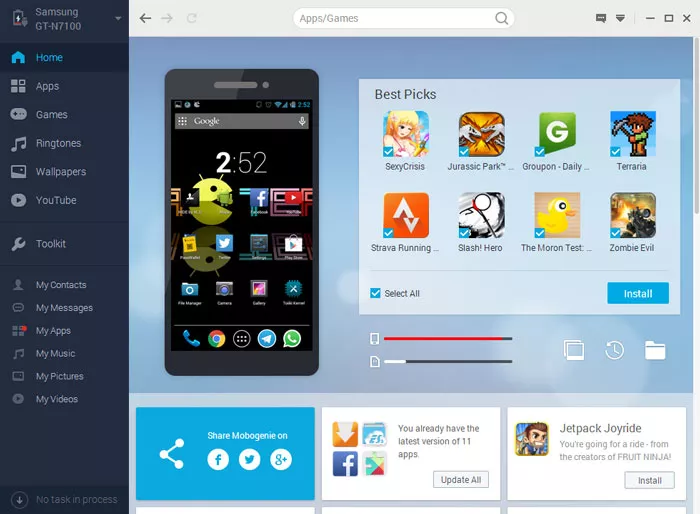 There is a separate menu for contacts, messages, music, images and videos. But the most important feature of this software is the possibility to update apps from computer.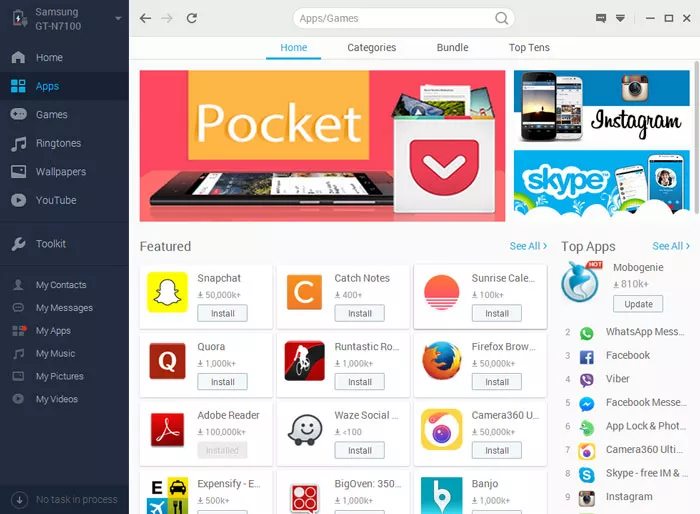 There is Apps search engine that comes together with Mobogenie download, which works really well. It shows us all the installed apps on the phone together with games. This way we can manage them all straight from the program screen and even uninstall some of those that can't be removed from the mobile itself. It also shows us the space that each program takes, being on the internal memory or on an external microSD.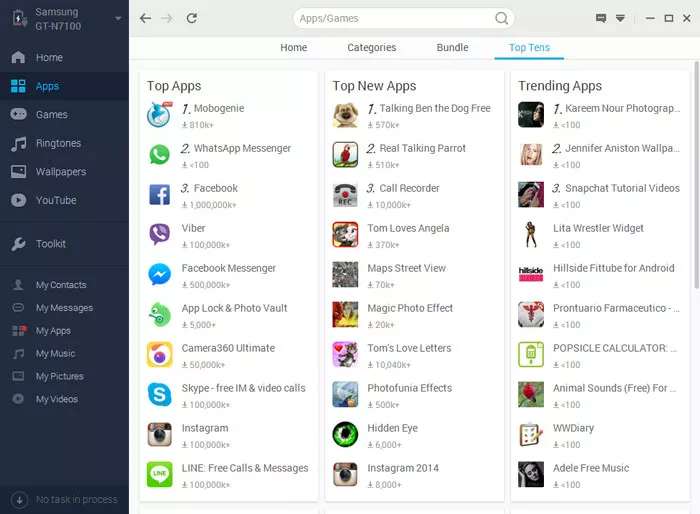 A good thing about this program is that we can resume downloads and updates if there had been a connection failure between the computer and the phone while some of those tasks were in process.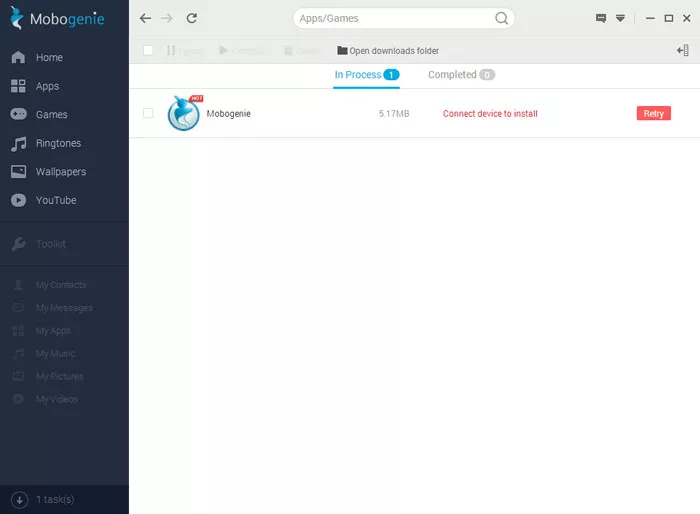 And to sum things up, there is a complete download manager for Android games. As well as for apps, they go to our smartphone with just a click.

Enjoy all the features offered by Mobogenie and learn how to install it correctly following this tutorial
First of all, we will need to run the downloaded file to install Mobogenie. We can choose a folder where we want Mobogenie to be installed. After that, by clicking on Continue we will see a percentage counter for ...

Mobogenie, which we covered in a previous article: Is Mobogenie safe?, is a custom application store and management service for Android devices. Its only flaw, as we explained in the aforementioned article, is the amount of ads you have to deal with while using it. While I personally am allergic to ads, ...

Mobogenie is a comprehensive Android manager for PC. Once you connect your Android phone to your computer, it allows you not only to install apps from its own marketplace but also to sync up your contacts, messages, and even play videos and other media. The important question isn't "what is ...