Four reasons to start using Spotify now!

Date: 2014-04-28 10:39:56
By: Kevin Kutlesa

There are many services for music downloads and streaming out there, from web-based to desktop apps to mobile ones and everything in between. Choosing from one over the other can be a daunting task, especially when articles comparing them don't commit to one over the other, instead only listing facts.
Spotify, since its release, has caught the world by storm and has been growing steadily over the years, becoming the streaming service by choice for over twenty million users all over the world, which consider it superior to all other services, free and paid.
Do you want to know why it's so good and why a Spotify download and installation should be your next order of business?
These are four of the many reasons why Spotify keeps dominating the market, and why you should ditch the other services in favour of it.
Exclusives
Want Pink Floyd or Led Zeppelin's entire collection available to add to your Spotify playlist? Spotify has, over the past few years, acquired exclusive rights to a great number of bands and labels, so that its user-base can have access to the oldest and latest from the most famous names out there.
Music executives and bands have often been reticent about music downloads or streaming, fearing piracy, with Metallica being one of the most vocal against them. Well, Metallica signed an exclusivity deal with Spotify two years ago, bringing their entire catalog, and whatever they make in the future, to the service.
Artist Support
Spotify isn't just a big music player, it works closely with both big labels and small ones alike, including those just getting off the ground and representing artists you might have never heard of, giving those newcomers to the scene a chance in the spotlight and revenue as they receive royalties from Spotify.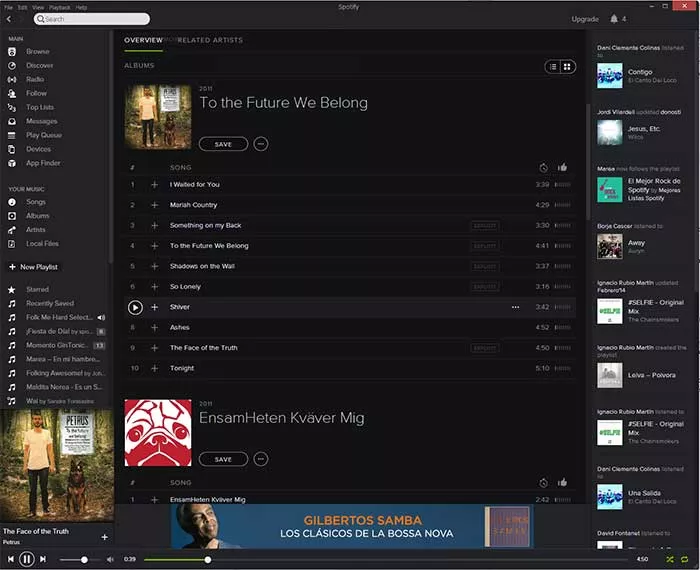 Availability
One of the biggest problems with modern streaming services is how many are restricted to the US only, leaving most of the world wanting access to their vast libraries, often resorting to piracy when they find these services out of their reach. Well, Spotify has the largest availability among its competitors, with fifty-five countries listed so far, and the service expanding every year. Just a few scarce months ago, the service had only thirty-five countries listed for availability, before making a big jump in December 2013, adding twenty countries to its lists in one big hit.
Quality
Ultimately, it all falls down to how good the quality is, how good your favourite song plays. Spotify features the highest quality available, with every song in its arsenal having 320kbps quality, and that's baseline, whether you're still using the free version of the application or have subscribed to the service. Not a bad deal, right?
If these fine points and twenty million users' worth of testimonies and the backing of the usually paranoid music industry don't convince you to use Spotify, nothing will. In case it does, however, you can find a Spotify download right here on Rocky Bytes.

I've never been much of a radio guy to be honest. I disliked having one sitting on my desk and having to tune it for good audio quality and good tunes. As I grew up the only moment I ever listened to the radio was while on a car or a bus. But the moment I got online, that changed. Music was now ...