Best Free Internet Radio (2015): iTunes Radio vs Pandora Radio vs TuneIn vs Last.fm vs Spotify vs Deezer vs Google Play Music

Date: 2015-04-29 05:09:20
By: Kevin Kutlesa


I've never been much of a radio guy to be honest. I disliked having one sitting on my desk and having to tune it for good audio quality and good tunes. As I grew up the only moment I ever listened to the radio was while on a car or a bus. But the moment I got online, that changed. Music was now available for everyone to listen and consume and I did so with fervor.
Nowadays you can pick from a massive list of internet radio services and providers, from big names to little ones, each with incredible catalogues to choose from, but which one is the best? Which of these should you pick over every other? That's what we'll try to answer here which are the best streaming radio platforms.
But first let's give a small overview of each of our contestants.
Best Free Internet Radio Software
iTunes Radio
iTunes Radio is Apple's take on the free music streaming and it is completely free of charge though as an ad-supported service it might not be everyone's cup of tea. Its main strength is its total integration with other Apple software and devices, particularly Apple TV. The downside is that it's currently only available in the United States and Australia, and while they have promised and proposed to expand to the rest of the world, starting with the UK, so far there's been little to no progress on this area.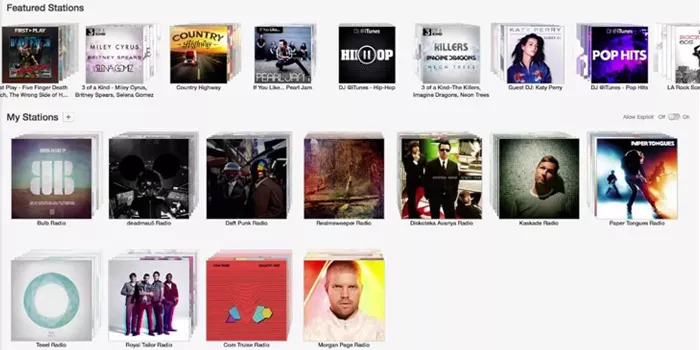 --> Download iTunes <--


Pandora Radio
Pandora Radio works a bit differently. When you first start using this free internet radio, you'll select a few genres and artists and from then on Pandora will automatically select songs it thinks you might like depending on your initial choices. If you don't like one of its picks, you can tell it so and it'll take that into consideration for when it next chooses the songs it'll play for you. That isn't to say you can't pick specific stations, of course you can, but this curator-style streaming is one of the attractive bits of Pandora.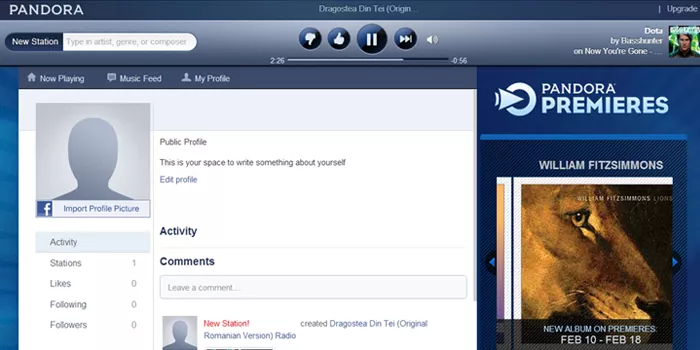 --> Download Pandora Radio <--


TuneIn
TuneIn is another weird one among the free radios, in that it doesn't hold a catalogue of songs or artist for you to listen and mix and match, but instead it offers actual radio stations. You can choose the one you want, from a worldwide list and then listen to its programming, as if you had a radio in front of you tuned-in to the station. It's completely free, available on plenty of platforms and in any country of the world.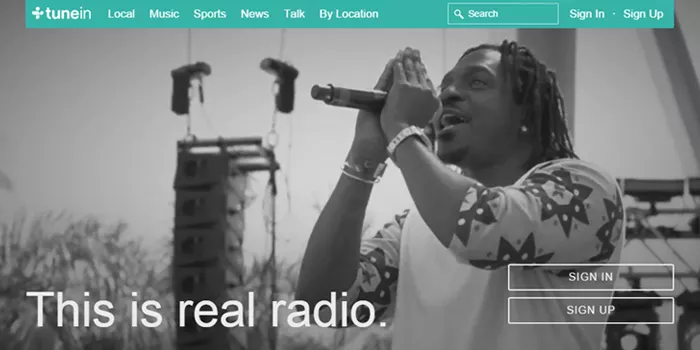 --> Go to TuneIn Radio <--


Last.fm
Last.fm is one of the biggest names in the streaming radio business, and if you look for a song on Google, you'll most likely find a link to Last.fm. It once offered an actual free internet radio streaming service but it's since been discontinued, possibly for lack of use. What makes Last.fm so good is it's "Scrobbler," which aggregates the data sent from your music players, social media and your Last.fm sessions to build a comprehensive profile on your tastes so that it can recommend tracks in the future. In other words, it's the concept Pandora works under but taken to new levels. Best of all, most of the services on this list integrate with Last.fm. Another proof of how big it is.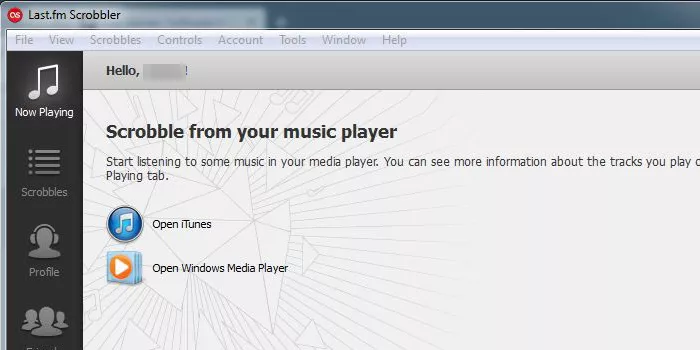 --> Download Last.fm <--


Spotify
Spotify allows you to listen to over 20 million songs from millions of artists worldwide. It has deals in place with every major record label in the world and has their artists' music on the site. Users can create playlists based on artists, genres, record labels, and even particular songs and they can share those lists with each other. They can also access a free radio feature, which will take a random set of songs and play them. Spotify, more than any other radio on this list, has suffered from criticism and backlash from artists because of its business model. According to some sources, artists don't benefit but instead it's the shareholders of the major labels that do.

--> Download Spotify <--


Deezer
Deezer has perhaps the funniest story from all of these streaming radio platforms. When it originally launched, it was shut down because of copyright infringement, as the original purpose behind the application was less than legal. Then, after reaching an agreement with the French agency SACEM, it re-launched, now using ads to pay royalties. In addition to this, as it gave the users to ability to purchase songs directly from iTunes, they received a commission for each sale, helping them stay afloat and keep SACEM off their backs. Aside from the expansive catalogue, the best Deezer features are its equalizer, allowing you to change how the music sounds, and the fact that your subscription isn't region locked, so you can listen to your preferred music no matter where you go.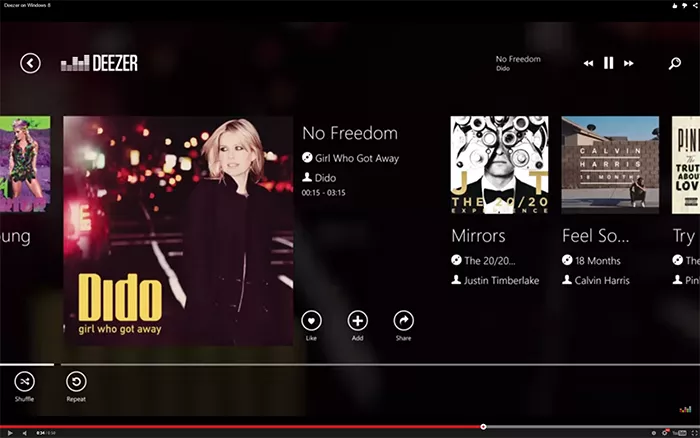 --> Download Deezer <--


Google Play Music
Google Play Music gives you access to as many songs as the previous services. It offers free and paid subscription packages and the possibility of purchasing tracks directly from the music section of Google Play. For free users, they can listen, or store, to up to 50.000 songs for free. The paid option gives them complete access at any time and the ability to customize playlists. To be honest, I don't think I listen to 50.000 songs in a given year, so the free version looks very interesting!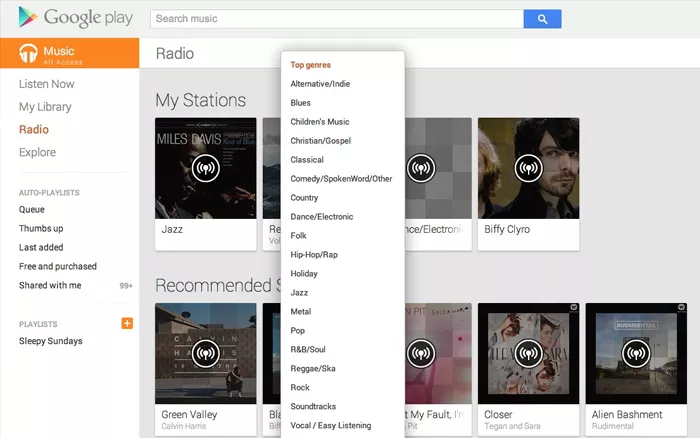 Image source: thenexweb.com

--> Download Google Play Music <--


A comparison of the best music streaming services
Taking a small departure from our usual style and because of the number of competitors, we've decided to condense the comparative information into a little table, so you can have an easier time deciding which of these you should use with this comparision table.




Internet Radio Services


Free Version


Sub Cost


Catalogue


Availability


Platforms


iTunes Radio


Yes


$24.99/year


26m


USA, Australia


iOS, OSX, Windows, Apple TV


Pandora Radio


Yes


$4.99/month


800.000


USA, Australia, New Zealand

iOS, Android, Windows, Windows Phone, Blackberry


TuneIn


Yes


$9.99/month


100.000 radio


Global

Web, iOS, Android, Blackberry, Windows Phone


Last.fm


Yes


$3.00/month


12m + user uploads


Global

iOS, Web, Android, Blackberry, Windows, OS X, Linux, Unix


Spotify



Yes



$9.99/month



20m



55+ countries

Windows, Windows Phone, Linux, Blackberry, Android, iOS, OS X, Chrome OS


Deezer


Yes


$9.99/month


35m


182 countries


Windows, iOS, Android, Blackberry


Google Play Music


Up to
50.000 songs


$9.99/month


30m


58 countries


Android, iOS, Web
Do you have one that is your favourite that we haven't included in the list, or do you wish to tell us about your own experiences with some of these free internet radios? Please tell us all about it in the comments and don't forget to come back for more right here, on Rocky Bytes.

There are many services for music downloads and streaming out there, from web-based to desktop apps to mobile ones and everything in between. Choosing from one over the other can be a daunting task, especially when articles comparing them don't commit to one over the other, instead only listing ...