How ADW Cleaner removes toolbars and malware from windows

Date: 2014-05-29 12:34:42
By: Kevin Kutlesa

It's happened to all of us at some point. We go to a site we shouldn't have or we download a piece of software that while looking and sounding legit, really isn't. Whatever the case may be, we're left with the same result: our computers are now filled with viruses, malware and spyware.
Most antivirus and anti-adwares, will find the obvious causes and the most common and recognized malware around and attempt to remove them, stopping short when they see something tied to Windows' registry or libraries. In some case, the libraries are masked to look sensitive, meaning they look like they're important for the correct functioning of the operating system, while in others the cleaning tool just doesn't go there. Worse still is that while some of them clean the bad file, they don't recognize that they often come with others that trigger or generate the malware in the first place, so they end up failing to remove the root of the problem.
It's a similar case with toolbars. Some sites and software will install toolbars and search engines on your browser and system and in most cases removing them completely is a nightmare, as they're designed to stay with you for as long as possible, and their physical location, i.e. the folders where the files are located, are usually not where the software was and instead installed in some hidden folder deep within your system so you can never find them.
Well, AdwCleaner helps you with that. It will go through your system and identify all issues: malware, registry problems and even invasive installations like those mentioned above.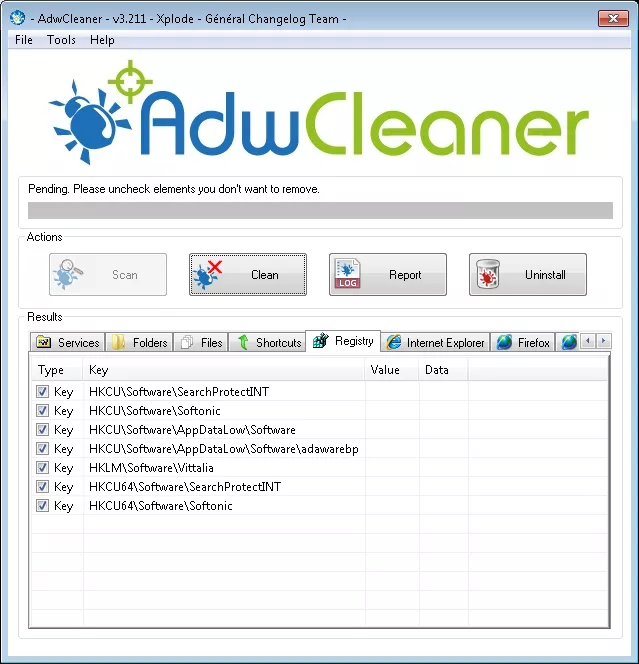 When you run it, not only will it clean every malware on your computer, but then it will provide you with a comprehensive list of all the files these things are leaving on your system. With the press of a button, you can make them all go away and leave your computer clean, clear and ready for more action. Even better, it allows you to go through each of its findings and delete them yourself, in case you are worried that something genuinely useful for you might get trapped in AdwCleaner's very thorough web.
In addition to this, if you are not sure of what action to take with the files found during the scan, then AdwCleaner locks them up in its built-in quarantine manager, keeping the files on your computer for your review on a later date but preventing them from doing further harm. This is a step-up from most malware cleaners that work on an all-or-nothing approach, in which if they can't manage to clean up the files and programs, they leave them alone and merely give you a vague report about it, often failing to inform you of the location and nature of these seemingly invulnerable files.
The cleaner doesn't only remove the malware and PUPs (Potentially Unwanted Programs) but also hijackers, which modify how your browsers work so that pages and errors redirect to other locations on the internet, often used to draw you to sites to increase their hit count. With every scan, AdwCleaner will find these programs and return your browsers to their normal operation.
Of course, your concern right now might be the performance, considering how much this program does. Well, you don't need to worry as AdwCleaner is one of the most lightweight scanners out there, checking your computer top to bottom in record time and without even being resource intensive.
You can find an AdwCleaner download on Rocky Bytes.