Top things to do after installing Ubuntu 14.04 LTS

Date: 2014-09-18 04:46:59
By: Kevin Kutlesa

So, you've managed to download Ubuntu 14.04 LTS (hopefully right here, on Rocky Bytes), and you've installed it on your computer. You're ready to go, but what should you do? To help you with that, here are some of the best things to do after finishing your Ubuntu installation.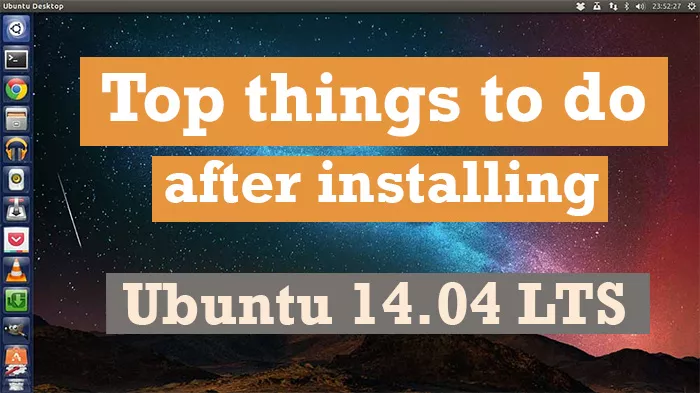 1. Update: It's always a good idea to keep your system up to date, and you never know if an update came out during the time you were downloading Ubuntu and installing it. So open your console and execute these to get the latest updates:
"$ sudo apt-get update
$ sudo apt-get upgrade"
2. Get Wallpapers: Sadly, Ubuntu has a single wallpaper. You might want to execute the following command to get a pack of them, so you can decorate your desktop to your liking. Alternatively, you can do this from the All Settings app, but the command takes less time.
"$ sudo apt-get install kde-wallpapers"
3. Get Screensavers: Following from the previous point, it's time to get change the rather primitive looking predefined Ubuntu 14.04 LTS screen saver, and get a pack to choose from, so just pop this command and get them! Same as before, this step can be completed using the Setting application, but the command is much quicker.
"$ sudo apt-get install kscreensaver
4. Social Media Integration: Want to have quick access to your social media sites and profiles? It's easy. Just open the Online Accounts hub, select "Add Network" and start adding your social media profiles!
5. Add Web Apps: Much like the previous point, you can configure a slew of web apps such as Facebook, Twitter and even Gmail to deliver notifications directly to your desktop, with links ready for you to launch the site. These can be added from the desktop, no command required.
6. Ubuntu Software Center: Need to find a good app to download? Then head off to the Software Center and get them. If you want your digital games platform, go download Steam. For multimedia, download that VLC Media Player (and after you do, make sure to download code packs for those not included in the VLC installation). If you want to edit images with professional tools, download GIMP.
Ubuntu 14.04 LTS installations include Firefox, but depending on your system, it might be too slow or resource intensive, so head on to the Software Center and download Chromium, the open source version of Chrome. While you're at it, you might want to download and install Flash plugins (Adobe for Firefox and Pepper for Chromium) and Pipelight, the Linux Silverlight plugin (if you're wondering why you might need Silverlight; well, plenty of streaming sites, such as Netflix, use this technology and not Flash for its video players).

So, those are our recommended steps to take after you've completed your Ubuntu 14.04 LTS download and installation. Did we miss something? Do you have some steps you'd like us to include in the list? Well, hit us up in the comments and let us know what's in your top things to do after installing Ubuntu 14.04 LTS list!