How to Play Paint the town red
A how to play guide to help you survive in Paint the Town Red

Date: 2016-01-13 03:29:50
By: Adam Singleton
Rocky Bytes Score

Acceptable
In order to follow this guide you will need to download Paint the town red. Please click the green button below.
Paint the Town red is an unforgiving game, it can be very difficult and very frustrating but it is also a lot of fun and has lots of blood, so if you are one of the many people who really wants to play this game but you are struggling to be able to beat even a few of the bad guys then we are here to (hopefully) help with this how to play Paint the Town Red guide.
There is not much of a back story to Paint the town red, one momento your enjoying a pint of lager having a game of pool and then you recieve a text message from a supposed ally informing you that everyone in the bar knows and now they are after you. So now you need to fight your way out past a bar full of guys, some yielding pool cues or broken bottles, fortunately you can hold weapons also and you will need to if you are to make it out of here alive, you are going to need every resource you can get your hands on because this game is hard!
So let´s start with the basics.
How to play Paint the Town Red: Controls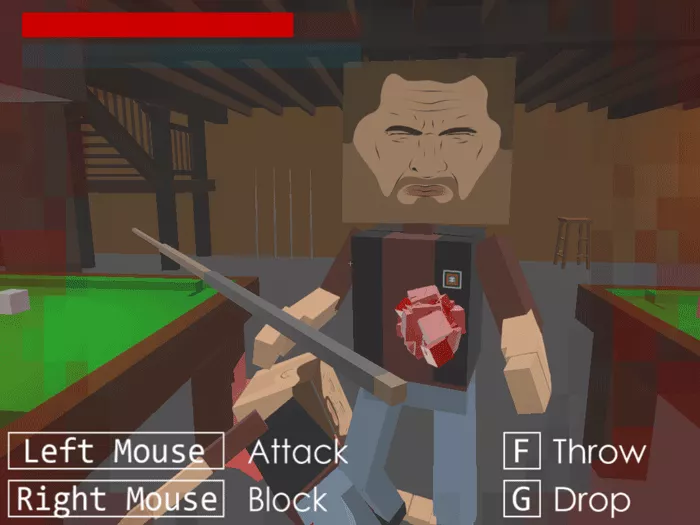 Use left click to attack (this one is important) and right click to block other people´s attacks, you move using the W key for forward, S for back and A and D for left and right respectively.
Use E to pick up an object and F to throw an object.
How to play Paint the Town Red: Tactics and tips
The attacks will come at you relentlessly so try to always have a weapon in your hand, the best weapons to have is the pool cue, a chair or if you can get to it in the upstairs there is a room although it can be quite hard to enter it but inside there is both a machete and a baseball bat available which are really good weapons to have, the problem is getting past the oncoming attackers to reach these weapons can be very difficult, you can also pick up smaller objects such as glasses these are not as good for fighting with but they are quite useful to throw at oncoming attackers.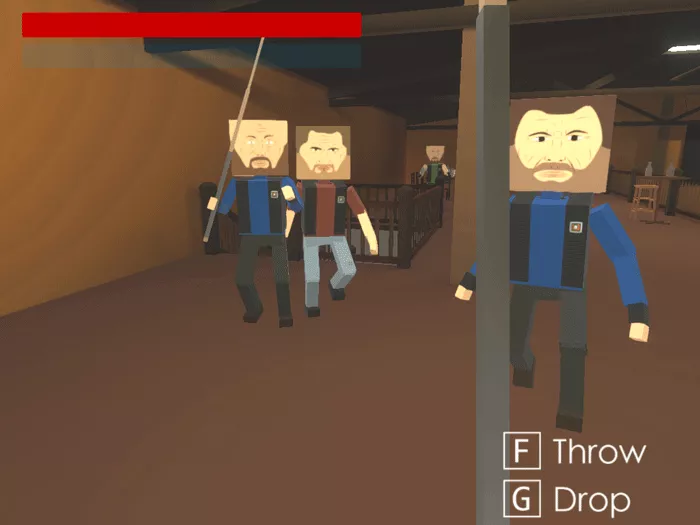 One tactic you can use is if you do not quick restart you can run upstairs and try to get in to the room with the blue door to reach the more powerful weapons at the start, if you quick restart this becomes a lot more difficult as you are not given the few seconds of grace that you are when you first start the game.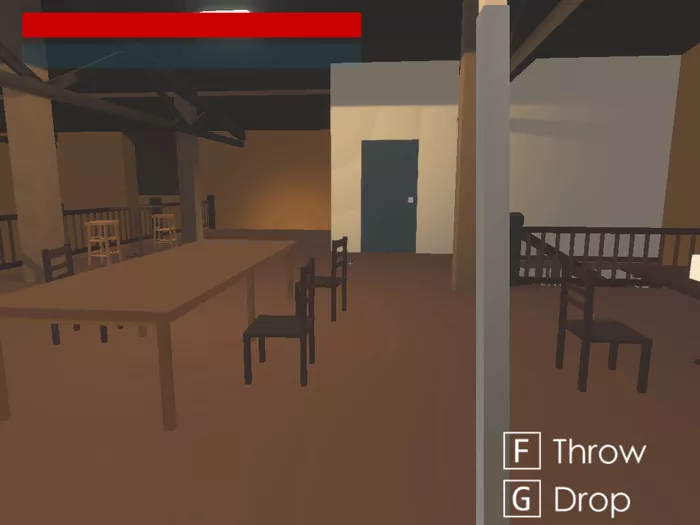 Another useful tactic is to hit a couple of guys and and move around, it´s very useful to keep moving to stop yourself getting swamped by onrushing attackers.
You must keep an eye on your health bar also as it will go down very quickly if you find yourself in the center of a brawl with no space to quickly escape.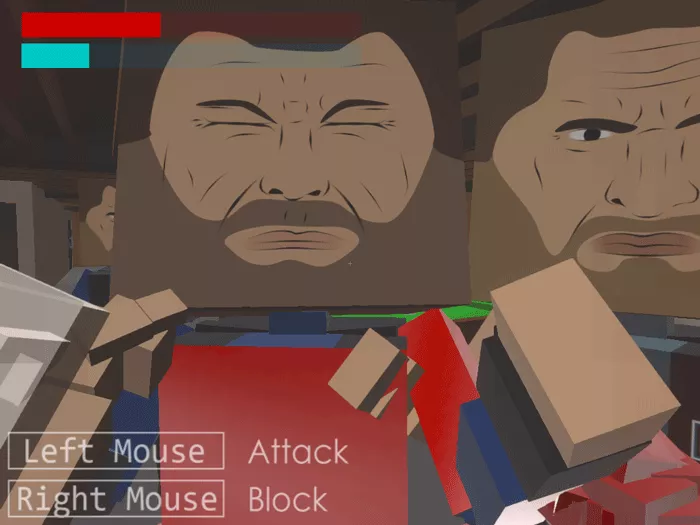 How to play Paint the Town Red: Time to go it alone…
Going on from here sorry guys but you are on your own now it is all down to your speed, strength and reflexes to try and survive your way past all your attackers, hopefully you have found this guide useful and will enjoy success at Paint the Town Red.