How to Play Raft
How to play Raft part 1 the basics

Date: 2017-01-25 09:24:17
By: Adam Singleton
Rocky Bytes Score

Very Good!
In order to follow this guide you will need to download Raft. Please click the green button below.
There's so much more to Raft than I realized!
Recently the kind of Minecraft at sea game Raft has really taken off, becoming incredibly popular very rapidly and although in my original review I looked up on it favorably however having had a chance to get a bit deeper in to it it's become apparent just what a fantastic game it is especially considering (at the moment at least) that it's free. Admittedly I'm still not as deep in to the game as I want to be and that dream multi-level raft with balcony, kitchenette and penthouse style bedroom still evades me.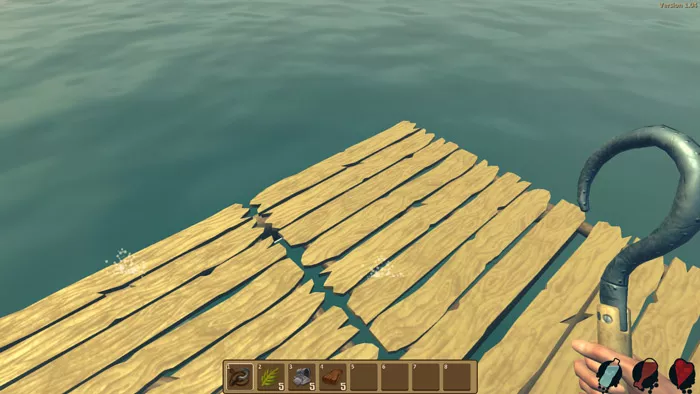 Having a chance to really get in to it and see the amount of detail there is in the game Raft has been a really pleasurable experience.
This is going to be part one of how to play raft and just give you a guide to the very basics of it as we're certainly not in a position yet to be an authority on the game so let's talk about just how to get started and not die of thirst!
So the first thing you are going to need is materials to build with you can do this by throwing out your grappling hook and dragging items towards you or waiting until they float near you and pressing the E button to pick them up.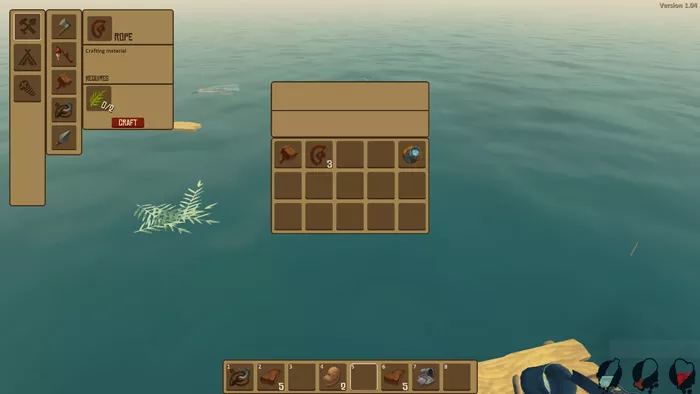 One thing it took us a while to work out is that rope which is going to be an important part of crafting things needs to be crafted itself and not collected like the majority of basic items.
Something that may not seem important to collect is scrap but you must try to collect as much as everything as possible whilst also keeping an eye on your hunger and thirst levels and the first thing you should construct is a water purifier so that you can collect the salty sea water and then make it drinkable. Another thing it's important to look out for floating past you or grappling in from the sea is barrels because along with providing wood you may also find some food sources in there such as potatoes. However you will need to craft a cooker to heat up these potatoes on, also if you craft a finishing rod you will also need it to cook the fish.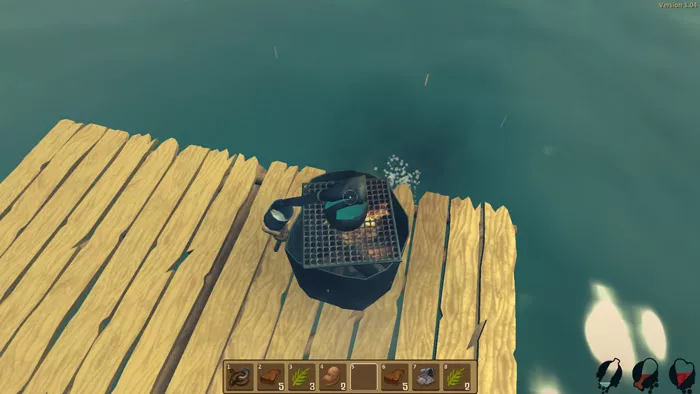 This may all seem a lot to do so early in the game and it is and part of what makes it such a fun challenge but you need to then also start reinforcing your raft very quickly, again you're going to need lots of materials first to build tools and then to make the new parts of the raft with because if the first things you make is the barbecue (food cooker) and water purifier you may well find if you come under attack from that pesky shark he could eat some of your vital tools that you need to survive and put you back to square one!
So this is the basics of how to play Raft make sure you watch out for more complex guides coming up soon as to how to build the super deluxe luxury Raft that you've always dreamed of!

How to install Raft
The first thing you will need to do is go to the Raft download page and click on the green box in the top left corner Once you click on that you will see this little box pop up in the bottom left of your ...

A series of commands that will let you cheat in Raft easily.
Raft is a survival game at heart, and for whatever reason, single-player survival games tend to come loaded with cheats. Raft is no different. But what exactly are these cheat codes? Well, just read on and find ...

Here we give you a rundown of our top 15 free games from the last 12 months (take note some of these games were released towards the end of 2016 but they were that good we decided to keep them in the list) they had to meet some criteria like being available to download without needing a steam account and ...