How to Use aTube Catcher
Learn how to download and convert online videos with aTube Catcher following these simple steps

Date: 2014-07-18 05:31:03
By: Anthony Smith
Rocky Bytes Score

It Rocks!
In order to follow this guide you will need to download aTube Catcher. Please click the green button below.
aTube Catcher is a program that allows us to easily download online videos from websites like Youtube, Vimeo and any other website in general. Apart from this feature it also includes video DVD/CD/Blu-RAY burning functions and also multimedia files encoding. We are going to discover step by step how to use aTube Catcher all these possibilities of this great program. Once we have it installed on our computer, when opening the program we will see the main window where we can go to all the features of video download, which is the main purpose of aTube Catcher: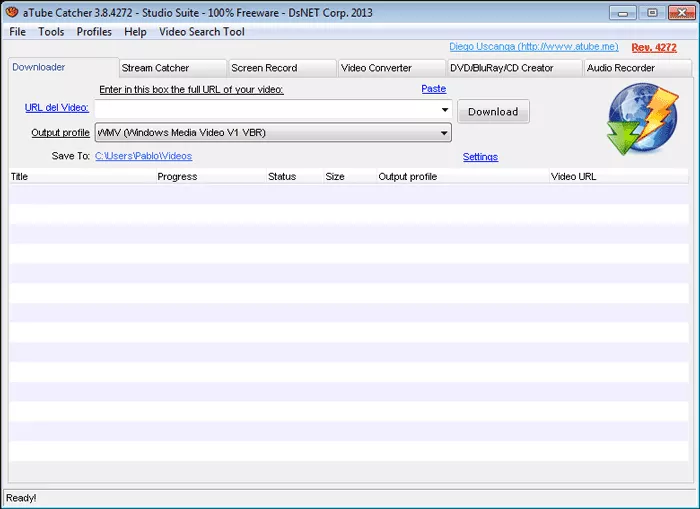 As we can see, there is a URL: field where we can paste links of the videos we want to download. If we have the address copied, we can simply paste it right into the field.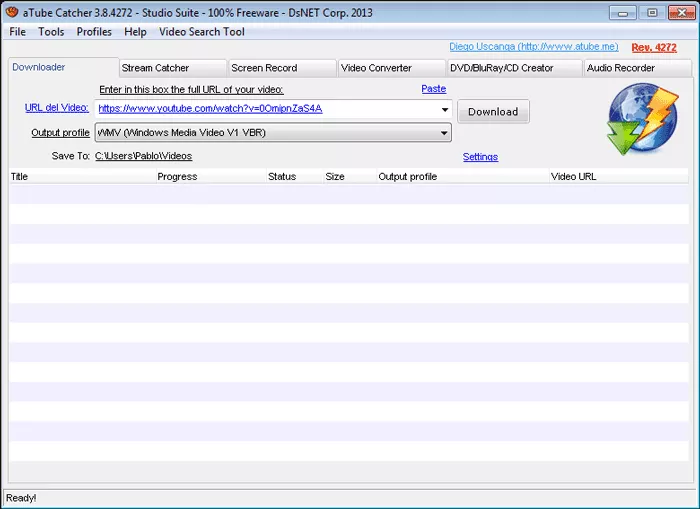 We can choose the way we want to download a video: in turbo mode for higher download speed, or HD option for downloading highest quality vides from YouTube. We can also specify "Output profile" where we can choose video format and codec for adjusting the size of the file. In "Save To" we can specify the download location for the downloaded file. There is also a progress bar where we can see the progress and the download speed: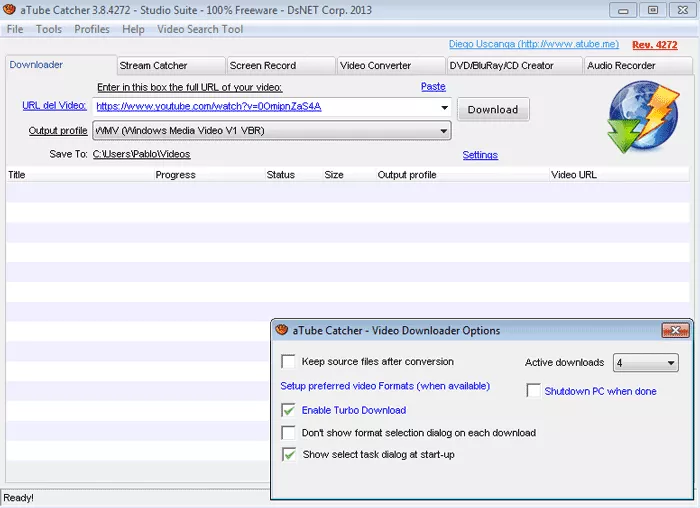 It's important to notice that we can cancel the download or pause it and restart it later pressing the buttons on the right: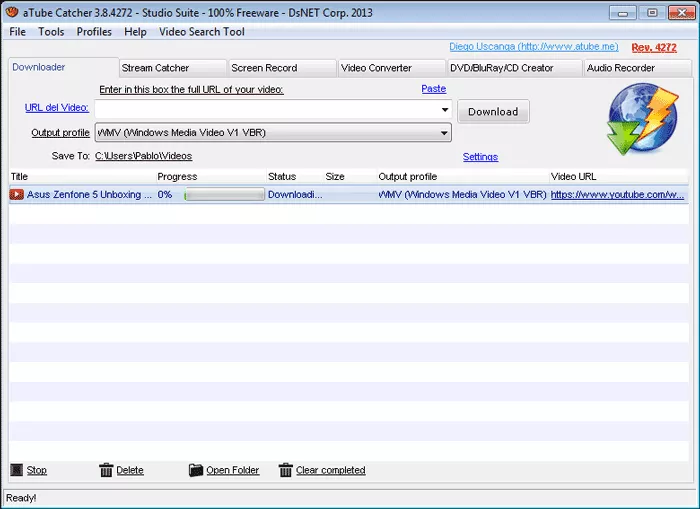 Now let's take a fast look at some secondary and less useful functions of aTube Catcher. On the upper part of the program, right under the bar "File, tools, etc" we can change the function mode of the program. For example, "Screen Record" option allows for complete screen recorder for making videos of what's going on on the entire desktop of our computer, on a specified area of our scree or in a specific window: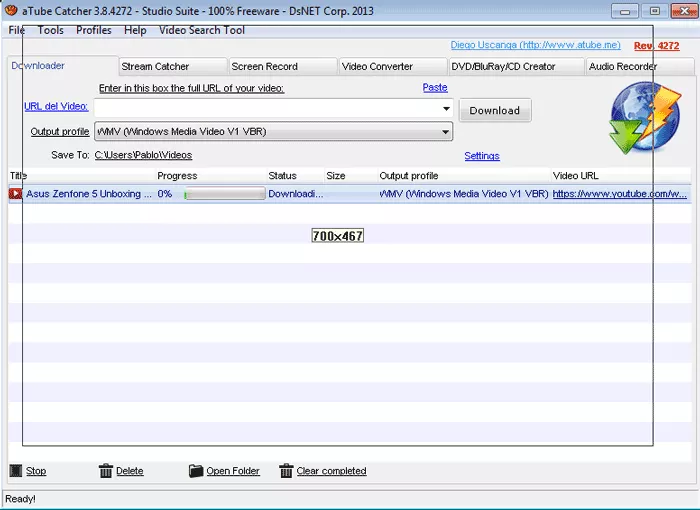 "Video Converter" tap allows us to convert videos by dragging them into the program window, selecting the format and the output codec, this way generating a video file with a specific format.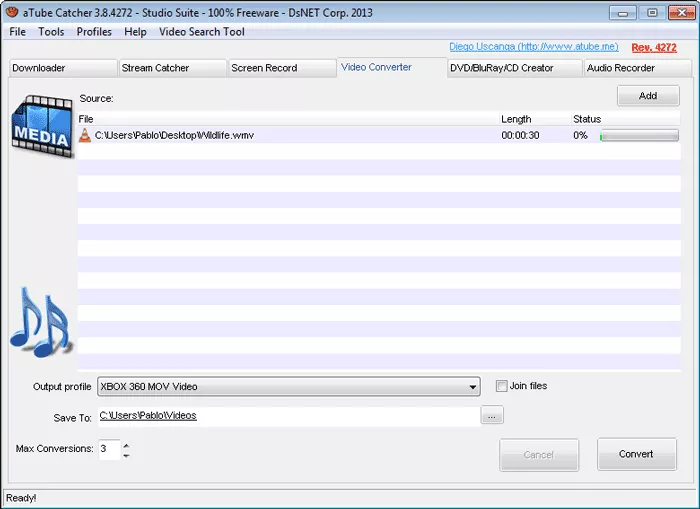 aTube Catcher also includes an optical video and audio recorder for DVD/CD/BR. DVD/BluRay/CD Creator tab has all these options for burning our own disks. We just need to drag files into the window and press "Burn DVD".
Last but not least, there is also "Audio Recorder" feature which lets us record audio tracks from microphones. We can choose format and the quality of recording according to our needs.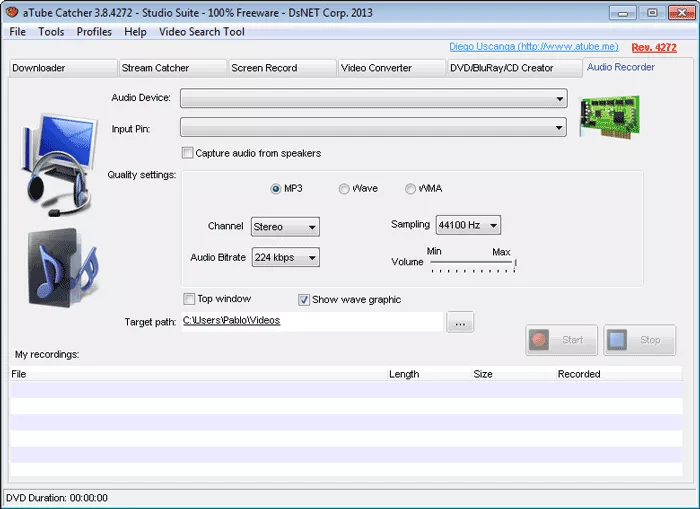 As we could see in this tutorial, aTube Catcher is a very complete program that doesn't only offer video downloads from web pages. It's a multimedia suite with really many functions. In this guide we have seen how to use the main functions of this program easily. If for some reason you are not happy with the functionality of the program, we invite you to try out other programs which you can download absolutely for free from our website.

With the help of this guide we will learn to install and configure aTube Catcher download manager
When we open the downloaded program file we will get to the installation assistant which will take us through all the necessary steps to install aTube Catcher on our computer. For going forward we just need to press ...