How to Play Baldi's Basics in Education and Learning
How to play Baldi's basics in Education and Learning

Date: 2019-01-30 15:15:41
By: Adam Singleton
Rocky Bytes Score

Good!
In order to follow this guide you will need to download Baldi's Basics in Education and Learning. Please click the green button below.
Here is a brief guide to playing Baldi's Basics an unusual game that is a mixture of collecting, answering questions and also jump scares!
So let's start with the Basics of Baldi's Basics! Your objective is to collect a series of notebooks that are hidden around the school in class rooms and other places, however each time you collect these notebooks you will have to answer a series of (normally) mathematic questions.
The controls for moving around as the game is played in first person mode are W,A,S,D for forward, left, backwards and right respectively, you also use the left mouse button to collect notebooks and other items.
Now you have the controls down, you can move around and search for the notebooks, when you find a notebook you will be asked a series of questions.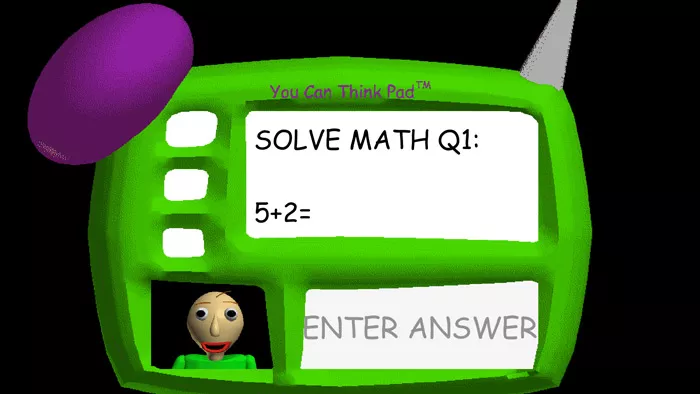 However some of these questions will be unintelligible, meaning it is almost impossible to get the correct answer, and once you have made an incorrect answer you will find Baldi turns against you and starts to chase you, if he catches you it will be game over, normally preceded by a jump scare!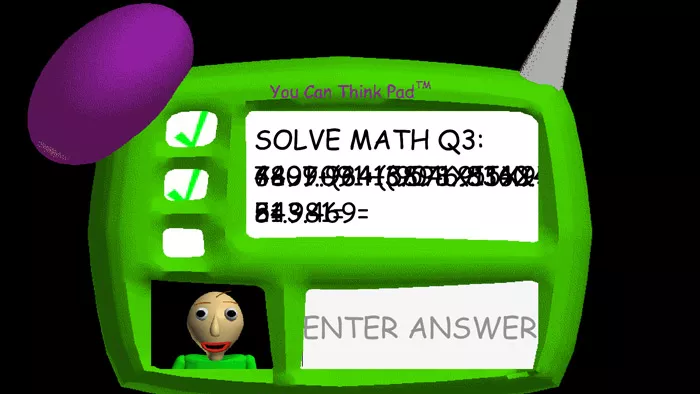 As seen above this is the kind of question it will be virtually impossible to answer and will meaning Baldi starts chasing you, there is no real way to avoid him if he does find you and you will have to start again!
Through out the game there is also mini-games such as jump rope, which is fairly easy o complete you just need to hit the spacebar just as the rope comes down five times and then you can move on to collecting the notebooks and answering the questions again.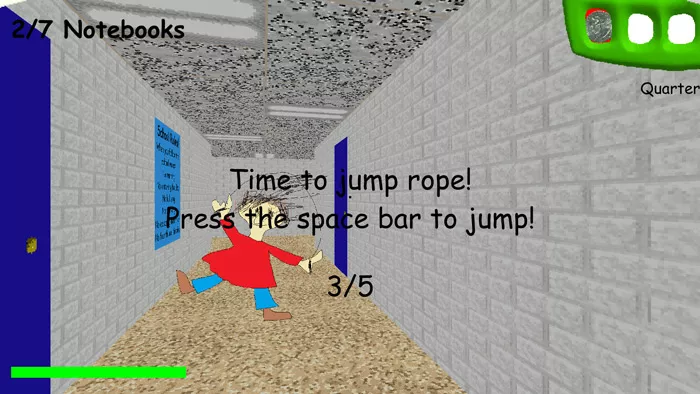 This is most of the instructions you will need to play Baldi's Basics, and once you have collected all seven of the notebooks you will have completed the game, but don't get caught by Baldi!
We hope this guide has helped you and you can download Baldi's Basics in Education and Learning on the game page here

How to install Baldi's Basics
In this guide we will show you hot to install the fantastic and ever popular Baldi's Basics game. The first thing you will need to do is click the green download box at the top of the game page as shown ...

A couple of secret codes that you can use in Baldi's Basics.
Baldi's Basics in Education and Learning is a surprisingly effective and creepy horror game. It really takes that mildly creepy kid's education aesthetic and takes it to the extreme. However, it's also fairly ...

Indie developers have been gravitating towards horror games for years now. There are a couple of reasons for it - one prominent one is that jumpscares are an easy way to find yourself on a YouTuber's channel and gain some notoriety that way. However, there are a couple of free indie horror games that go ...