Baldi's Basics in Education and Learning Cheat Codes
A couple of secret codes that you can use in Baldi's Basics.

Date: 2021-09-22 20:41:54
By: Baron Yeung
Rocky Bytes Score

Good!
In order to follow this guide you will need to download Baldi's Basics in Education and Learning. Please click the green button below.
Baldi's Basics in Education and Learning is a surprisingly effective and creepy horror game. It really takes that mildly creepy kid's education aesthetic and takes it to the extreme. However, it's also fairly difficult. Is there a way to make the game easier?
Well...outside of modding, no. However, that doesn't mean that there aren't some fancy codes you can use to unlock some hidden goodies!
1. How to unlock the codes
How do you use the codes I'm about to tell you? Well, it's simple. When you're prompted to answer math questions, you can simply input these codes in instead.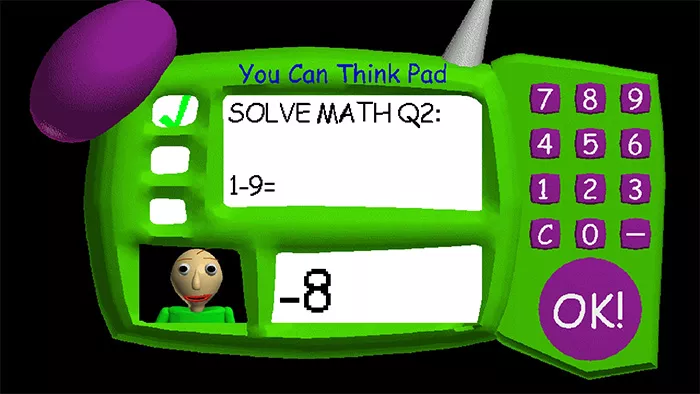 That's about it - it's incredibly easy.
2. What are the codes?
In this version of the game, there are only two codes:
THIS IS WHERE IT ALL BEGAN - 31718
USE THESE TO STICK TO THE CEILING! 53045009
You simply need to input these codes to answer any of the three questions on the You Can Think Pad.
The first code will teleport you to the TestRoom. Unfortunately, you can't really do anything in this room. There will be two creepy heads that will fly around and chase you while the room itself just has walls that say Place the Holder.
The second code will invert the game, as your character is now on the ceiling. Do note that the numbers will go off the screen while you're entering this long code, but you can still enter the code. The gameplay doesn't change at all, and it plays exactly the same...except you're upside down now.

That's it! Baldi's Basics in Education and Learning doesn't have any cheat codes, but it does have a few secret codes.

How to install Baldi's Basics
In this guide we will show you hot to install the fantastic and ever popular Baldi's Basics game. The first thing you will need to do is click the green download box at the top of the game page as shown ...

How to play Baldi's basics in Education and Learning
Here is a brief guide to playing Baldi's Basics an unusual game that is a mixture of collecting, answering questions and also jump scares! So let's start with the Basics of Baldi's Basics! Your objective is to ...

Indie developers have been gravitating towards horror games for years now. There are a couple of reasons for it - one prominent one is that jumpscares are an easy way to find yourself on a YouTuber's channel and gain some notoriety that way. However, there are a couple of free indie horror games that go ...