How to Install Method Dungeon Tools
How to install Method Dungeon Tools.

Date: 2020-10-22 01:50:01
By: Baron Yeung
Rocky Bytes Score

Great!
In order to follow this guide you will need to download Method Dungeon Tools. Please click the green button below.
Blizzard lets people create and use Addons to improve the quality of the game. They can do a tyon of things for a player from changing how the UI looks to having a ton of different tools. Luckily, since it's officially supported, Blizzards made it pretty easy to install Addons.
1. Installing the Addon
The first step, obviously, is to acquire the Addon files. For Method Dungeon Tools specifically, just go to this link to install it.
You'll also need an extraction program to decompress the zip files that almost all AddOns are downloaded in. If you're on Windows, it has a built in ZIP extractor. However, these are somewhat basic, and it's recommended that you grab 7-zip, Winrar, or Winzip to unpack files better.
It's actually surprisingly easy to mess up on this step. Each AddOn zip file has at least 1 folder within it that is the name of the Addon, and contains all the Addon files. You need to keep these folders intact. Some AddOns have multiple side Addons with its core. Don't merge these into one folder - keep everything in the format that the author put it in. They put it like that for a reason, after all.
You'll need to install them into the proper folder so that World of Warcraft can load them, and we can use them in the game. Make sure you're logged out of the game before you install AddOns - they won't work properly if you install them while you're logged in.
The easiest way to find your Addons Folder, if you're on Windows, is to right click on the icon you use to launch the game, click open file location to open the World of Warcraft folder, then locate your Addons folder. It is located in the _retail_ folder in your WoW directory, under Interface.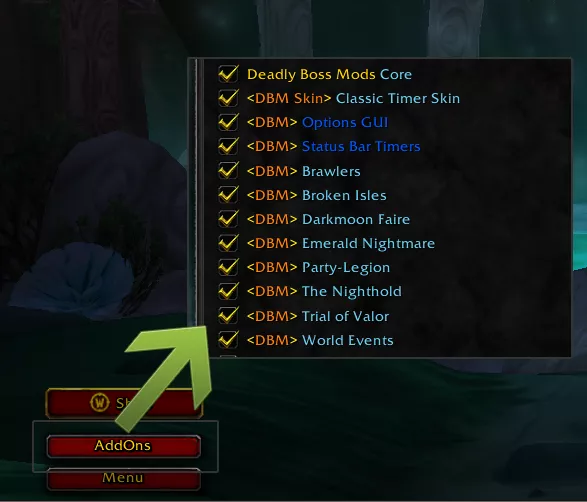 You can also manually locate it, however. To use this method, you'll need to know where you installed the game. The location of your AdOns folder can vary depending on where you set it up. However, by default, it should be under User\Public\Games\World of Warcraft\_retail_\Interface\Addons. The reason you want to know where you installed the game is because the path has changed - depending on what version you have, it may be in your install folder.
Select all the files in your Zipped Addon file and drag and drop it into your Addons folder. Now, it should be installed. However, you need to go double check if it installed correctly. To do this, open up the game and log in to World of Warcraft. Then, go to your Character Select Screen. In the lower left corner, you'll see a button labeled Addon. If everything went right, your Addon will be in that list.
2. Keeping Addons up to date.
The game is constantly changing, and Addons constantly can't keep up. When that happens, Addons will be tagged as Out of Date. This stops them from being loaded unless you specifically tell the game to load them up. The first thing to do is to update the Addon if available. If you have the latest version, you can go ahead and try to load out of date Addons - sometimes, there's nothing wrong with the tool itself and it just needs to have an updated tag that says its for this patch. However, you'll need to unload any addons that are broken and don't work if there are any. If you don't, it could possibly affect your other add ons as well.

And that's it! That's how you install Method Dungeon Tools, and how to install Addons in general. I hope it was helpful to you.

Learn how to use Method Dungeon Tools.
Method Dungeon Tools is one of the most useful tools for any Mythic dungeon runner. If you want to pick it up, head right on over to this link to get it yourself. Now, let's get into what exactly makes ...