The Complete Guide to Garry's Mod Resources you need to discover!

Date: 2015-06-23 06:52:02
By: Kevin Kutlesa

One thing most new Garry's Mod users struggle with is learning what you can do with the sandbox physics game. They see videos online and want to learn how to build the same things or how to create their own mods and addons, but don't know where to look for answers or tutorials.
So this time around we'll be talking about the wealth of online resources available for GMod players. If you haven't already gotten it, there's a Garry's Mod Free Download right here.
You can also find these tutorials on Rocky Bytes:
> How to play Garry's Mod
> How to install Garry's Mod
> How to make a Garry's Mod Server and configure it
> How to make Cars in GMod
Garrys Mod best resources
> Garry's Mod Official Website
The first resource is the Garry's Mod homepage. You'll need this to keep yourself updated on all the new changes coming to the game. The creators also constantly update with information on new addons and plugins. As of writing this article, they haze showcased dozens of them and the list is bound to grow. Click here for visit the Garry's Mod site.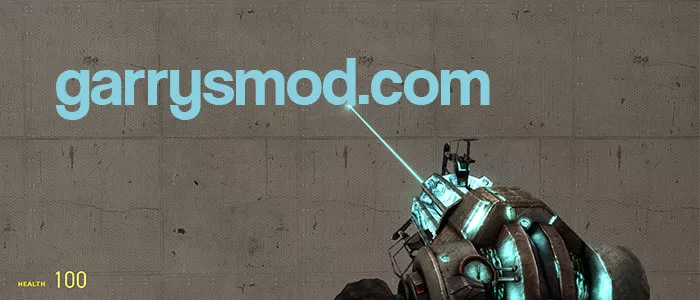 > Garry's Mod Wiki
The second main resourceyou can find on this list of GMod resources and you'll need is the Garry's Mod official Wiki. Like most wikis it has a wealth of information on the game, its versions and the different addons and plugins created. But most important are the tutorials available on the site, taking you from the very basics of building a physics experiment to complex builds. It'll also take you through LUA tutorials so you can learn how to script in the game. Beyond the score of GMod, learning LUA is helpful as there are many games that use it as their scripting language. You can find the Garry's Mod wiki here.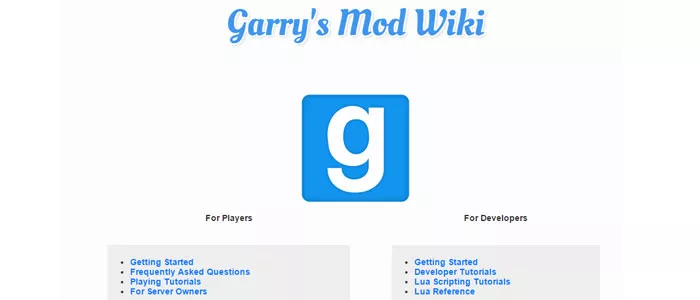 > Steam Community
The Steam Community is fantastic resource to take advantage of, as the forums are filled with threats from newbies to veterans and they generally help each other out. In fact, it's not just other players but the creator himself lurks around the forums and he can help you out when the others can't. Click here for the Steam Community for Garry's Mod.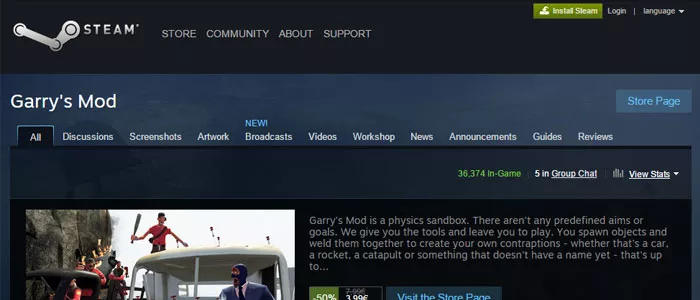 > Youtube
Finally, there's YouTube. If you just search for Garry's Mod you'll find hundreds of videos from talented creators and complete amateurs. Some videos are meant for fun and others serve as tutorials for the game. If there's an addon you like, you can see it on display in someone's video. If we had to recommend a channel in particular, it would have to be VenturianTale. His channel tons of videos dedicated to Garry's Mod in all its versions, from the free to the paid ones. He's easy to listen to and provides you with all the information you need to start making your own crazy contraptions in the game. There are lots of videos like these Funniest GMod Videos you are going to crack up! By the way, here at Rocky Bytes we created a video showing How to Build a Plane on Gmod:
> Related Downloads
At Rocky Bytes, there are some related Gmod downloads such as:
> Gmod Textures: Garry's Mod textures pack
> Gmod Maps: Garry's Mod Maps Pack
> Gmod Addons: Garry's Mod Addons Pack
> Other Interesting content
> Infographic: The Best Addons for Garry's Mod
> Gmod Gamemodes: The Best Garry's Mod Gamemodes: Prop Hunt, The tower TTT and much more!
> Weapons: 8 Garry's Mod weapons!


We sincerely hope these Garry's Mod resources help you not only to keep updated on Garry's Mod, but also in learning how to build crazy things in the game. If there's a resource you'd like us to check—including your own YouTube channel if you make demonstration videos—then please tell us about it in the comments below. And don't forget to check back regularly for more GMod information right here, on Rocky Bytes.