Zona VS PopCorn Time: Which is the winner?

Date: 2015-09-10 07:11:44
By: Marta Barquet

Let's be real. Who watches TV nowadays? Why would you let anyone else choose what you are going to watch if you can choose it yourself?
When we think about movie nights (we all need them in our lives) going to the cinema is a greatest of options, I'm not going to lie. But who's got the time to leave the house, take the car, buy the tickets, watch the whole film and then go back home? And more importantly, who's got the money?
Once again, the Internet is here to save the day (or the night) and make our lives easier. Nowadays there are a great amount of video streaming applications that will allow you to choose from a wide selection of movies, TV series and programs and watch them instantly and for free. Sounds good, right? Let's go one step further and compare two of the most popular software (PopCorn Time VS Zona) for films and TV lovers who just don't have the time to seat all day in the sofa or the money to go to the movies as often as they would like. The Torrent industry has evolved so much as it is explained in Popcorn Time Alternative: Zona article.
PopCorn Time, a game changer
Popcorn Time was the pioneer, a game changer application in terms of online free audiovisual material streaming. Since it appeared at the beginning of 2014 it created all kinds of controversy around the issue of piracy. It was the greatest thing since bread came sliced, or at least since Netflix came sliced. It got so much media attention that its original developers took down the whole thing on March 14, in great measure due to the pressure from the Motion Picture Association of America (MPAA).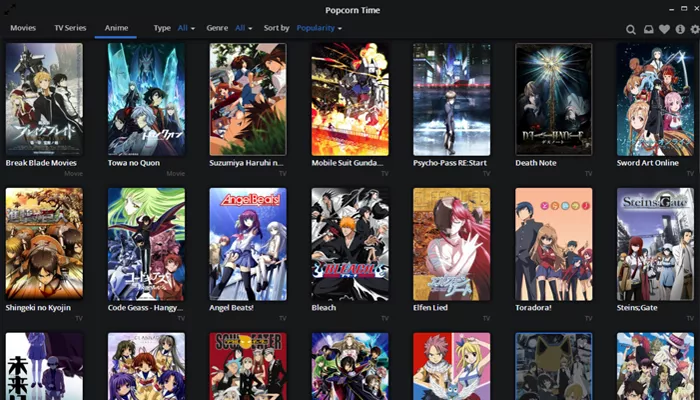 --->Download Popcorn Time <---
Popcorn Time has been compared to Neflix in every possible way, and although it is indeed inevitable to see the resemblance in its interface, Popcorn's Time library is way wider. The main difference between these two software, however, is that PT does not require any kind of subscription (and therefore it does not demand a payment either). This article's goal is not to compare Netflix to anything.
Zona: More and Better
Back to the initial subject, Popcorn Time started shacking when a program came out that allowed its users to do pretty much the same as theirs, but skipping the "land in suspicious websites and files that might not open" part. Its new competition did not only provide movies (like Popcorn Time did), it also offered TV series, TV channels, music, radio, sports and games. Basically all kinds of media.

---> Download Zona <---
The name of the program that overcame the previous king of movie streaming is Zona. Zona was developed in Russia, but all its content can be found in English. Both applications offer the possibility to select from a great range of recently released films, but Zona clearly goes one step further by offering much more media diverse content so a first victory for Zona in Popcorn Time Vs. Zona.
Another difference is that Zona might not be considered a pure/real streaming service since it downloads to your computer every file you want to watch or use. But don't worry, it never takes as long as a regular torrent site to get everything ready, a few minutes at the most.
Also, as an example of a very positive feature, Zona provides extra information about its movies, such as a critic and a list of the remakes/spin-offs of the selected material.
Who is the Winner... PopCorn Time or Zona?
To sum thing ups, Zona wins. It wins for very simple reasons: its organization and its catalogue are both better than Popcorn Time's. Which does not make Popcorn Time a bad, software (because it is definitely not), it just makes Popcorn Software a program that is not as complete as Zona.
In Popcorn Time Vs. Zona it seems Zona is the victor or should we say Zona Vs. Popcorn Time as Zona now seems to be the undisputed champion!
Because really, how can you compete with a program that allows you to access with just a click any episode of the Simpsons or any Robert de De Niro movie? You just can't.
What's your opinion, cinema lovers? Which software do you use (if any) to fill your time with the magic of cinema? Share your thoughts!