How to Use NOD32 Antivirus 64-bit
With this tutorial to configure such a complete Antivirus program as Nod32 will be as easy as pie.

Date: 2014-10-03 03:13:42
By: Anthony Smith
Rocky Bytes Score

Could Be Better
In order to follow this guide you will need to download NOD32 Antivirus 64-bit. Please click the green button below.
For being able to use this guide you need to download NOD32 Antivirus first. Please, click on the orange button below.
When we start the program for the first time, we will see a window that will ask us to activate the product, or at least to choose a trial version of one. In case you haven't purchased the license, you will have to choose the second option.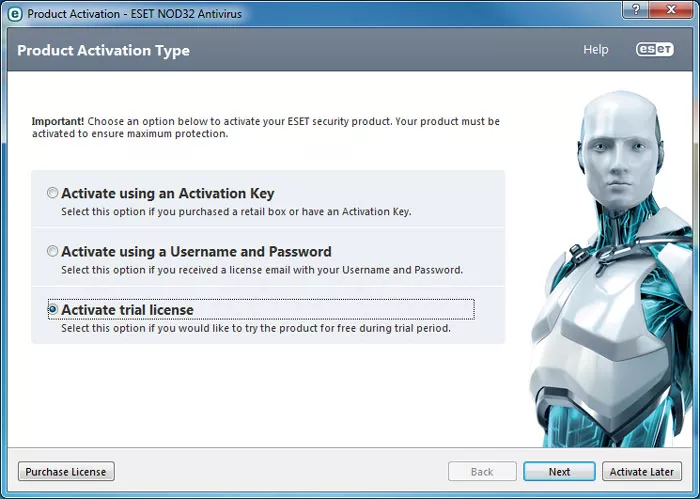 But it's alright because we will have a trial version that will let us use this antivirus completely for free. We will have to mark an email address, but it is not needed to verify it.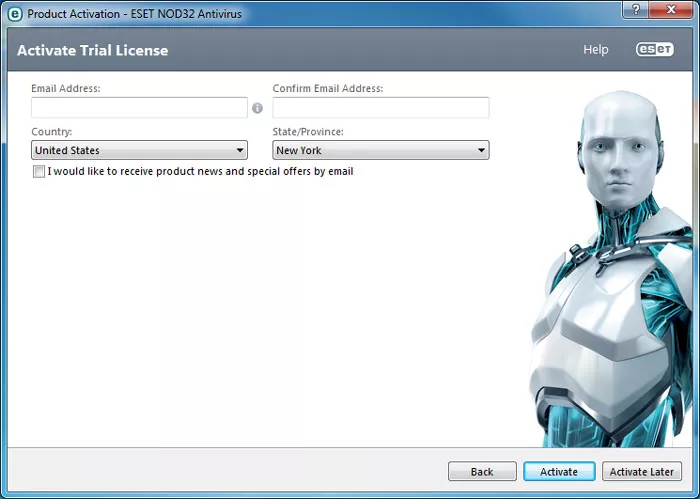 Once the activation process is finished, we will see green letters on the upper part of the window, as we can see in the next image.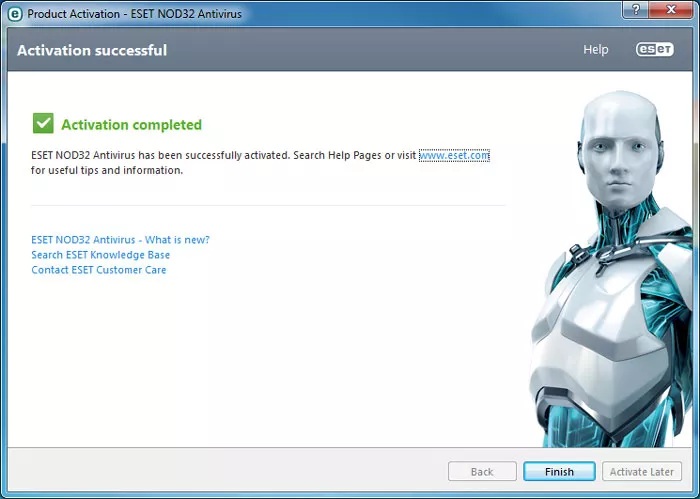 This is the start window for Nod32 Antivirus. The green arrow indicates that the computer has high security level at the moment, meaning that there is nothing to worry about. In a small list we can see some of the most used options by other program users. There is a game mode as well (an option popular among gamers, as it allows to improve game performance while it's active).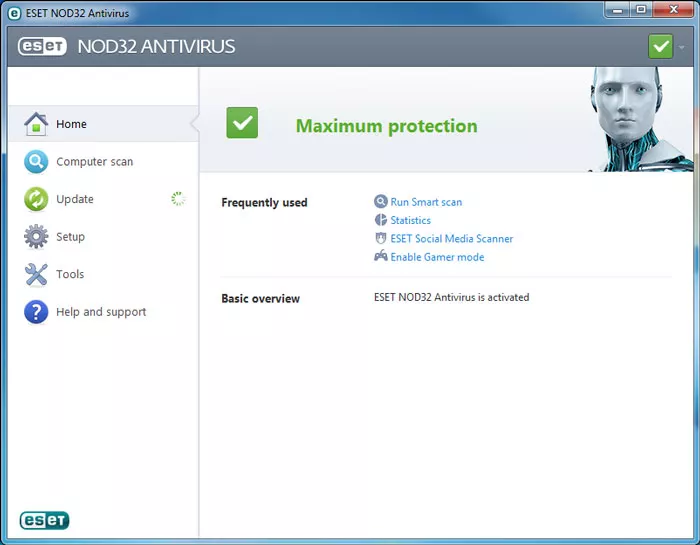 If we move to the next category, we will have different analytics options. It will even be possible to analyze external hard drives and USB drives connected to our computer. Apart from carrying out a standard computer analysis, we will also be able to personalize it for checking just some exact points.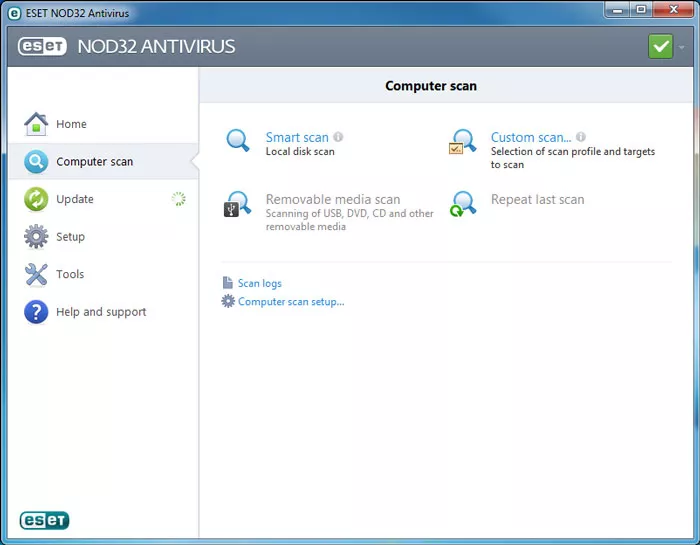 In this next window we have everything related to Nod32 Antivirus database. When there is a need to update the database, we will see the window like the one shown in the image below.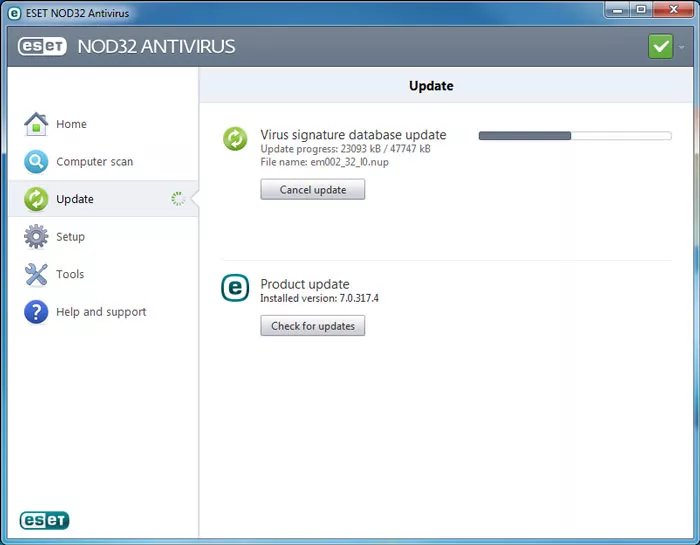 When setting the program up, there is a great variety of options that can be Activated/Deactivated. There are various services, which include antivirus protection when using the Internet or our email.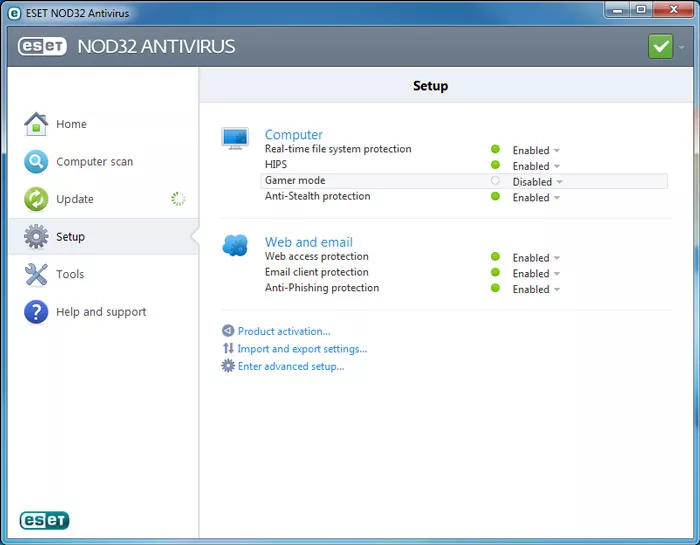 The amount of available tools is quite extensive as well. There are some very useful ones like Scheduler, or Protection Statistics, we can also see web activity and there is a possibility of generating configuration files and sending it to the proper Nod32 Antivirus lab.
If there is some question or if we need help, there is Help and Support section where we can find all the necessary answers.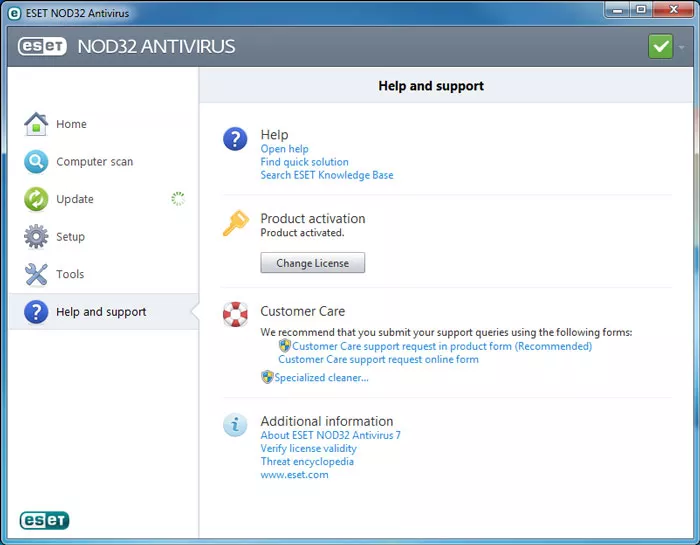 We can also know when was the last time Nod32 database had been updated, we can see this data on the lower right corner of the window, like this one below:

And, for finishing the tutorial, we have mention that the "V" sign on the upper right corner hides a drop-out menu with the most frequent options. It is very useful for doing things we want fast, as they will already be on that list.

Follow this easy installation guide to install NOD32 Antivirus correctly
For being able to use this installation guide you need to download NOD32 Antivirus first. Please, click on the orange button below. To start the process we will need to run the downloaded file by

Every year, more viruses and new security risks show up on the internet, making Anti-Virus/Malware/Spyware software that more important. For full protection, there are always paid versions, but these can get quite expensive, so we all end up resorting to the free versions of all these products. But which ...