Plants vs Zombies Guide
In this guide we will cover the main features and controls of Plants vs Zombies

Date: 2014-07-24 10:55:24
By: Anthony Smith
Rocky Bytes Score

Great!
In order to follow this guide you will need to download Plants vs Zombies. Please click the green button below.
Plants vs Zombies is a kind of a tower defense game. We will need to place various objects to try and stop enemies' horde (in this case it's zombies) before they reach a specific point.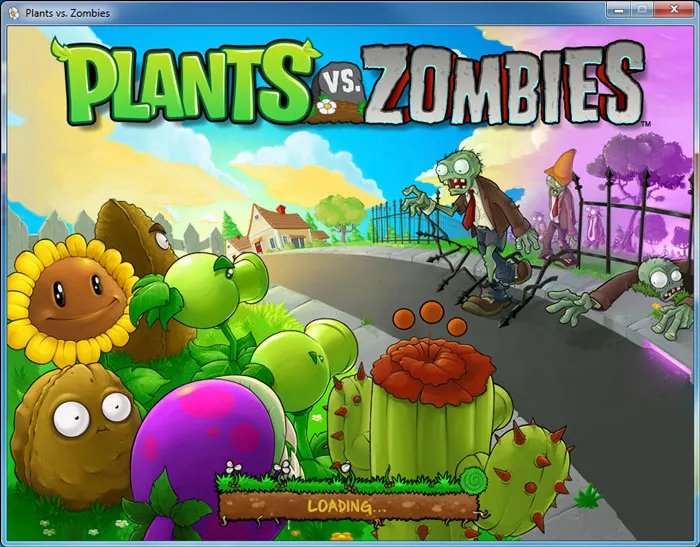 The standard mode of the game is called ADVENTURE, so, to start a game we simply need to click of the first button.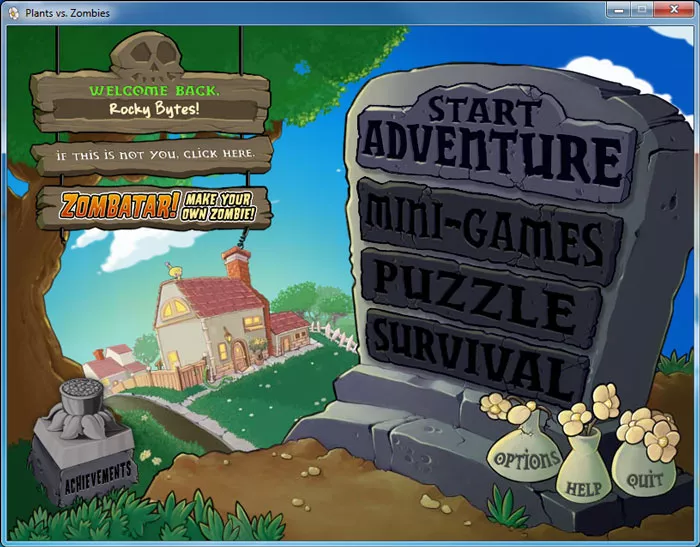 This game is about plants that do different things to help us get rid of zombies and protect the garden from their attack. First of all there will be sunflowers, plants that each certain period of time generate sun power. Each sun will give us 25 points which can be used to plant new plants.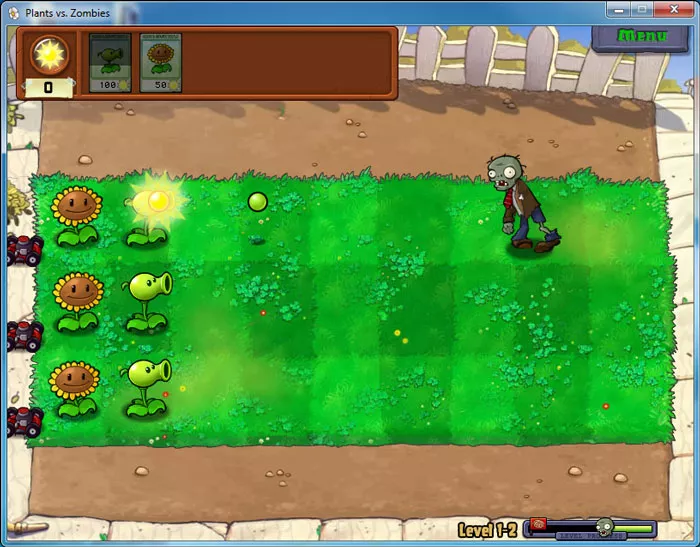 The game is progressive: little by little we will be unlocking new plants and learn their new powers. The first "attack" plant is the green one, and it costs 100 points. This plant is basic defense unit: it shots seeds continuously and eliminates zombies.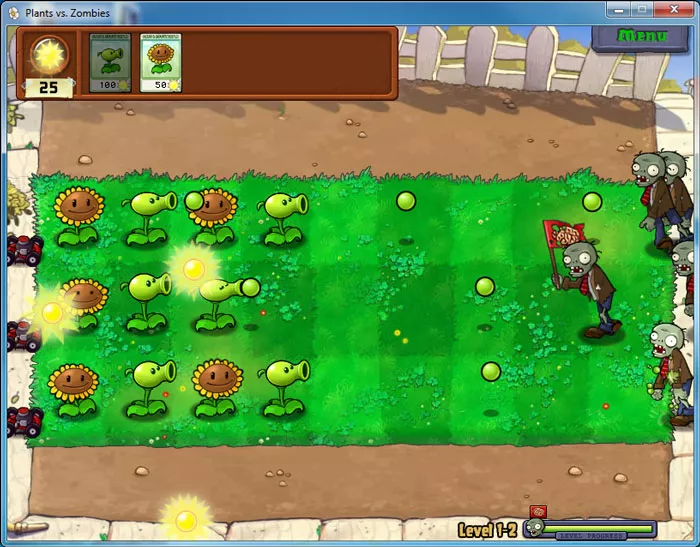 Next element to unlock are going to be explosive cherries, plants that can be put on any square. They explode in 1 or 2 seconds, carbonizing and eliminating all of the enemies next to it.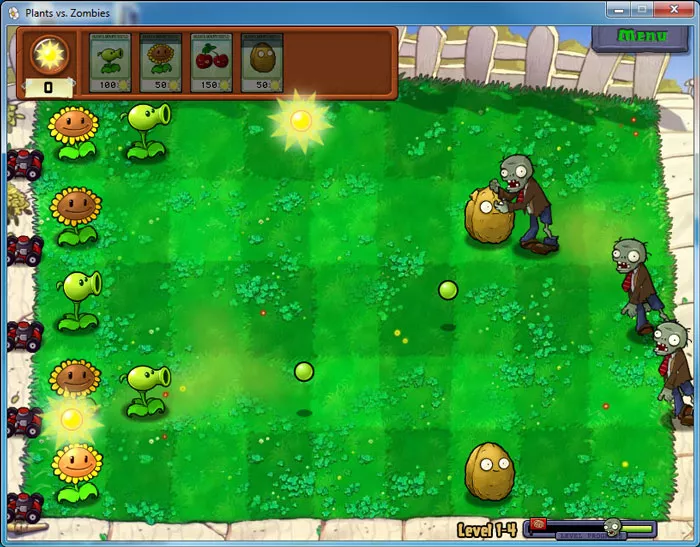 There are also potatoes, which slow down zombies as they will stop to eat them. Meanwhile we can point green plants at them and shoot zombies. We have to be careful with zombies that carry poles and can jump over these distraction elements we set for them.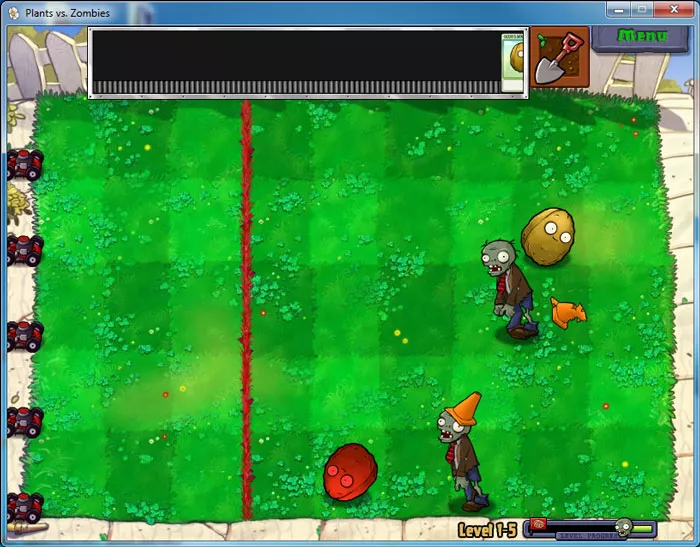 During the game there will be more elements unlocked. Here we can see a shovel, a tool that allows us to remove our own plants. This can be very useful if we need space to put some other unit instead.
Plants vs Zombies also offers other game modes built in the normal mode. Here we have a bowling game where we will have to bowl potatoes at zombies until we get rid of them. And, as always, we need to make sure they don't arrive to the garden.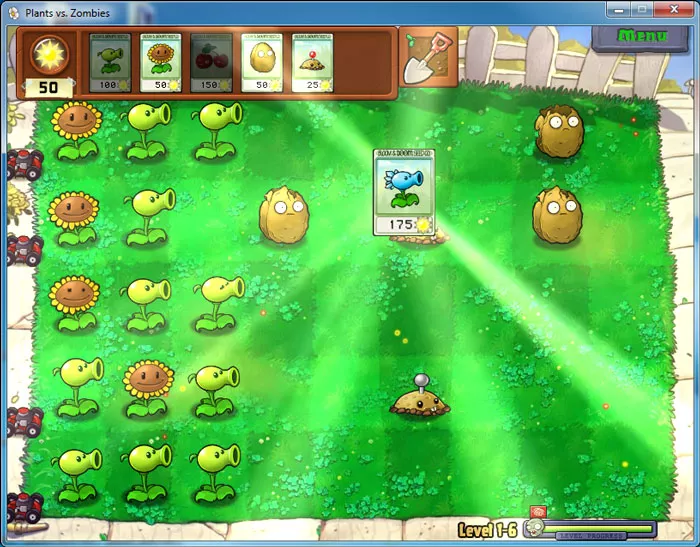 Little by little we will be unlocking more and more elements. For example, there is a kind of "radish" that work like anti-zombie mines. They explode when zombies reach them. Just keep in mind that those special zombies that can skip potato attacks are immune to this too.
Another new plant is this blue one. It shoots frozen seeds that make our enemies go slower.
Now, as we know the mechanics of the game, we just need to go and try strategies, balancing the number of sunflowers with other attack and defense units to have constant flow of points to have enough to be able to protect our garden from zombies.
It may seem to be very simple, but Plants vs Zombies is a very addictive game. Once you start playing it, it's very probable that you will stay entertained for many hours. If you finish the game too fast, remember that on our website there are many more exciting games you can download and play absolutely for free!

To install Plants vs Zombies is very easy: simply follow the steps of this guide
To install this fun game Plants vs Zombies we just need to follow the steps of the installation assistant of the game. As we can see, in the first window it will ask us to change installation configuration and ...

From First Person Shooters to Action, we're always killing something in video games. From ghosts in Pac Man and Koopas in Mario, just because you're not using a gun doesn't mean you're not killing a creature. The following are some of the best killing games you can find on Rocky ...