How to Install Popcorn Time
Learn how to install Popcorn Time!

Date: 2015-01-26 22:15:52
By: James Fleckenstein
Rocky Bytes Score

It Rocks!
In order to follow this guide you will need to download Popcorn Time. Please click the green button below.
Welcome to the Popcorn Time installation tutorial. This guide will give you a simple step by step process on how to install the application and get started watching your favorite movies!
Make sure you download Popcorn Time by clicking on the download link above! Once you have done that, proceed with this tutorial.
First, open up the Rockybytes downloader, choose whether or not to download our great offers, and then the downloader will safely download the installer onto your desktop. Once you have done this, open up the Popcorn Time installer: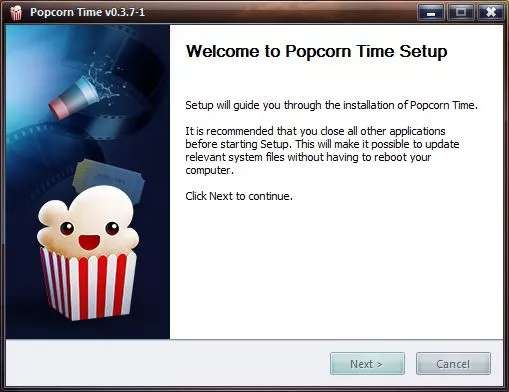 Click next on the installer to get to the License Agreement. In order to proceed with the installation, you must select "I Agree" to agree to the license: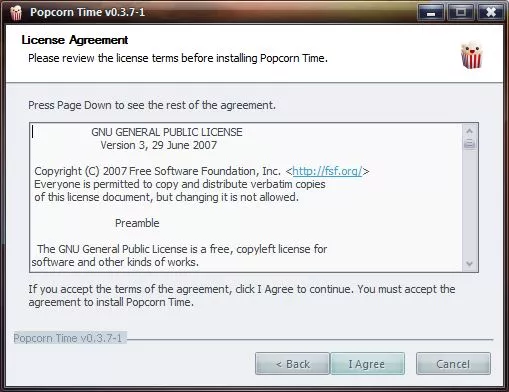 After you click "I Agree", the installation process should begin. This process can take anywhere between 10 seconds to a minute: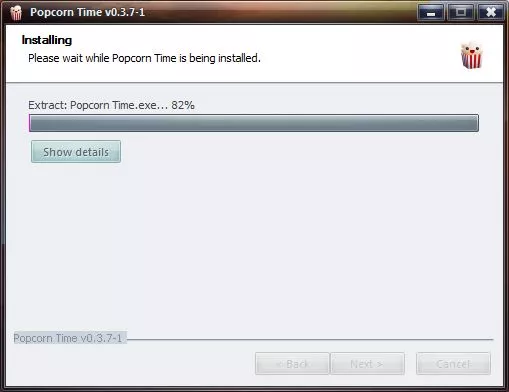 When the installation is complete, all you have to do is select "Finish" to close the installation and to continue: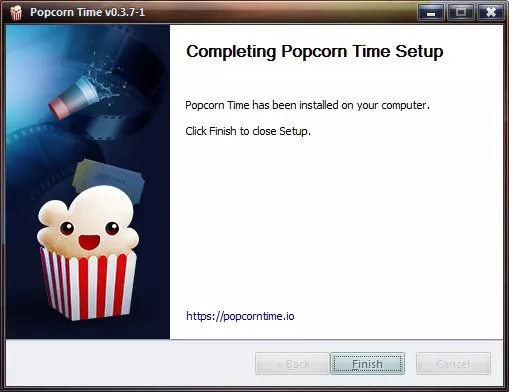 I noticed that Popcorn Time did not automatically open up after I finished the installation. So, I clicked on the Popcorn Time icon on my desktop and the program opened up. The icon should look like this:

Once you have clicked on the icon on your desktop, Popcorn Time should open up. When Popcorn Time opens up for the first time, you must accept the Popcorn Time "Terms of Service" before starting to use the application. If you are confused of your responsibilities while using an application that streams music, movies, and TV series from torrents you should make sure you read the Terms of Service: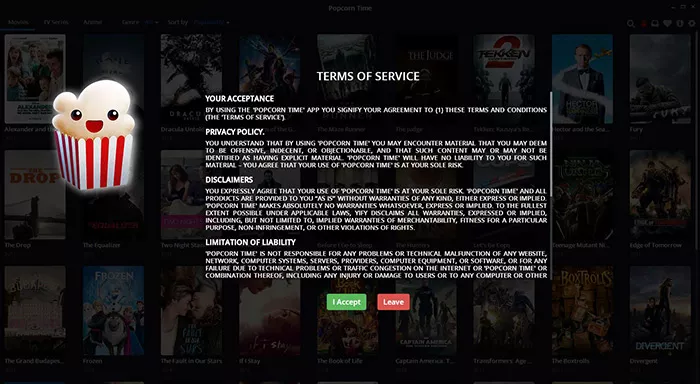 After you select "I Accept" under the Terms of Service, you will have full access to the main "Movies" menu of Popcorn Time:
That's all there is to it! If you are now at this point, Popcorn Time is now installed and ready to go! If you are interested in learning the basics on using Popcorn Time, check out our Popcorn Time "How to Use" tutorial.

Learn how to use the basics of Popcorn Time in just a couple simple steps.
Welcome to the Rockybytes how to use Popcorn Time tutorial. In this guide you will learn how to download your first movie and begin watching it using Popcorn Time. This process can also be used to download your ...

Let's be real. Who watches TV nowadays? Why would you let anyone else choose what you are going to watch if you can choose it yourself? When we think about movie nights (we all need them in our lives) going to the cinema is a greatest of options, I'm not going to lie. But who's got the ...

Popcorn Time is a computer application that brings free HD quality movies and TV shows to your screen at home easier than any other application before it. Popcorn Time surged in popularity at it's initial launch, but its user base has seen diminishing growth. This is in part due to a legal situation ...