How to Use uTorrent
Learn how to use utorrent in a right way for downloading files from P2P bitTorrent network

Date: 2014-07-10 05:02:05
By: Anthony Smith
Rocky Bytes Score

Great!
In order to follow this guide you will need to download uTorrent. Please click the green button below.
uTorrent is one of the most used and optimized P2P BitTorrent clients. It lets us share and download all kinds of files in .torrent format.
Let's discover step by step how to use it in the most optimal way with this uTorrent tutorial.
Once we have installed and configured the program following the installation guide that we have in this website, we just need to start this uTorrent client and get to its main window.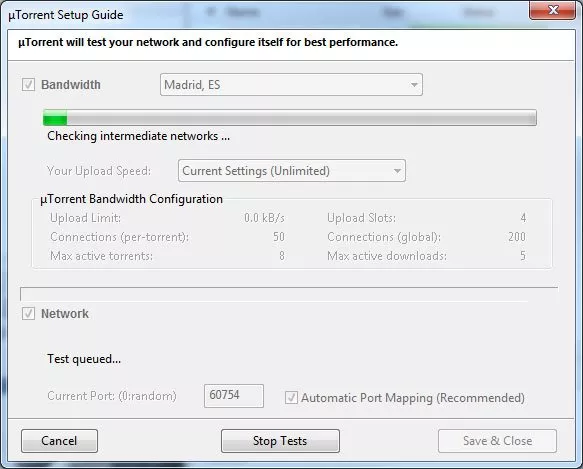 First of all we should look at the icon on the lower right part of the previous image, which is a green circle with a tick in the center that indicated that we are connected to the network correctly and that we can share and download with no problem. If instead of this icon we see a yellow sign, we need to double click over it and we should see a screen like this one:
Here we can do a speed test of our internet connection and modify bandwidth configuration according to the result of the test.
If even so the warning icon is still on, it's probable that we have firewall blocked for this program, or the port assigned is not open for our router.
The system of bitTorrent network is based on a community where people download files and shares them with the rest of the users like the majority of P2P networks. Anyway, for downloading a file from bitTorrent we need an associated .torrent file for unifying all downloads and achieving higher speeds.
By installing uTorrent .torrent files get linked to it automatically, so we just need to double click the file in .torrent format and it will get added to the list of downloads directly asking where we would like to save it:

Once .torrent is in the list of downloads it will start to download the file, depending on the amount of seeders, or people who share it. uTorrent will give a Health note to the file, the higher the quality of the file is, the more seeds and the higher download speed is going to be.
We can see all the info on the files that are being downloaded as speed, health, up speed (peers, or users that are downloading the file at the same time with us, can upload simultaneously the downloaded parts), size of downloaded parts, total size, and so on…
If we do right click over any info category, we can add more fields with even more information to our downloads: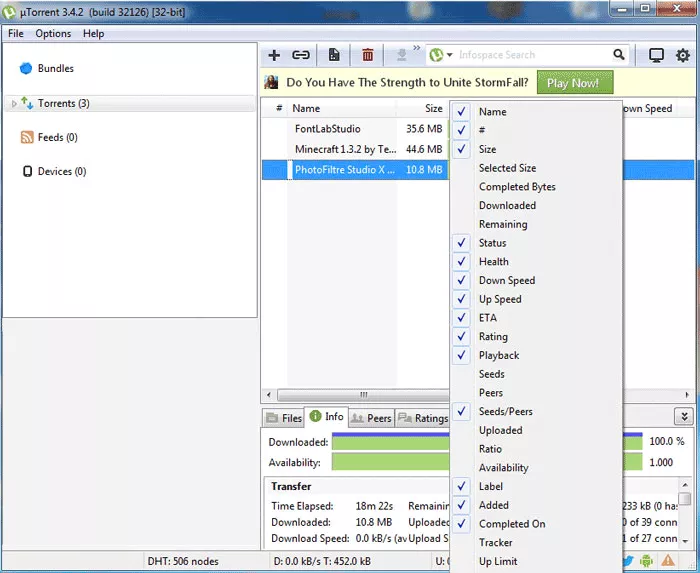 The same way, when a download or upload is in process, we can assign higher or lower priority level and bandwidth allocation. This configuration is independent from the general configuration of the program and it only affects the exact download we want to configure:
As we could see in the previous image, we can force start a download, pause it, stop it and so on.
It may be very useful in we are using our computer and in some moment we need more bandwidth for other things we are doing, so we can simply pause uTorrent and start it again when we want.
So, with these simple and easy tips we can start downloading any file. We have to take into account that bitTorrent is based on solidarity of all the users, so when the download is finished it would be nice if we kept the file and shared it with other people who want to download it too.
There is no boubt that uTorrent is becoming one of the most used bittorrent clients in the world, but, of course, there are more alternatives to it, which can you can try and choose the one you like most. Visit our downloads' section for more P2P BitTorrent clients and try them!

Follow this guide to learn how to install and configure uTorrent P2P download client
Let's start the installation wizard and follow the steps for installing uTorrent. We can change uTorrent installation directory and configure its icons and shortcu

Popcorn Time is a computer application that brings free HD quality movies and TV shows to your screen at home easier than any other application before it. Popcorn Time surged in popularity at it's initial launch, but its user base has seen diminishing growth. This is in part due to a legal situation ...