How to Use Hotspot Shield
Learn how to use Hotspot Shield.

Date: 2014-10-09 01:26:15
By: James Fleckenstein
Rocky Bytes Score

Great!
In order to follow this guide you will need to download Hotspot Shield. Please click the green button below.
This tutorial will show you how to do the basics with Hotspot Shield. It is important that you already have Hotspot Shield installed in order to use this tutorial. If you don't have it installed, please refer to this how to install Hotspot Shield guide.
You will learn how to use Hotspot Shield by using this tutorial. If only the basics, Hotspot Shield is a fairly simple program, so there isn't too much to learn, luckily.
First, once you have installed and started up Hotspot Shield, click on the Hotspot Shield icon in the taskbar. This will be located near the clock and it looks like this:

. Once you have clicked on it, the Hotspot Shield dialog window should pop up right over the icon: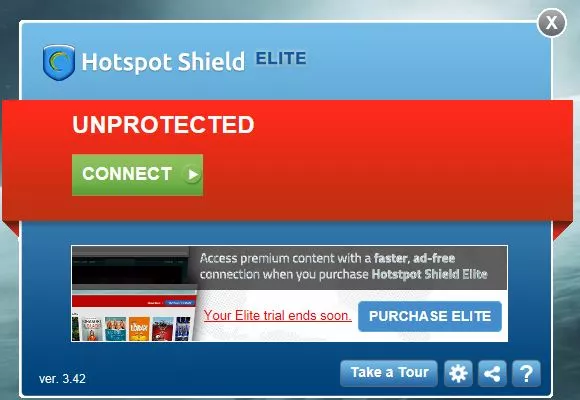 You should be currently unprotected since you are not connected to the Hotspot Shield secure network. To change this, simply click on the green "Connect" button to activate the secure connection. When you do this, Hotspot Shield will find the fastest and most secure network configuration for you: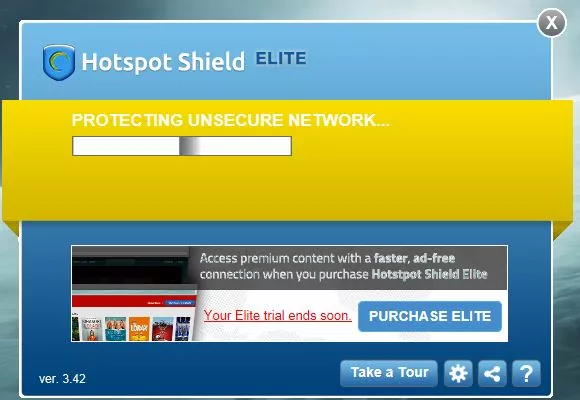 After Hotspot Shield finds the best configuration for your network, you will be connected to the Hotspot Shield secure network and be completely protected from any outside threats to your computer. The Hotspot Shield dialog window will make sure you know that you are protected and show you all of your data that has been secured by the Hotspot Shield network while you've been connected: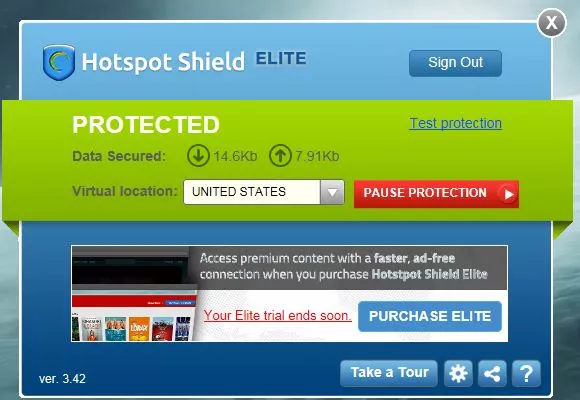 You can also temporarily pause the protection by clicking on the "Pause Protection" button if you need to be directly connected to the Internet without security from Hotspot Shield. You can reactivate this manually, or it will resume automatically if you picked to temporarily pause the network for a specified amount of time. You can also select different proxy locations by selecting from the "Virtual Location" menu. This will allow you to connect with the same secure, but from a proxy in another country. This can be use for accessing content that wouldn't otherwise be available in your country.
That's all there is to it! Hotspot Shield is a very simple security application for protecting you from outside threats by allowing you to connect to their fast, secure proxy networks in just a few simple steps. Enjoy using the program!

Learn how to install Hotspot Shield.
Welcome to the installation guide for Hotspot Shield, which will teach you how to install and first use the application. Make sure you have downloaded Hotspot Shield by clicking the download link above. Once you have ...