Psiphon fixes mobile data-plan bug and prove they play by the rules!

Date: 2014-10-07 05:02:40
By: Kevin Kutlesa

Psiphon is one of the best internet censorship circumvention tools in the world and here at Rocky Bytes, we've spoken at length about its history helping people around the world get through unjust censorship and outright blockage of internet services by less than agreeable governments.
Censorship circumvention tools, even the best of them, tend to have bad reputations, and are often referred to as shady organizations that work outside the law, rogues that just care about breaking the rules. Well, Psiphon developers have given this point of view a quick kick in the pants with their latest efforts.

Beyond the desktop version of Psiphon, there is also a mobile version for Android smartphones (sorry iPhone users, there still isn't an iOS version of this program, but maybe someday). During the first months of deployment, users quickly found and exploited a critical behaviour bug that allowed them to not only circumvent censorship and prevent their browsing from being tracked and spied on, but also avoid paying their data bills. The bug overcame the mobile provider's controls for data traffic, making it seem as if the user hadn't used their data at all when in truth they were not only using it but also abusing it.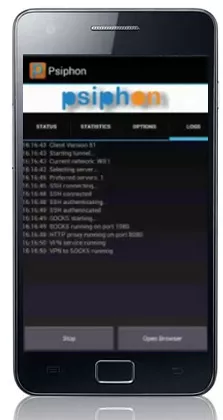 To Psiphon's opposition and those that are just uncomfortable with the application's concept or purpose, this might have been a deliberate move by the tool's developers, but that wasn't the case, it was merely a bug that came from transitioning to mobile. If you think about it, your desktop and your ISP (Internet Service Provider) don't work the same way as your mobile data plan. Yes, you have a limit on your downloads in most cases but the amounts are massive and going over the limit is usually not too expensive.
To solve the situation (and in my opinion shut some of their opposition up), Psiphon's developers jumped right into debugging their award-winning application, polishing their code and implementing controls that would prevent users from illegally using their data plans. The latest version, with the bug corrected was uploaded just a short week ago and since then all reports of unlawful use of data plans have ceased, as have any accusations towards the application's developers.
By quickly responding to the situation, Psiphon's developers have once again demonstrated their commitment to playing on the right side of the law. They've proven the purpose of their application is to help those in need of protection, be it from the paranoia the internet seems to infect us with, or from the very real and scary chance of reprisal for stating your opinions in a public media, of viewing a site your government doesn't think you should see and have them knocking on your door to ask some uncomfortable questions.
You can find the mobile version on the Android App Store or on Psiphon's home page, but if what you want is Psiphon for PC, you don't have to look too far. You can find it on Rocky Bytes.