How to play Agar.io with friends in the same server and under the same IP

Date: 2015-06-11 06:07:39
By: Marta Barquet

We already know how to play agar.io by ourselves or with teams, depending on the game mode we select. If you still don't know how to play I recommend you to read the how to play Agar.io tutorial first.
But… what about playing agar.io with friends? You sure wondered about that, since it would be ideal to just go inside the same server where your friend is playing or even invite some mates to join yours. Sounds awesome, right? Well, now it's possible by using a script that is now available for Google Chrome and Mozilla Firefox. Using this script is either forbidden or considered cheating, it is completely legal and it allows us to enjoy a much wider playability. It is really recommendable, works 100% of the times!


How to play in the same Agar.io server
To begin with this process, which won't take us longer than 2 minutes, we must install an extension for Agar.io in our browser, a trustworthy extension used by thousands of people (it really is okay).
The Google Chrome's extension is called Tampermonkey and you can find it here.
The Mozilla Firefox extension is called Greaseymonkey and you can find it here.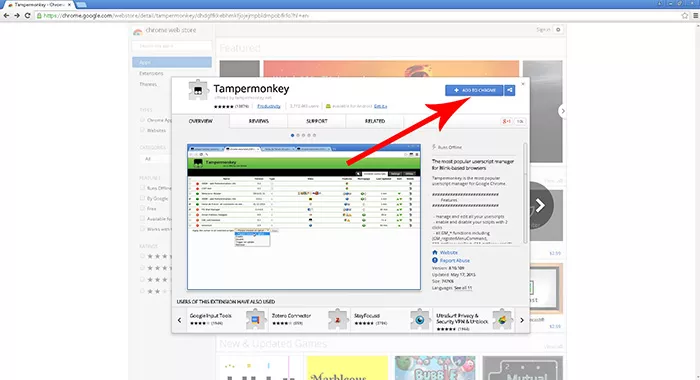 We will follow the Chrome's example and install the mentioned complement to our browser to be able to play Agar.io in a cooperative way in the same server. We'll enter the link and the following screen will appear: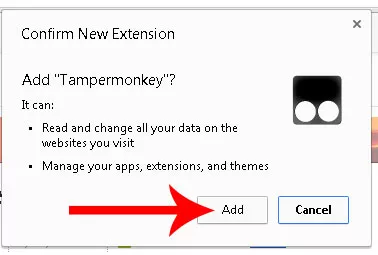 Just by clicking "Add to Chrome" it will be ready to be installed, you will just need to verify one more step in a pop window that will show up and it will be ready to use.
If Tampermonkey has been installed correctly a little window will let us know, just like it is showed in the following picture:

Now let's quickly install the user script for Agar.io. Entering the following page and proceeding with the instructions in the image will be enough.
Now we click in install, and everything is ready!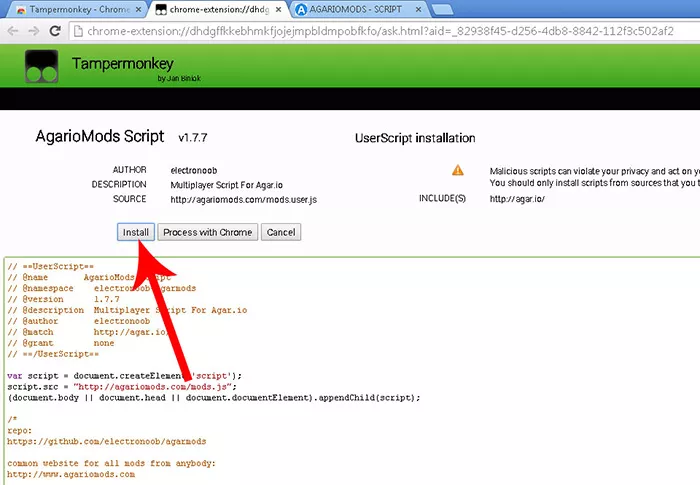 It's time to get into action , let's go to Agar.io's page and it will look a little different, with a black square in the middle and another one below where we will need to enter the server IP. The black square indicates the changes and additions the last version of the script suffered, we can get interesting information from it to learn what else we can do in the game thanks to the multiplayer script for Agar.io.
To obtain the IP from the Agar.io server, we are in we just need to select a region and the game mode we want to play and the IP will show like this:
If we give this IP to our friends and they also have the script installed then you can play Agar.io in the same IP and enjoy a new gaming experience with friends. To connect one IP we will need to write the IP address that we can find under the play button. It should look like this: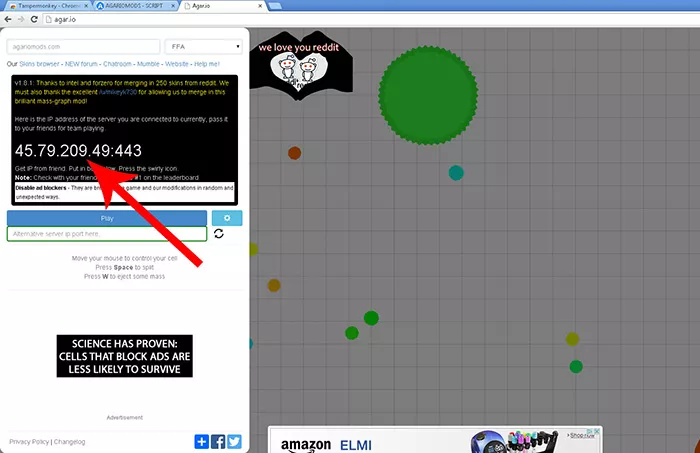 The only step left is to click the two curved arrows that form a circle and … magic! You'll be in the same game as your friend and you can practice different strategies and ally against the rest! Try it out and prove that it is possible to play Agar.io with friends is not complicated, it is something that will take us less than three minutes and the process only needs to be done once. The next time we initiate the game everything will be configured and we only will need to either give or ask for the IP from the server we want to enter.
Let us know if you enjoyed it!

YOU MAY ALSO LIKE:
Agar.io Special Names that change the skin of your ball