Halo: Combat Evolved 1 achievements

Date: 2014-05-22 09:09:30
By: Kevin Kutlesa

When Halo: Combat Evolved released in 2001, it was a critically acclaimed and a massive commercial success, propelling Bungie Studios to stardom and spawning sequels and spinoffs in various media.
In a time of lackluster shooters that just rehashed the same mechanics and concepts from years prior, Halo 1 brought fresh ones that have inspired those used in games since its release. Like its predecessors, Halo had Medkits to replenish health but they were scarce and forced the player to depend almost exclusively on the recharging shield. Previous shooters already had shields and body armor, but never had they been rechargeable nor was your health so limited that being without a shield meant almost certain death. Mass Effect's health and shield system wouldn't exist if it hadn't been for Halo.
Before Halo 1, shooters allowed you to carry any number of weapons until your character became a walking armory; strapped with so much death and mayhem. Developers had no choice but to make the challenges nigh impossible just to make you sweat. But Bungie's game did something different and only allowed you to carry a limited number of weapons from a wide selection of them, from the human projectile weapons to the heat-based Covenant guns. You had to carefully decide which ones you would bring with you. Since then, it's common to find limited weapon choices in games as developers realized it adds layers of strategy and challenge.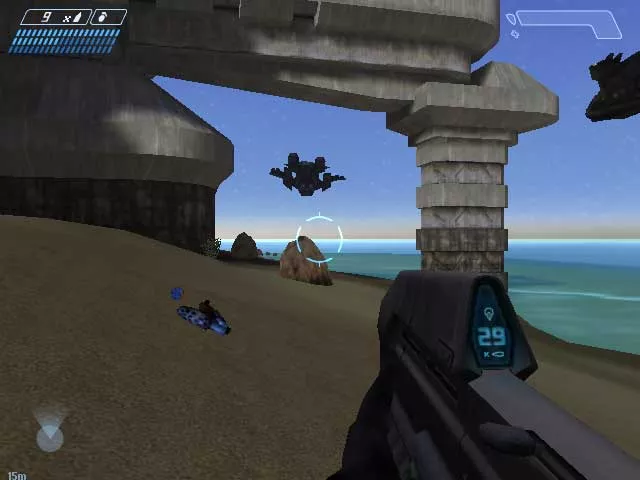 Halo was also the first game to have tight vehicle controls. The Human Warthog is still being one of the best examples of well-implemented controls in a non-racing game. Halo 1 also gave you the choice of leaving the vehicle at any point you liked, or even take it with you for as long as possible.
But Halo's greatest achievements and thus the greatest part of its influence on future titles are visuals and storytelling.
Halo 1 showed shooters another path, managing to be a war game without being drab, instead immersing the players in a bright and colorful world filled with strange creatures and locations. It was gritty but it didn't need to look the part and instead it accomplished what it set out to do with beautiful and breathtaking landscapes.
Finally, there's storytelling. When shooters had barely an excuse to get you to shoot and kill things, Halo created an entire universe for you to lose yourself in, one that is still growing to this day with more games and even novels, comics, and movies. Much like Star Wars, Halo's expanded universe adds interesting characters that make the overall stories that much deeper. The best example of this is Dr. Halsey, creator of the Spartan II Program (responsible for the Master Chief), her first appearance in-universe was in the novel Fall of Reach (although she would make an in-game appearance later on) and her creation added much needed backstory to the central characters and enemies and even technology.
You can find a demo for this amazing title right here on Rocky Bytes.