Three Horrifying Mods for Friday Night Funkin'.

Date: 2022-07-31 02:36:10
By: Baron Yeung

Friday Night Funkin' took the game world by storm when it came out just over a year ago. Its nostalgic art style, flashy presentation, simple and addictive gameplay, and most of all, its incredible modularity. The mod community that's popped up around this amazing little game has been one of the most talented out there, with many mods completely overhauling everything to make a completely different game. The sheer amount of total conversion mods available is outstanding, but a few stand out in particular. Here are some of the most horrifying mods the community has made for the game.
3. Doki Doki Takeover! - BAD ENDING
Doki Doki Literature Club is already a fairly unsettling game on its own, and the mods that the community made carry that trend. Well, this creator decided that his original mod, Friday Night Funkin': Doki Doki Takeover, wasn't unsettling enough. So he decided to come out with an alternate ending to the original mod, Doki Doki Takeover! - BAD ENDING, which takes what little happiness that mod had by overriding it with an ending where Monika failed to help you and the BF and GF were stuck inside the game forever.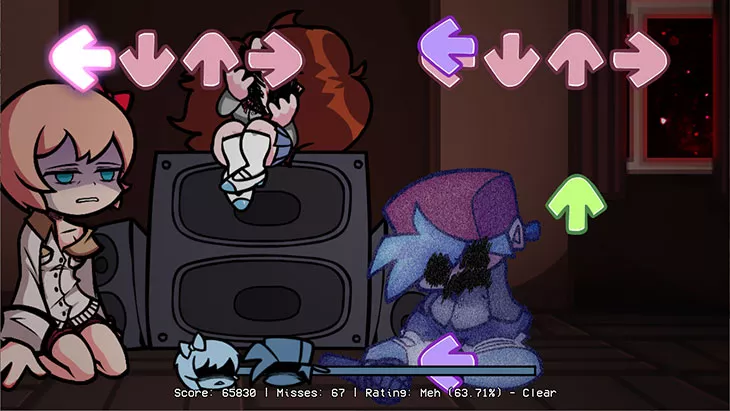 The storytelling is fantastic, with the descent into madness being portrayed masterfully. Every song is a masterwork in making you feel incredibly uncomfortable. Every song starts off with things feeling relatively normal until things rapidly start going wrong, just like Doki Doki did. It also breaks its own art style to introduce some incredibly uncomfortable realistic body parts as well.
2. Mistful Crimson Morning
Alright, Mistful Crimson Morning is based off of a more recent creepypasta. Spongebob creepypasta has gotten one hell of a blow up in recent years, and this mod capitalizes on that. The mod's premise is that BF and GF have gone off to visit Bikini Bottom when they meet a despondent Squidward who's returning after a failed concert. And he doesn't exactly look stable.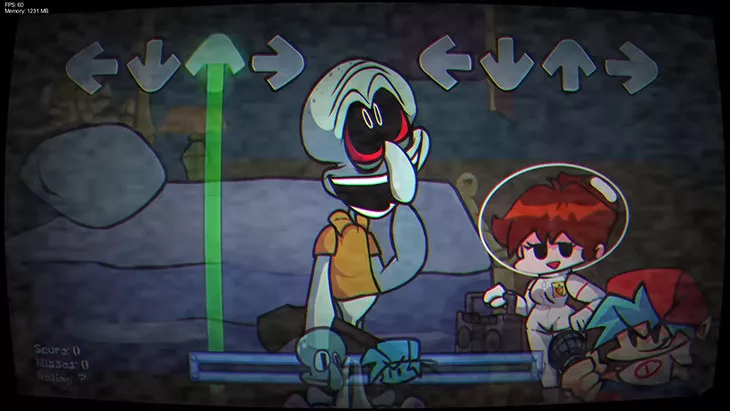 This is just the start of it, of course. Squidward only gets worse the longer you rap against him, and he eventually starts firing that shotgun at you, forcing you to dodge it by tapping spacebar or suffer an immediate defeat.
Squidward is just one of the many opponents you'll be rapping against, of course. One of the biggest and most notable opponents is a warped, eldritch looking starfish, which plays into the horror idea utilizing starfish biology. Another has you playing against a massive and horrendously deformed Spongebob, who's trademark voice is distorted heavily to the point of being unrecognizable.
And of course, much like Sonic.exe, there are a couple of joke songs as well. I won't spoil them for you, but they're pretty entertaining.
1. Friday Night Funkin': Mario's Madness
The creepy mods have finally reached the world's favorite plumber. Friday Night Funkin': Mario's Madness features a Creepypasta version of Mario. The mod is extremely high quality, and it starts off with a flawless animated cutscene of how the story starts. The Boyfriend ordered a game delivered to him, and he got a game cartridge covered in blood. And like any normal person would, he decides to try playing it anyways, which quickly gets him and Girlfriend pulled into the game itself and confronted by a nightmare version of Mario.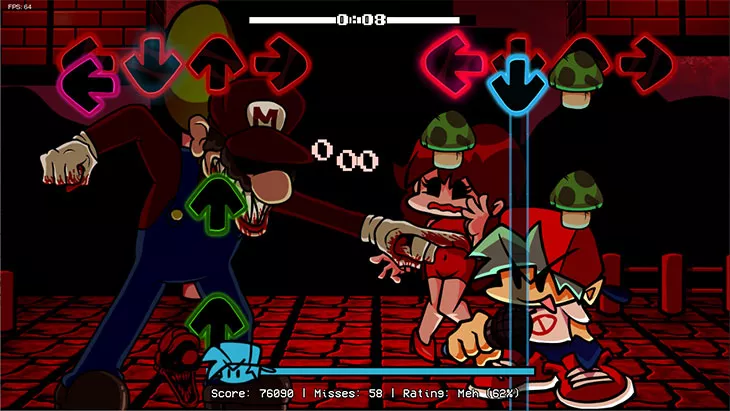 The main gimmick of these sets of songs are the mushroom notes. If you hit a mushroom note, Mario will grow incredibly powerful and the gauge will rapidly swing in his favor. If you hit 3 mushroom notes, you can instantly lose even if you had the advantage the whole time. It's an incredibly punishing mechanic, so pay close attention to the notes that are flying at you.
And that's about it! Those are some of the scariest Friday Night Funkin' mods around. Give them a download if any of them looks like they'd appeal to you.