Psiphon vs Ultrasurf

Date: 2014-08-07 05:17:01
By: Kevin Kutlesa

In June, we delivered a comparison between three of the most known censorship-circumvention tools in Best internet privacy and anti-censorship tools: Tor, Hotspot Shield and Ultrasurf article. At the time, we couldn't recommend one over the other, as their uses depended on your needs. This time we're matching Ultrasurf vs Psiphon. Keep reading for our recommendation.
As we mentioned in our previous article, Ultrasurf is a lightweight tool you don't even need to install and which routs your connection through its proxy servers, which change their IP over 10.000 times per hour.
Psiphon was developed by The Citizen Lab, part of the University of Toronto, as a way for people in heavy censorship countries to have access to the internet, without restriction, oppression or the fear of retaliation.
Much like Ultrasurf, it's a lightweight program that requires no installation. When you run it, you select the method of connection: SSH, SSH+ or VPN and click connect to establish a link to the Psiphon servers. Once established, all traffic goes through these servers, masking your identity. In SSH+ mode, another layer of obfuscation is added to prevent any IP profiling.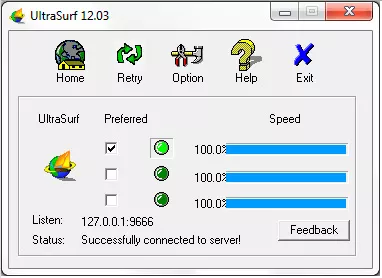 --> Download UltraSurf <---


Both Ultrasurf and Psiphon work in similar ways, but there are a few things worth mentioning. Firstly, on Ultrasurf's side, it's been recently discovered that the IPs it cycles through are predictable and thus blocking a range of IPs can prevent Ultrasurf from working correctly. While this may seem like a weakness on the program's side, a fault in design, it merely proves that any circumvention tool can be defeated given enough time. Thankfully, for you, if you are in a situation where you need a circumvention tool, the likelihood of someone actually devising the IP range and block Ultrasurf is extremely low. Most high-censorship governments fight the internet wars through propaganda, by spamming forums and sites, but not by disabling the circumvention tools.
On Psiphon's, the VPN mode is extremely slow and browsing can get very sluggish. Another thing that's been recently reported is that Iran's government has found a way of partially blocking the application, making users lose their connection and forcing them to constantly restart it. A patch has since been released that automates the connection process in case of disconnection, simplifying that task. The developers have commented on the situation in Iran, mentioning conflicting reports from users, some claiming connection issues while others mention the great performance.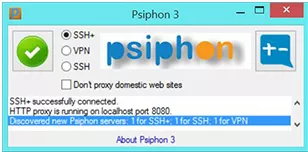 --> Download Psiphon <---


With their functionality being so similar, it's difficult to recommend one over the other. But if we had to choose one, we'd tell you to go for Psiphon. While Ultrasurf has a proven track record, Ultrareach isn't very active with the 'censored' community, while Psiphon's developers are constantly in touch with their users, and that means more frequent improvements and updates. Psiphon also has the advantage of having an Android version, allowing you to bypass censorship from your mobile phone.
Whichever you decide to use, you can find Ultrasurf 14.02 and Psiphon downloads, right here on Rocky Bytes.