Top 5 most popular fighting games for Windows PC

Date: 2014-08-26 07:46:49
By: Kevin Kutlesa

I love fighting games. I don't play them competitively because there's a limit on how much I can play one before I want to play something else, but I do thoroughly enjoy them. I love them so much every year when EVO comes around, the international fighting game competition; I try my best to find streams of the matches, to see the real pros go at it.
Below are some of our picks for the best fighting games around. A few you can find right here, on Rocky Bytes.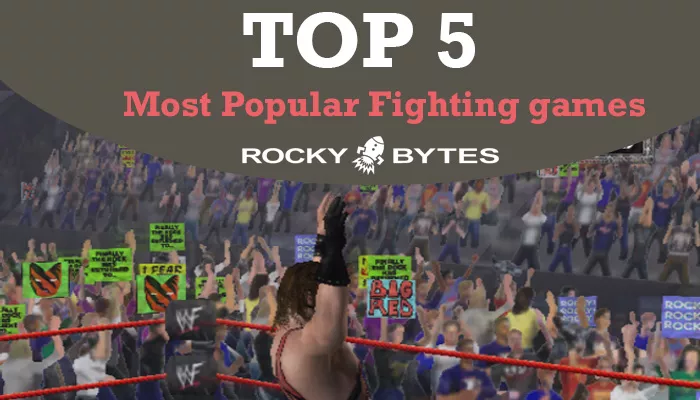 WWE Raw: This game is old, but is still a ton of fun and one of the best wrestling games made. You can find a WWE Raw demo download right here on Rocky Bytes and play a match between two of the biggest names in WWE: The Rock and Kane. While it's only a demo, you can get a feel for what this game and this series has to offer.
Mortal Kombat: Mortal Kombat has changed over the years and recently returned to its roots, but no one can say these games aren't fun. I always enjoyed the detailed backstories the fighters had…and the over the top gory action. If you want a taste of the original game with some upgrades and new characters, then look no further. We have a free Mortal Kombat download, created on the fighting engine M.U.G.E.N. by the Mortal Kombat Project. It's unofficial, but it's a ton of fun.
Blazblue: Pronounced "Blaze Blue," this fighting game features a bizarre and quite convoluted storyline mixing Gods, magic, and advanced technology. One of the best matches in this year's EVO was on this game. It has a distinct anime look and characters move very similarly to Marvel vs Capcom, with over the top powers and moves. If you like fast-paced fighting games, this is the one for you.
Injustice Gods Among Us: In this strange fighting game you control the heroes and villains of the DC comics universe fighting each other. The game features an array of characters drawn from the comics and a complex storyline involving alternate universe and what happens when superheroes go bad. Gameplay varies, changing from fighter to fighter, from Superman's super-punches to Batman's vast array of gadgets. If you're a DC or fighting game fan, or both, this is a game you must play. It's unforgettable.
Street Fighter IV: If Mortal Kombat is big then Street Fighter is the biggest. From arcades to consoles, we have been fighting friends and strangers with Hadoukens and Sonic Booms for decades now. Street Fighter IV is the latest edition of this outstanding series and it's amazing, with new blood filling the roster and tight controls. It's hard to get tired of this game, and even more difficult to master it.
What do you think of our fighting games list? Are we way off? Be sure to tell us in the comments and don't forget to check back for more gaming recommendations, right here on Rocky Bytes.