Cool tricks, tips and secrets on PC for Minecraft Players

Date: 2014-11-25 06:10:29
By: Kevin Kutlesa

There are hundreds if not thousands of things you can do in Minecraft, and over the past few months we've spoken at length over some of them (You can find Minecraft 1.8 here). But we just realized we've been covering players, mods, builds, maps and play modes but we haven't given you practical information on how to play the game. Sorry, that was our blunder, but we're here to make good on it now. So we've compiled a small list of tips, tricks and secrets you can use when you play Minecraft on PC.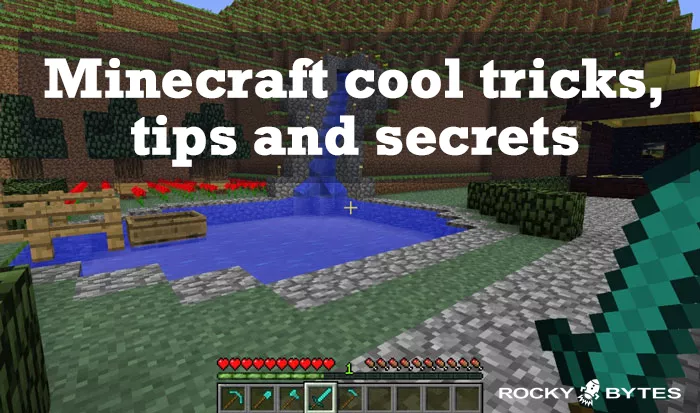 Some of these will make your life easier, others will give you more ideas for creations and other will simply blow your mind:
1- Fun with torches
If you think these are just to brighten up a dark cavern, then you don't know all these can do. Firstly, if you destroy a sand block and immediately place one of these where that block was, then it'll destroy the falling blocks immediately, turning them into smaller chunks you can pick up, saving you some work. If you're crossing a lava pit, simply place a stone block and a torch on top, and then any block you place will immediately attach itself to that one, helping in building a bridge. Finally, torches can hold infinite weight, so you can stack as much as you want on them; comes in handy when you don't have enough materials. Cool trick... isn't it?
2- Ladders and Signs!
Ladders and signs can prevent flooding in Minecraft. Let's say you're building something underwater, if you crack the block facing the water, it'll come in and start flooding the area, but not if you place a ladder or a sign where the hole is. And it's not just water they stop; you can even prevent magma from ruining your day with a ladder or a sign!
3- Code Blocks
If you've installed the Computercraft mod, you get new blocks called Computer blocks and Monitor blocks. A fun thing to do is stack monitor blocks to form a big screen and then attach a Computer block, which you can code using LUA to make fun thing happen on the big screen, such as the entire first Star Wars film. It takes a lot of work sure, but you've got to admit that watching A New Hope in black and white ASCII code in Minecraft is just cool!
4- Wooden Slabs
Wood catches fire, so if your Minecraft Server has spreading fire enabled, you're constantly worried that your wooden constructions might go up in smoke. There's a solution to that, and no, it's not "don't build with wood," just use Wooden Slabs instead of Planks. The slabs have immunity to fire and a higher resistance to blasts.
So there you have them and we hope they come in handy the next time you're building something wonderful in Minecraft with these Minecraft tips and secrets.
Furthermore, If you are interested in Minecraft, you will like our article about the most awesome Minecraft Skins, but if you prefer to download these Minecraft Skins are available here: Minecraft Skin pack. Moreover we made a Minecraft Maps collection you can get it here: Minecraft Map Pack or an amazing pack of Minecraft textures you can download from this link: Minecraft textures and resources pack
Hit us in the comments with your own tips and don't forget to come back for more, right here on Rocky Bytes.
RELATED:
Minecraft Seeds: The Best Minecraft Seeds of 2015: Desert temples, jungles, mountains, pyramids, ravines and a zombie Spawer