How to Install Psiphon
Learn how to install and set up Psiphon 3 on your PC.

Date: 2014-10-03 05:19:16
By: James Fleckenstein
Rocky Bytes Score

Very Good!
In order to follow this guide you will need to download Psiphon. Please click the green button below.
This is a tutorial on how to install and set up Psiphon 3 when you first use it. Psiphon is a relatively easy to use tunneling application that will allow you to view content on the Internet that wouldn't otherwise be available to you in your country.
First, you must download Psiphon 3 on your PC using the download link above. Once you have done that, proceed using the Rocky Bytes installer and it will download Psiphon 3 for you fast and securely. Once it is downloaded, Psiphon will be available to be used.
One thing to note is that some anti virus applications will report Psiphon as being malware. This is a false positive and in response to a fake application using the Psiphon name that is circulating the Internet. This download that we are providing is the *real* application and is completely safe to use.
Psiphon doesn't have an installation since it is a portable application, so it is ready to go immediately after you download it. Since this is the case, it might be wise for you to place Psiphon 3 in it's own install directory and make a shortcut for it on your desktop. To make a shortcut, right click on the EXE file, after you have given it it's own folder, and go to "Send to" and select "Desktop (create shortcut):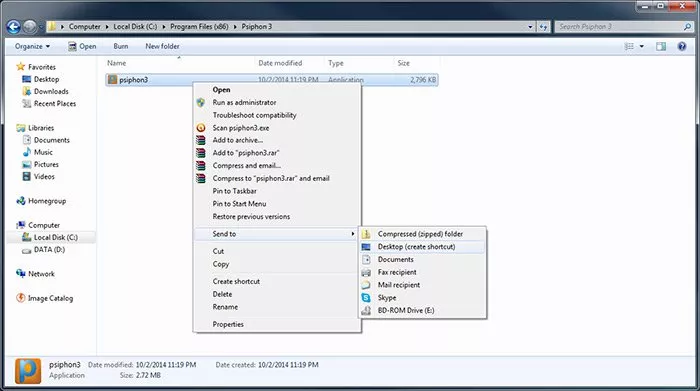 Once you have selected to create a shortcut, a shortcut for the EXE will appear on your desktop: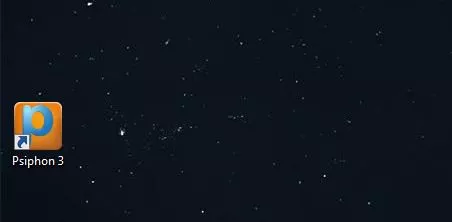 This will make it much easier to access the application when you want to use it, and it will be nicely organized into it's own folder/directory as if it was normally installed on your PC.
When you launch Psiphon for the first time, it will automatically download it's new version if there is an update available. You won't have to do anything when it updates: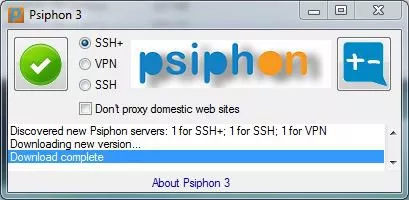 Once it is done updating, which should only take a few seconds, Psiphon 3 will be completely set up and ready to use. Happy surfing!

A tutorial on how to properly use Psiphon 3.
Wondering how to properly use Psiphon 3? This tutorial will go through everything you need to know to get you surfing the Internet without any content restrictions in no time at all. It is assumed that you have ...