How to Use Psiphon
A tutorial on how to properly use Psiphon 3.

Date: 2014-10-03 05:40:38
By: James Fleckenstein
Rocky Bytes Score

Very Good!
In order to follow this guide you will need to download Psiphon. Please click the green button below.
Wondering how to properly use Psiphon 3? This tutorial will go through everything you need to know to get you surfing the Internet without any content restrictions in no time at all. It is assumed that you have Psiphon 3 installed and ready to use by the time you read this tutorial. If you have not done this yet, please refer to how to install Psiphon 3 guide.

Psiphon 3 is a pretty simple tunneling application that allows you to view and use Internet content that wouldn't normally be available to you in your country.
Firstly, you will notice there are three modes: SSH+, VPN, and SSH. The first mode you are able to use is SSH+. Using these settings, Psiphon 3 automatically sets the Windows system proxy settings that Internet applications on Windows typically use by default. All you have to do is select the option in the main window, and Psiphon 3 will connect to their servers and do all the hard work for you: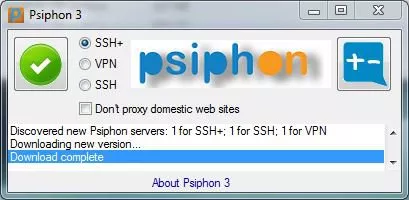 Once you select SSH+ mode, your Internet traffic will automatically be tunneled through Psiphon 3's closest proxy server. This should allow you to access restricted content that wouldn't otherwise be available to you at your location.
Next, there is a VPN mode, which for some people might work better than the SSH+ mode. If the SSH+ mode did not open the content you want to view, VPN mode *should* do the trick for you. Simply select the mode in the Psiphon window, and Psiphon will once again do all of the hard work for you and automatically connect through their VPN servers: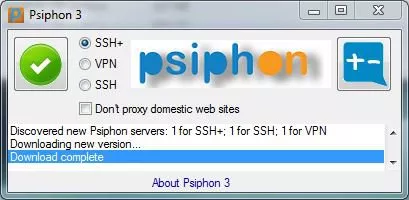 Lastly, there is the SSH mode, which is the most basic mode of the three, but will still be good enough for most connections to pass through to get the content you want. Once again, just select the mode from the main window and Psiphon does everything for you. Once you are connected, you should be able to access the content you want from the Internet application (web browser, music application, etc) that you want to use: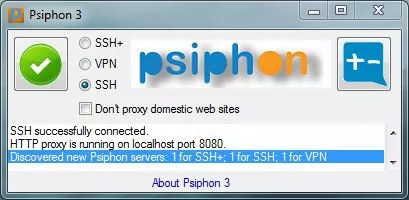 Finally, when you are done using Psiphon 3 and would like to revert back to your normal Internet connection, you simply disconnect from the Psiphon proxy server by clicking on the green check mark in the main window. This will terminate the proxy connection and you will reconnect using your normal Internet connection and everything will be back to normal from when you started: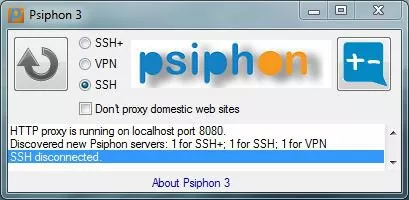 It is also worth noting that Psiphon also has an option to only proxy International websites, so only the websites you have a hard time accessing will use the proxy settings, and not the websites available in your own country. To use this option, simply check the "Don't proxy domestic web sites" option in the main window.
That's it! Psiphon 3 is pretty easy to use and does all of the hard work for you. There isn't really any technical knowledge required to use Psiphon, and that's what makes it such a fantastic proxy application. Happy surfing!

Learn how to install and set up Psiphon 3 on your PC.
This is a tutorial on how to install and set up Psiphon 3 when you first use it. Psiphon is a relatively easy to use tunneling application that will allow you to view content on the Internet that wouldn't otherwise ...