UltraSurf Tutorial
Learn the basic aspects of Ultrasurf

Date: 2014-06-19 12:13:39
By: Anthony Smith
Rocky Bytes Score

Very Good!
In order to follow this guide you will need to download UltraSurf. Please click the green button below.
UltraSurf is a program that lets us browse anonymously on the Internet. It was originally created to avoid hard censorship on Internet browsing in China, but for its potential and use in many other situations has made it useful for everyone.
In this tutorial we are going to learn more about UltraSurf. This program is portable as it doesn't require installation. As we have seen in the installation guide, this program has few options, so we have the program perfectly functional right from the moment we start it.
This means that we can be browsing anonymously as soon as the program starts and there is no need to do anything else. Pretty easy, right?
The main interface of the program is very simple: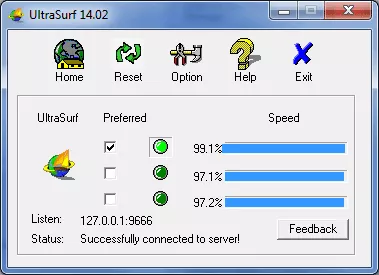 Connect for using another IP address and this way browsing anonymously. By default, UltraSurf will use the fastest server available, but if for any reason it doesn't work correctly, we can always change it ticking some other server from the list.
The "Retry" button will restart the connection of the program in case of any problem in functioning.
We have to keep in mind that with UltraSurf being active we can browse the majority of web pages, but there are some limited functions, like file transfer.
When the program is active, we can minimize it for browsing more comfortably, but there will still be a small icon on the desktop that will indicate that we are still browsing securely.
This icon will also serve as a direct access to UltraSurf. By clicking it with the right button of the mouse we can access its options.
All in all, we have seen that by downloading UltraSurf we have the possibility of browsing without leaving a trace of our data, and this all almost effortlessly, as by simply starting the program we have our browsing completely secured.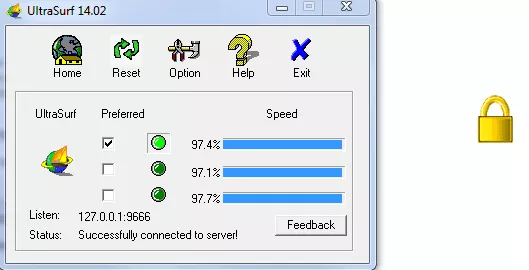 Learn how to install and configure Ultrasurf and browse anonymosly
UltraSurf is one of those programs that don't require installation and can be taken to any external memory drive to be used on any computer with no need of copying the file. That's why UltraSurf is a ...