How to Play DeltaRune
Here are some tips for playing Deltarune!

Date: 2019-11-30 03:50:47
By: Baron Yeung
Rocky Bytes Score

It Rocks!
In order to follow this guide you will need to download DeltaRune. Please click the green button below.
Deltarune is a special game, which blends many different genres together. Much like Undertale, it has a blend of turn based and twitch based combat, but it's even more complicated now that you have a party. IF you follow the tips in this guide, you should be good to go.
1. The basic controls
The basic controls are pretty simple to remember. Use the arrow keys to move, z to confirm/examine, x to cancel/run, and c for cookie/menu. These are the same four buttons you'll be using throughout the game. If you want to change the controls, hit C and head on over to options.
2. Battles
Now, battles are very similar to Undertale. When you attack, you have to finish a quick time event to optimize your damage. When you get attacked, the enemy will throw some unique attacks at you that you'll need to dodge.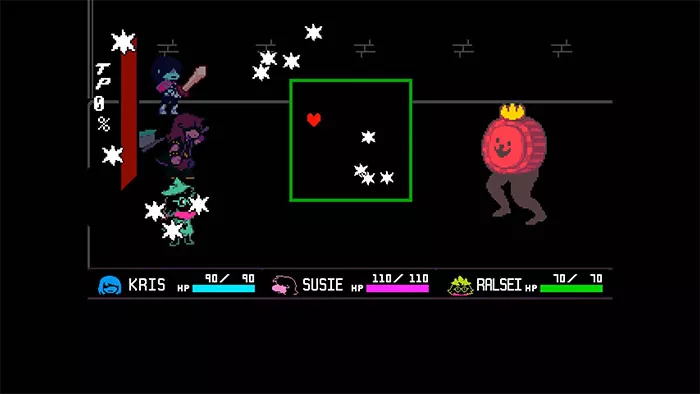 It's slightly different from Undertale, though. For instance, the attacks come at you more horizontally than vertically, due to the more traditional positioning of both parties. And for another, you have party members to worry about, and healing skills for them.
Each party member has their own health bar, and if one goes down, you can still revive them. This also means you have 3 different attack types to deal with when you launch an assault.
Now, here's the most important piece of advice I can give anybody. Do. Not. Panic. When the screen gets filled with projectiles and you get hit, it's very easy to lose whatever tempo you had, feel lost, and panic - just like all those YouTubers that shriek when they get hit once and then stop paying attention!

Stay in the zone. Analyze the patterns. If you die, don't worry! The checkpoint's likely not too far behind. The trick with these bullet hell games is to look ahead and know where to dodge beforehand - not react when they're just about to reach you like panic would probably make you do.
3. Take your time
Gameplay-wise, the game isn't actually too interesting. You explore areas and occasionally fight off monsters. The main charm comes from the world and its inhabitants. It's safe to say that if you don't stop to talk to the characters and find the hidden secret collectibles around the world, your enjoyment would be cut tremendously.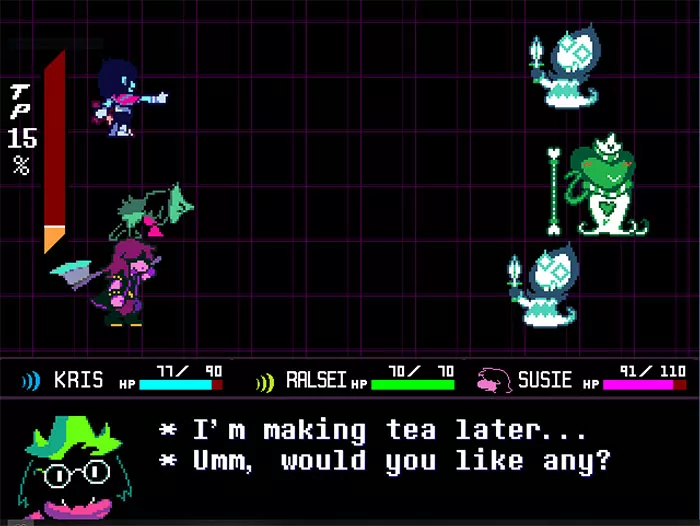 Similarly, in battles, try paying attention to the enemy dialogue and specific attacks - they both reveal a ton about the monster's personality!
4. Don't worry about "Pacifist" or "Genocide"
Unlike Undertale, this game is incredibly linear. The only difference your actions make is whether or not you attack monsters in the first area of the game - this will affect the ending slightly. However, everything after that first area doesn't matter - your party will not physically murder monsters and thus it won't have any affect on the story.
So, in short, attack monsters until they flee all you want after you're finished with the first area.
5. Explore heavily
Deltarune is a short game, don't get me wrong. However, it is chock full of collectibles and references to Undertale. While the game is linear and short, it has a ton of things off the beaten path that will reward you. For instance, you can miss a boss fight completely if you don't explore a bit - and this boss fight is one of the most challenging and rewarding in the game.
---
So that's it! DeltaRune is an incredibly straightforward game to play, though the difficulty is surprisingly well balanced and challenging. Any Undertale fan should give this game a shot, and even those who never played Undertale would find plenty to like!

Top 10 Free to Play Games 2019 Over this past year, more and more high-quality free games have been released. There are all kinds – remakes of old classics, triple-A games made to take advantage of a certain market, and MMORPGs. With so many to choose from, how can one know what the best ...