Undertale Specifications
DOWNLOADFree (23.97 MB)
Safe Download for PC - Virus & Malware Free
License:
Free Demo
Developer:
Size:
23.97 MB
OS:
Windows Vista / Windows 7 / Windows 8 / Windows 10
Rocky Bytes Score

Great!
Undertale Review

by Adam Singleton
Last Updated: 2015-10-09 04:12:35
Discover Undertale, the game...
Undertale is a new independent game developed almost (or perhaps fully) single handedly by developer Toby Fox. Although it has been in the making for some time, now it finally has its full release and it sure is receiving a lot of praise, some even billing it as the best game ever. Perhaps they are right! If you want to find out, make sure you download Undertale for free right here.
You take on the role of a non-gender-specific young person who you can name to your liking and then you are guided through the first parts of the game by a goat-like but pleasant and friendly lady figure named Toriel after explaining to you a few of the basic game concepts she has to leave on business and asks you to wait in the same room until she returns…of course the temptation is too much not to continue the quest alone. You continue on and she tries to stop you from leaving her humble home. You will then have to decide what to do during her boss fight.
There is also a flower that constantly taunts you everywhere you go and tries to kill you. What's more, he seems to know exactly what you do at all times. If you kill some enemies, he will taunt you with their specific names. If you decided to reload the game, then he will mock you for reloading the game. he is one of the many reasons that Undertale is praised. The meta narrative he brings is almost terrifying for the normal player, and gives this game a feeling of including the player in the story that many other games don't have.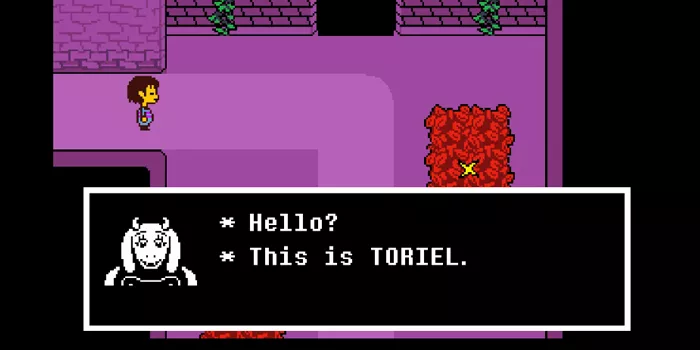 So off you go on your merry way and this is where the adventure starts, you encounter numerous monsters all with unique personalities some are timid and shy or cowardly some are strong and aggressive your interactions with these creatures will depend how the game plays out in front of you depending on how you choose to interact with the different characters that you will meet along the way. The game has a rather unique battle system where you must move your heart around and avoid the with pellets being thrown at you before attacking by using a timing based system where you must try to stop your bar in the correct spot to inflict the most damage. The dodging mechanic can get more and more ridiculous as the game ramps up its difficulty, and if you decide to talk it out with everybody you come across, then you'll need to get really good at dodging, as you'll be doing a whole ton of it.
Now this may sound like the game involves a lot of fighting but actually the battle system is very different because you are not always required to fight, you can chose to interact with the creatures you come across and try to talk your way out of battles by using conversation that looks in to their insecurities, if you tailor your possible answers to the information they have given you, you may well find you can walk away without having to fight at all of course this is all up to you and how you want to play Undertale. Again, I highly recommend you give it a try right here with this Undertale Download for PC.
When you meet different enemies you must decide if you need to fight or if you can talk your way out of the situation, you must try to read each different enemy as they react differently so choose your answers carefully based on your conversations with them, you can be sympathetic or complimentary if your enemies seem to have a little neurosis which most of the enemies in Undertale do! The different personalities in the game is part of what makes the game so good and if you choose the right way to interact with all the different characters you may be able to get through the whole game without having to fight anyone in this excellent free game. In fact, choosing to either fight or talk your way out is one of the most important parts of the game. It affects all the endings that you can get - who you keep alive and who you spare will always come back to haunt you. If any of that appeals to you, then you should stop right here and use this Undertale free download to keep going because this game is very susceptible to spoilers ruining the experience.
Undertale is a very different game to anything else out there at the moment and although it is clearly influenced by Japanese role playing games and has that kind of feel to it, this game is not so much about the game play but more about the story and all the different ways it can go depending on how you have chosen to play Undertale although some of the puzzles are very enjoyable, some can be frustrating such as near the beginning when you have to take the path to not fall through the holes in the floor it can take many attempts to get the exact right path but this game is more about the story and the world that has been created and it is totally worth pushing on through the more frustrating puzzles. You should definitely give it a shot right here with this Undertale download for PC. You can see the fantastic world that has been created in our Undertale gameplay:
In this fantastic game get to know the strange and curious characters such as Sans, Papyrus, Flowey, Mettaton and Undyne and see if they can help you to complete the most complicated tasks like the Piano Puzzle. You can call them at any point in the game and experience some fantastically well written lines of dialogue as they are incredibly likeable characters. In fact, they are one of the main reasons why people love this game. These characters, even though they actually don't have that much screen time individually, are beloved because of how strong the writing is.
Undertale is a deeply profound game with lots of interesting and different characters to meet who all have unique and interesting personalities and it is the wonderful and developed world that you become a part of that makes playing Undertale such a moving and enjoyable experience.
The feedback for the game has been hugely positive and shows even in this day and age that you don't need the most beautiful graphics to create something with a great story that is playable and fun.
So is it the best game ever made?
We highly recommend you download Undertale for free and decide for yourself if it is the best indie game or perhaps the best game ever made, the game is completely free and there are many hours of game play to enjoy, it is no wonder Undertale his becoming so hugely popular.
Use this Undertale free download and try out different kinds of battles!
There are different ways to play Undertale, you could complete it being a pacifist the whole way through for example and talk your way out of every battle, or you could battle every person you meet and it almost seems as if it is a different game depending on the way that you choose to play of course once you have played it through in one manner you can start again and try in another way meaning that Undertale has plenty of replayability.
Undertale may not blow you away at first but give it a little time and I'm sure it won't take long for you to be as taken with the game as nearly everyone who has played it has been.
The music is also perfect and just right for this kind of game. In fact, it's some of the best parts of the game. Every single boss has their own memorable theme song. The creator of the game, Toby Fox, was known for the music he created for Homestuck before. Not only do all the bosses have their own memorable theme song, but if you pay attention, you'll notice some repeating melodies. These melodies can hint at story plot points long before you actually reach them.
Last decision: Download Undertale for free!
You can give the Undertale free download a shot here and decide for yourself if this game has the same profound effect on you that so many people have reported so far.
DOWNLOAD NOW
Safe free download - Tested Virus and Malware Free

This is a short guide to help you learn the basic controls of Undertale.
Undertale is the game that everyone has been talking about recently and for those of you who are yet to try it or those of you who just need a little help getting used to the controls here we have a guide for you to ...

It's March the 1st and that means it's "Share a Smile" day although it seems a rather ominous holiday with no real origin probably either other than to sell e-cards however a reason to smile is always a good things so in honor of this day here is a small selection of games to make ...
At the time of downloading Undertale you accept the terms of use and privacy policy stated by Parsec Media S.L. The download will be handled by a 3rd party download manager that provides an easier and safer download and installation of Undertale. Additionally, the download manager offers the optional installation of several safe and trusted 3rd party applications and browser plugins which you may choose to install or not during the download process.