The Republia Times (browser game)


The Republia Times is a fantastic little browser game the man behind the intriguing and genius Papers, Please (which you can download by clicking on the title here and going to the review page or look in the related games section) The Republia Times is only a browser game but actually takes its name from the newspaper used in Papers, Please and again the developer Lucas Pope has again gone with a soviet feeling game where you work for a government that represses and hides information from its general public and your job is to edit it, The government wants you to only release the good news oh and by the way they are holding your family and how well your family is treated only comes down to how well your job is done. However other forces are at work and very similar as with the moral decisions you had to face in Papers, Please you may find that going against the government orders and allowing the public all the information rather than just the good could be beneficial, at least in theory.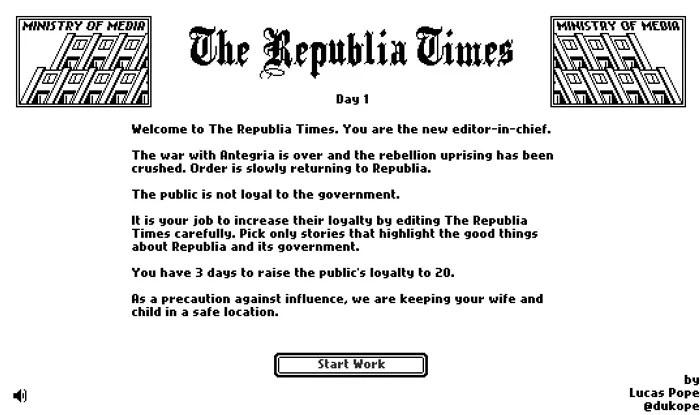 Although only a very short game it certainly doesn't disappoint and Lucas Pope is definitely a developer to watch as he it seems everything he creates is not only thought provoking and fun.