How to Play Path of Exile
Confused about the Atlas? Here's a step by step guide!

Date: 2020-04-27 03:41:48
By: Baron Yeung
Rocky Bytes Score

Very Good!
In order to follow this guide you will need to download Path of Exile. Please click the green button below.
The Atlas is the endgame of Path of Exile, and yet it's been changed constantly to the point where it's hard to keep up. 3.10 is no different. Here's a guide to help you get on your feet and progress to the new content.
Basics and how to progress
When you first enter the Atlas, you'll find four map nodes in the center. These are your tier 1 starting nodes. Every map node has a bonus objective that requires the map to be a certain rarity - you must complete these objectives as you go along. You should also just be enchanting your maps while you go, as it will improve them dramatically and you can easily make back what you lost.
Whenever you clear a map, there's a chance it will drop a map to another node. If you want to keep progressing, you'll need these maps - if you ever run out, you can go to poe.trade to buy some - they're cheap.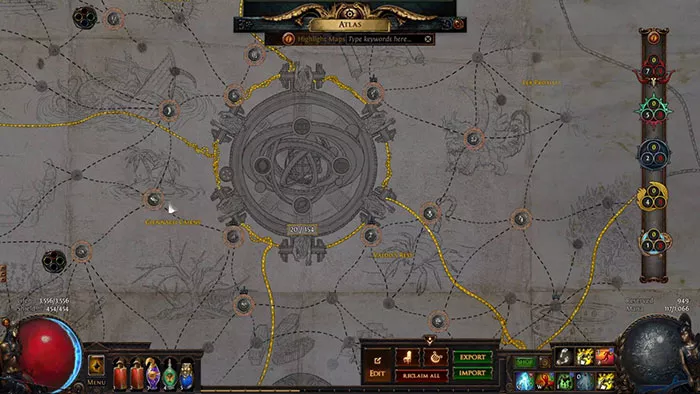 To progress in the new Conquerors of Atlas content, here's what you'll need to do.
You need to aim towards one of the corners of the map. On your way, you will likely discover Citadels - ignore these for now. Once you reach the corner, you must start doing random maps in that corner, and you'll eventually spawn the influence of the Conqueror. Once that's done, you can start spawning the Conqueror in his Citadel. You'll need to do 3 more maps in the same region. The Atlas will show you exactly how many maps are left to spawn the Conqueror himself.
Once a Conqueror has spawned in, Officer Kirac will light up with an exclamation mark over his head. Talk to him and Zana and you'll get the option to travel to the Citadel and fight the boss. Once you've killed the Citadel boss, you will receive a watchstone. Place the watchstone in the bar to the left if you don't want to use it for now and place it into the Citadel to increase the tier of maps and progress further into the story.
Now that you've killed the first Conqueror, you'll need to find three more. Explore every corner of the Atlas and kill them as they come. The end goal is to kill the Conquerors over and over with increased tier levels to eventually collect all 4 watchstones per region and gain access to the final boss. The game will tell you exactly what you need to do in order to find the next Conqueror.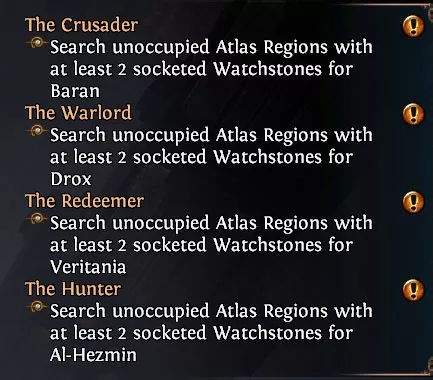 Once you've finished killing a few, you'll notice that the game tells you on the left that you need to insert 4 watchstones in a region to spawn a Conqueror. The colors don't matter - only the number does. After you acquire and insert at least one set of 4 watchstones, you'll notice the Awakening Level increasing.
Now you can start looking for the end game boss. To spawn him, you'll need to defeat all 4 conquerors who all have 4 socketed watchstones as well as 4 watchstones to face him yourself.
There are two types of objectives - Bonuses that increase the tier of potential map drops, and Awakening objectives which will give you bonus Atlas missions and multiply all map modifiers. It's recommended you do both.
Once you've tried to kill (or failed) Sirus, the Awakener, Everything will reset. You'll need to kill all four Conquerors again to spawn him. This is crucial if you want one of the new drops in the game.
And that's it! The new Atlas can get incredibly dense and confusing, but with a little bit of knowhow, it won't pose a problem. I hope this guide helped you.

Here's a great starter build for the 3.10 patch!
With a new league comes a completely new start, and you'll need a completely new build to get your hand on enough currency to play some wackier builds. However, it can be difficult to know what's best when a new ...

Top 10 Free to Play Games 2019 Over this past year, more and more high-quality free games have been released. There are all kinds – remakes of old classics, triple-A games made to take advantage of a certain market, and MMORPGs. With so many to choose from, how can one know what the best ...

You know you want to do it, right? You want to play at school and I'm not talking about soccer or anything like that. You want to play your videogames at school. Sadly, most block games and certain sites so their students focus on their studies, but we've got you covered with a list of amazing ...