How to Use Path of Exile
Here's a great starter build for the 3.10 patch!

Date: 2020-03-18 05:17:11
By: Baron Yeung
Rocky Bytes Score

Very Good!
In order to follow this guide you will need to download Path of Exile. Please click the green button below.
With a new league comes a completely new start, and you'll need a completely new build to get your hand on enough currency to play some wackier builds. However, it can be difficult to know what's best when a new league, coupled with completely new mechanics that newly come out. There is an old proven build that's still incredibly effective, though - the Essence Drain build, for the Shadow.
This build can be relatively expensive if you want to maximize it, but for a league starter, it can go far thanks to the inherently powerful synergy between two skills - Essence Drain and Contagion. Essentially, there is a unique interaction in which Contagion will apply Essence Drain's damage as well when it spreads, letting it oneshot an entire screen full of enemies whenever you cast Contagion + Essence Drain. Here's what you need to play it properly!
1. The Skill Tree, Ascendancy, and Pantheon.
Check here to see the stat tree you should follow. While you're leveling, here is a 35 point skill tree and here is a 59 point skill tree.
As for the ascendancies, you'll want to pick the Trickster ascendancy and grab the following perks in this order: Patient Reaper, Ghost Dance, Escape Artist, Prolonged Pain.
Once you get to the second half of the game and start unlocking Pantheons, you'll want to pick Soul of Solaris and Soul of Garukhan when you unlock them.
2. The Gear
There's a few things that you need to keep in mind for any character. You need to max out your resistances every time, and then prioritize Life when you can. For some nice perks on the side, you'll want to watch out for Chaos Damage over Time Multiplier, Chaos Damage/Damage over Time, Cast Speed, and Evasion Rating.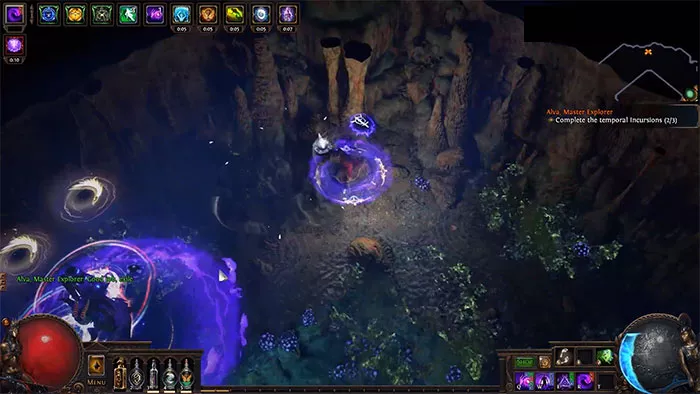 This build can mostly work in Solo Self Found, but if you want to truly push its damage and optimize your damage and survivability, here are the gear you should really watch out for.
The Devouring Diadem. This helm gives you the Eldritch Battery skill, which will save you three skill points on the tree. It will also increase the level of Gems and also let you use three different auras - Malevolence, Zealotry, and Summon Skitterbot.
A Crafted +3 Bow is crucial if you want to maximize your damage. If you aren't aware of what that means, it means a set of modifiers that increases your socketed support gems by 3 levels. Look out for the modifiers +1 level to Socketed Gems, +2 level to Socketed Support gems, and +30% chaos damage over time multiplier at minimum.
A Mark of the Shaper is a great ring if you have an elder ring in the other slot.
Lastly, you'll want to find a Queen of the Forest for its fantastic evasion rating and its decent life and resistances.
3. The Gem Slots
Optimally, here are the links you want to look out for. Obviously, you likely won't have a six link with the perfect socket colors if you're solo self found, so use your best judgement.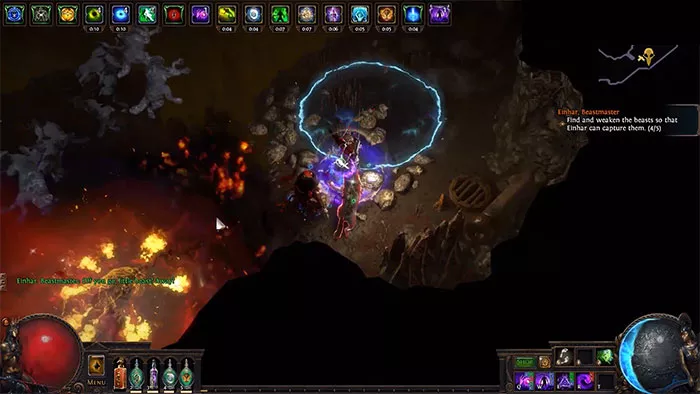 Essence Drain - Void Manipulation - Empower - Controlled Destruction - Swift Affliction. Empower will double stack with your +3 bow if you have it. If you don't have it, then Faster Casting is always a great pick.
Bane - Despair - Efficacy - Void Manipulation - Controlled Destruction - Swift Affliction. This lets you murder bosses by applying two powerful debuffs simultaneously.
Wither - Spell Totem Support - Faster Casting - Multiple Totems Support. This will give you great control and debuffing.
Contagion - Increased AoE - Faster Casting - Intensify. This will give you a massive range on your contagion spread, which is crucial.
Malevolence - Zealotry - Summon Skitterbots - Enlighten Support. Your enlighten needs to be level 2 and you need to have the Eldritch Battery for you to be able to run all of them. These will ideally slot into your Devouring Diadem.
Dash for mobility, but you can really pick any mobility skill you want.
And that's it! You're ready.

Confused about the Atlas? Here's a step by step guide!
The Atlas is the endgame of Path of Exile, and yet it's been changed constantly to the point where it's hard to keep up. 3.10 is no different. Here's a guide to help you get on your feet and progress to the new ...

Top 10 Free to Play Games 2019 Over this past year, more and more high-quality free games have been released. There are all kinds – remakes of old classics, triple-A games made to take advantage of a certain market, and MMORPGs. With so many to choose from, how can one know what the best ...

You know you want to do it, right? You want to play at school and I'm not talking about soccer or anything like that. You want to play your videogames at school. Sadly, most block games and certain sites so their students focus on their studies, but we've got you covered with a list of amazing ...