How to Play Sonic World
Want to learn how to play Sonic World? Follow this guide!

Date: 2019-08-14 03:51:51
By: Baron Yeung
Rocky Bytes Score

Great!
In order to follow this guide you will need to download Sonic World. Please click the green button below.
Sonic World is a very obtuse game when it comes to its controls and general objective of the game, but I'm here to help you. We need to go over a few things that the game, like many others, are strangely obtuse about.
1: The Controls
The manual comes with controls for the game, but they're icons rather than actual keys. To see what the keys are, you'll have to actually open the game and take a look. Navigating to controls in the settings will bring you to what the icons mean.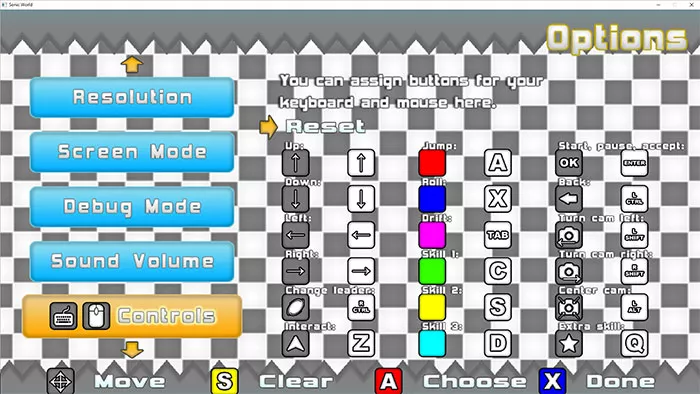 Here, you can remap all your controls as well. However, don't worry if you can't remember all these controls - just make sure you remember the camera controls. That's because no matter what character you're playing, the game will keep a control guide displayed on the right side of the screen that details to you what every button does. This is especially important because every character has different abilities and combos.
2: The Missions
Hitting play game will bring you to the level select screen. Unlike the mainstream Sonic games, each level has a set of objectives. Picking one will throw you into a variant of the level that's designed around that particular objective.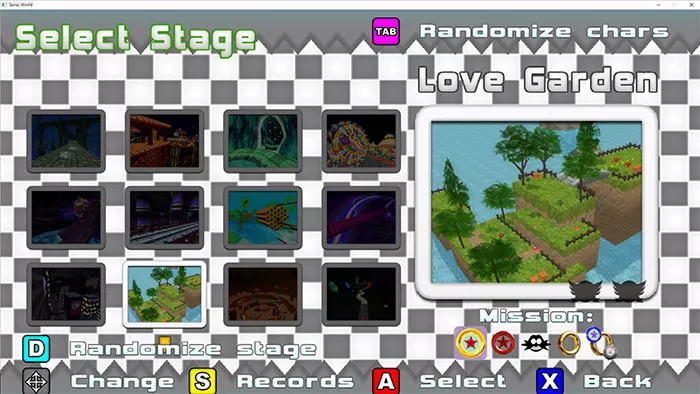 You can tell which objective is which by looking at the icons under the stage preview. In Love Garden for example, the icons below means that the game has a Normal Mission, where you simply reach the goal, a Treasure Hunter mission, where you look for red star rings, a Destructor mission, where you destroy all enemies, a Ring Collector mission, where you need to collect 200 rings, and a Timed Ring Collector mission with the modifiers Time Attack (complete the mission under a certain amount of time) and Perfect Dash (where you need to complete the mission without dying).

To find out which icons mean what, the game comes with a manual that explains it all. You'll need to scroll down towards the middle to find it, though.
3: Special Stages
This is the last obscure thing I'll go over. Special Stages are challenge levels that unlock after collecting a certain amount of emblems. There are two emblems per mission - one for completing the mission, and one for getting an S rank.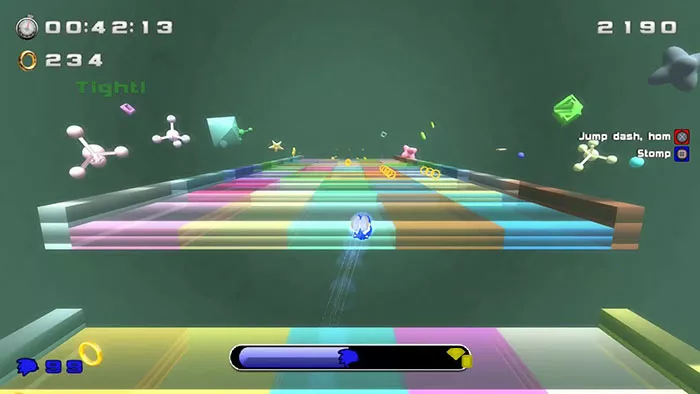 These special stages will reward you with Chaos and Sol emeralds - there are seven in total. Once you beat all special stages and collect these emeralds, you'll be rewarded with the Super forms for each character.
4: Chao Garden
The Chao Garden is back! Fans of the Sonic Adventure series found that the Chao Garden was a surprise hit, and have been clamoring for its return ever since. Since Sonic World is a fan work, it's little wonder that the Chao Garden has made its return here.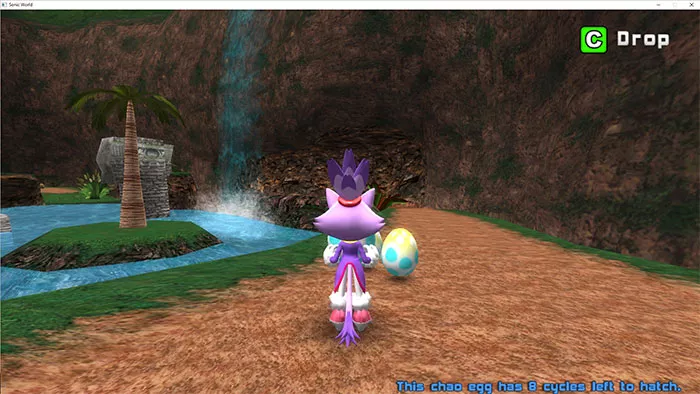 The first thing to note is that the Chao Garden has a completely different (but simplified). Here, you can only move, spin jump/stomp, pick up eggs, pet/whistle/cheer your chaos, and drift. Most of the combat controls your character had are gone.
At the start, your Chaos are all in eggs and you'll have to play a few missions to get them to hatch. You can see specifically how long when you pick up an egg. You can also shake some fruits off of some trees to feed your hatched chaos some stats. After a period of time, the Chao will evolve from a child to an adult. After that, they will reach the end of its life and go into a cocoon. If the cocoon is pink, they will reincarnate, but if it's gray, it will die permanently and you'll never see it again.
There is also a Chao transporter, where you can let go of a chao, rename them, view your inventory, and more. Along with that, there's a principal's room where you can educate your chao, a black market where you can sell and buy goods to improve your chao, and a Chao Stadium, where you can have your chao compete with other chao.
There's a ton to do in Sonic World, and I highly recommend you go find them yourself!

Having trouble installing Sonic World? Take a look at this guide.
Sonic World is one of the most ambitious Sonic fan games out there, but finding out how to install it is actually surprisingly annoying. Luckily, the process is actually quite simple. You could easily download the ...

Luckily, many would be game creators agree with you, and many of them have created games that mimic old school game design, and sometimes straight up remake old games. Here is a list of the ten best games in that style! 10. Super Mario 3: Mario Forever Mario has gone through many ...

Top 10 Free to Play Games 2019 Over this past year, more and more high-quality free games have been released. There are all kinds – remakes of old classics, triple-A games made to take advantage of a certain market, and MMORPGs. With so many to choose from, how can one know what the best ...