How to Play Block Story
A guide to getting started with and how to play Block Story

Date: 2016-01-14 02:58:12
By: Adam Singleton
Rocky Bytes Score

Acceptable
In order to follow this guide you will need to download Block Story. Please click the green button below.
In this How to play Block story guide hopefully you will get some useful information as to how to get started with Block Story.
The game has a great tutorial when you first start and it is advised to play through it if this is your first time using Block Story.
How to play Block Story: Controls
Move around using W,A,S and D keys for forward, left, back and right respectively, to jump hit your space bar.
Use the Q key to open your inventory, to break rocks and collect the items they may have inside for example trees have wood inside them and rocks have stone these items can be collected and saved and used to craft other items to break a block point your mouse towards it and hold down left click you will see a circle start to form, you must continue holding left click until the circle is fully formed at which point the block will break and you can collect the material that was inside of it. There are other more complicated keyboard commands which you will be guided through in the in game tutorial.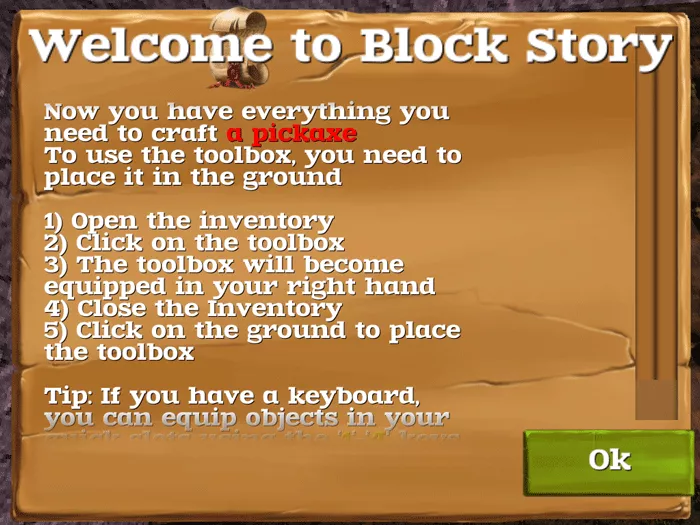 How to play Block Story: hints and tips
It's a good idea to save up as much wood and stone as you can when you come across it as these materials will come in handy for making lots of things in the future.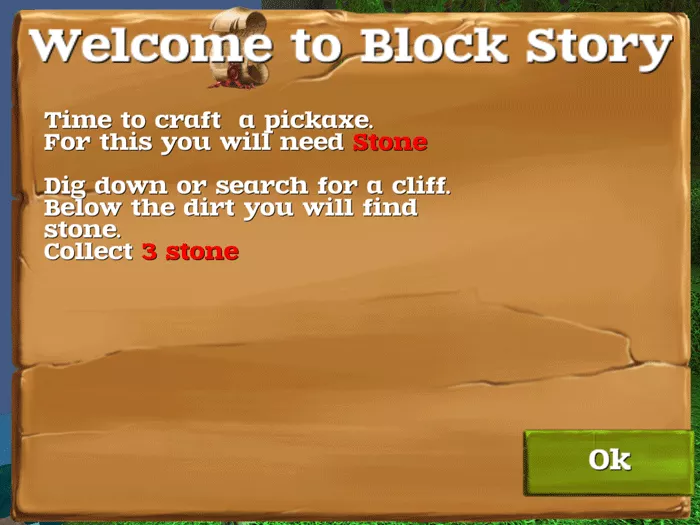 At one point during the tutorial you will be advised to dig downwards to find stone, if you dig downwards go from block to block in a zig-zagging or diagonal movement because if you go straight down you will need be able to get back out of the hole you have dug if it is more than a couple of blocks deep so you want to dig downwards while making a kind of stair case to make sure you can still reach the surface again afterwards you can dig your way back up but it can be frustrating and time consuming when you could be building more exciting things.
Make sure you are wary of enemies, there are many of them all around you and you may be quietly minding your own business constructing something when you find yourself being attacked by some sort of animal or monster, also don't hit (left click on) the harmless animals such as cows and chickens as this will deplete your health and it's not very nice!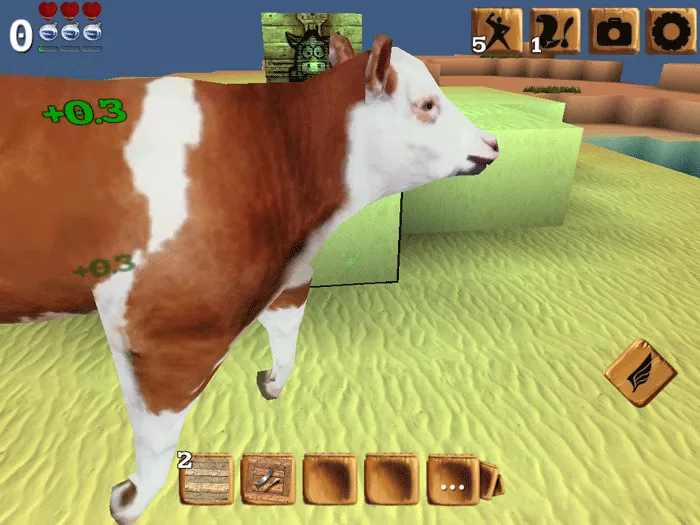 You can use some animals to help heal you also by walking near them you will regain a little energy but try to avoid the big scary animals such as giant spiders and dragons as you may have to battle with them.
After these tips it's really down to you how you enjoy Block Story and how you decide to create your world, will it become a sprawling metropolis or just a quaint farm town? The possibilities are endless!
We hope you have enjoyed this how to play Block Story guide and have fun playing.