How to Play Surgeon Simulator
Learn how to get started playing Surgeon Simulator!

Date: 2015-01-08 00:10:33
By: James Fleckenstein
Rocky Bytes Score

It Rocks!
In order to follow this guide you will need to download Surgeon Simulator. Please click the green button below.
In this tutorial you will learn how to play Surgeon Simulator in just a couple easy steps. The game is relatively easy to learn how to play, but playing the game can be pretty difficult if you aren't careful - just as you would expect from any game simulating surgery.

Make sure you have the game installed. If you have not installed it yet and do not know how, please make sure to check out our tutorial on how to install Surgeon Simulator.

Once the game is installed, you are ready to proceed with this tutorial.

First, you have to set your preferred settings in the Surgeon Simulator configuration window. Your window should look like this: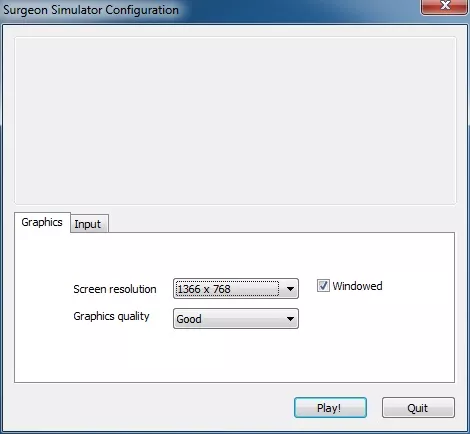 The settings that worked best for me were what you see in the image above. My monitor's native resolution is 1920x1080 (1080p), and I prefer to play some games in window mode. So, I set the resolution to 1366x768 and checked "Windowed". I left the Graphics Quality as "Good". While these settings worked well for me, you may want something different. This is perfectly fine.

Once you have set your configuration to something you feel comfortable with, please "Play!". Surgeon Simulator will start up and you will be at the start screen: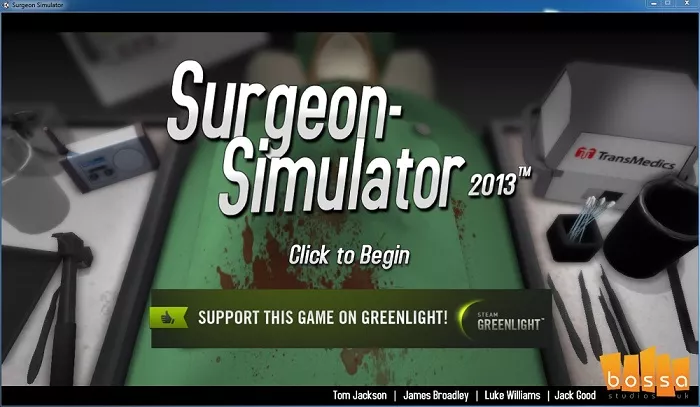 Just as to screen says, "Click to Begin". Click on the screen to begin to game. However, once you click, the game immediately begins. There is no main menu, that is what the configuration window was for before you started the game. Once you click, the game's controls will come up: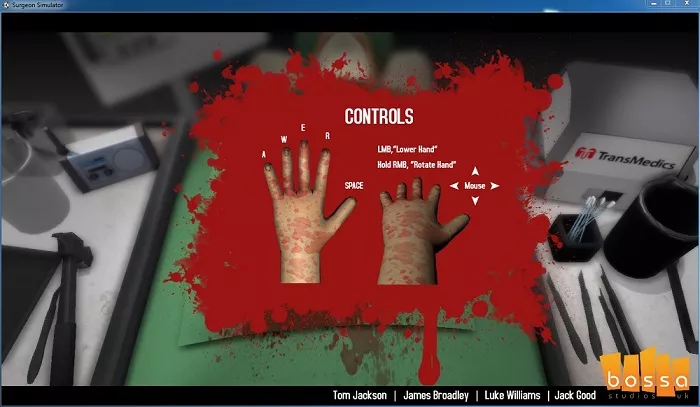 As you can see here, the controls are relatively simple - but may be difficult to get used to at first. Each finger on your left hand is controlled by a key on your keyboard. It is best to play this game by setting your hand on your keyboard, keeping each finger in the controls picture shown in the game on their according key. This makes the game a lot easier to play, and you'll probably notice how comfortable it is to play the game this way. Your right hand is controlled be your mouse. The left mouse button lowers your hand, and the right mouse button rotates your hand. You move your right hand around by moving around your mouse.

Now, while the controls sound a bit confusing, I noticed I got the hang of it in just a couple minutes. Just give it a little bit to get used to, and if it helps keep this tutorial up so you can refer to the controls while you play the game (assuming you play in window mode).

When you are ready, click the window again and the game will start: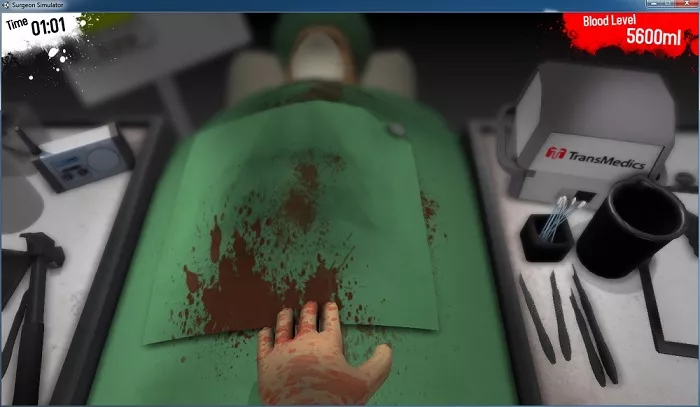 You're ready to go! Good luck, and have fun playing Surgeon Simulator! Oh, and, be careful not to kill your patient!

Learn how to install Surgeon Simulator in just a couple easy steps!
This simple guide will teach you how to install Surgeon Simulator in just a couple simple steps. In order to continue with this tutorial, please make sure you download Surgeon Simulator so you are ready to ...

You know you want to do it, right? You want to play at school and I'm not talking about soccer or anything like that. You want to play your videogames at school. Sadly, most block games and certain sites so their students focus on their studies, but we've got you covered with a list of amazing ...

Doctor, nurse and any other of medicine-oriented games exist in the world, and most of them take a very serious, almost austere approach to this profession (or calling depending on whom you ask) and only give you a glimpse of what it's like to be one of the men and women responsible for keeping us ...